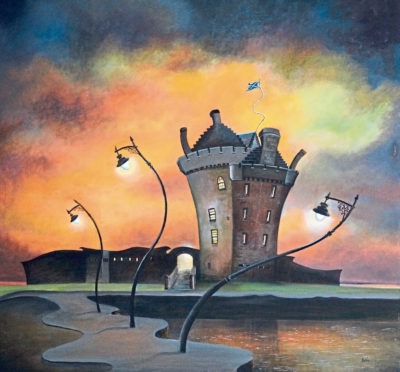 A pop-up art extravaganza featuring originals from both local and nationally acclaimed artists is heading to Dundee with all funds going to the Maggie's Centre. Gayle Ritchie finds out more…
Jack Morrocco, Glen Scouller, Jackie Henderson and Gail Stirling Robertson are among a group of artists – some local, some national, some famous and some you have yet to discover – whose paintings will be exhibited at the Maggie's Art Extravaganza.
The pop-up event, which runs from November 4 to 5 at Discovery Point, gives people the opportunity to buy original artworks, with sales of the exclusive pieces going to cancer care charity Maggie's.
Works will range from £50 to £15,000, so there's pretty much something for everyone.
The Courier had a sneak preview of some of the submissions and fell for Gail Stirling Robertson's paintings, three of which feature Broughty Ferry.
"The Ferry phonebox has been the inspiration for many paintings over the years and I never tire of recreating it," say Gail, who lives in Dunning, Perthshire.
"The castle has featured many times in my work, to, though this version has some added illumination!
"The quirky Larrick Beacon is a gift for artists, and my interpretation is populated with some grumpy gulls."
Gail says without meaning to, she picked six submissions depicting the past, in varying degrees of dereliction.
"By adding daft seagulls or lighting dark corners with imagined lanterns, old subject matter is given a new lease of life," she adds.
Meanwhile, Ayrshire-based Glen Scouller, who has won awards galore for his paintings and had more than 50 solo exhibitions across the globe, chose work he hoped would appeal to a wide audience.
"There's no particular theme running through the work except that they all try to capture the light, atmosphere and 'feeling of place' for the subject I am painting, whether it's a cluster of fishing boats in the East Neuk of Fife or swallows swarming and darting around an ancient sun drenched village in the south of France," he says.
"My aim is always the same – to make an interesting painting using my feeling for 'the paint' itself, a good sense of colour, strong draughtsmanship and a bold direct approach to my subject."
Jackie Henderson's paintings, featuring simplified scenes including birds and girls with stripey socks, focus on texture, form and colour.
"My work, A Patchwork Of Fields, is based on the landscape of Angus where I lived before moving to Glasgow eight years ago.
"I was living in a beautiful but chilly farmhouse outside Letham. I was always fascinated by the changing views out of my windows. As the seasons changed, so did the fields and with that the colours and textures of the landscape.
"'Curious Under The Stars' is an example of my figurative work, usually with an autobiographical element. I like the figures to have plenty space around them and room to breath. It's possibly a wee nod to the difference in my lifestyle now compared to living rurally."
Pittenweem-based Tim Cockburn, best known for his portrayals of Scottish country dancing, chose four small oil paintings on a Scottish theme for the art event.
"It's for such a good cause that I wanted to provide what people have come to expect of me!" he says.
"I paint people doing everyday things. I carry a small notebook so I'm able to note down things I see which might prove to be good subject matter."
Annie Long, the centre fund-raising manager for Maggie's Dundee, says there'll be a mix of art genres on offer, from traditional to abstract, still life, surreal, landscapes, figurative works, botanical studies in pen and ink and more, as well as raku and bronze sculptures.
She's hugely excited Jack Morrocco is on board, saying: "We're really lucky to have him as he's an amazing artist who is of course locally and internationally renowned."
Annie says the concept is that Maggie's acts as a pop-up gallery for the art event.
"The artist will receive 50% of the sale and Maggie's will benefit from the other 50%," she says.
"In this way, we hope everyone gains – the buyer finds a work they love and pays the usual price, the artist is supported to the usual level, and everyone support the fantastic cause that is Maggie's.
"Also, it will be a great place to pick up some Christmas gifts!"
The Maggie's Centre is funded entirely by charitable donations and costs £610,000 a year to run.
"We get around 13,000 visits a year to the Dundee centre by people affected by cancer, and it costs, on average, £2,400 a day to run," says Annie.
"We have a team of psychologists to help with anxiety and depression, cancer support specialists to give information about treatment, side effects and the language to use when explaining the disease to children and loved ones.
"We also have a benefits advisor who helps people with financial difficulties while they cannot work."
The show is open to the public on November 4 and 5 between 10am and 6pm.  For more information see maggiescentres.org
You can find examples of the work available on the Maggie's Art Extravaganza Instagram account – artextravaganzadundee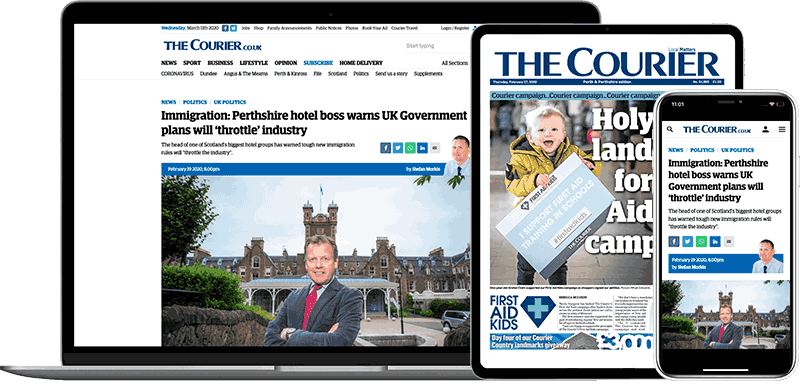 Help support quality local journalism … become a digital subscriber to The Courier
For as little as £5.99 a month you can access all of our content, including Premium articles.
Subscribe