FEATURE: Crivvens! Oor Wullie on stage in new Dundee Rep musical from tonight
By
Gayle Ritchie
November 23 2019, 8.45am
Updated: November 25 2019, 10.59am
Dundee Rep is bringing Scotland's favourite comic strip scamp to the stage in a brand new musical adventure. Gayle Ritchie went behind the scenes of Oor Wullie ahead of tonight's world-premiere opening performance…
Oor Wullie actor Martin Quinn is deliberating the finer points of beauty and hair care when I meet him during a break in rehearsals.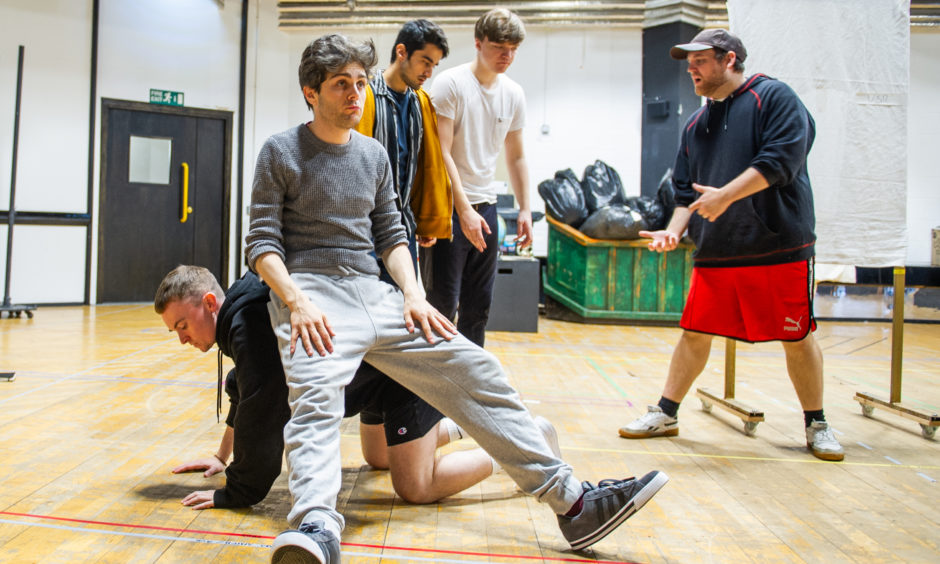 "I reckon we need to start dyeing my hair this week," he muses.
"They asked me if I wanted to wear a wig, but said it wouldn't look as good. And I guess you don't get an excuse to dye your hair blond very often so I'm going to go for it."
What to do about his eyebrows, he says, is still in question. But he's a tad worried that if they're not done properly, they could turn orange or green…
As the star of brand new musical Oor Wullie, which premieres at Dundee Rep tonight, Martin will sport dungarees and a cheeky grin to take on the role of the iconic, spikey-haired scamp from Auchenschoogle.
It's a role that the 25-year-old from Paisley is a combination of honoured, nervous and excited about, especially as he's been a Wullie fan since he was a wee lad.
"My granny kept cuttings of The Broons and Oor Wullie so I could read them when I visited her on Sundays," he recalls.
"I'm chuffed to be playing Wullie but it's a wee bit daunting, because nobody's heard him speak before! It's a cartoon world so you need to keep things light. I'm looking forward to channelling my inner cheeky chappy!"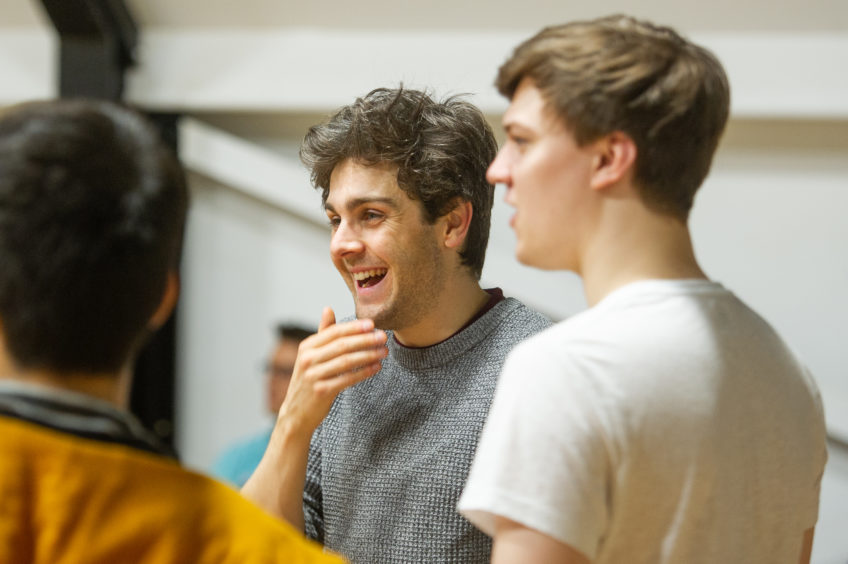 I've been invited to Dundee Rep for an exclusive, behind-the-scenes sneak-peek of rehearsals of the hotly-anticipated musical.
The focus is on a physical chase scene, so cast members are running, crawling, rolling, leap-frogging, tripping, falling, cycling and pulling all sorts of bizarre facial expressions.
It doesn't take long for my own face to start aching from constant grinning and laughing because it's completely, utterly hilarious and appeals to my sense of the ridiculous. I'm guessing that's the kind of reaction the creators are after.
Everyone knows Oor Wullie, surely, but for those who don't, the mischievous character has featured in Sunday Post comic strips for 83 years.
Created by DC Thomson editor R.D. Low and brought to life by cartoonist Dudley D. Watkins, the strip first appeared on March 8, 1936.
Wullie's best-known for his big heart, constant war against boredom and for playing energetic pranks which often land him in trouble.
The stories revolve around Wullie's adventures with his pals Fat Boab, Soapy Soutar, Wee Eck and their frequent run-ins with local bobby PC Murdoch.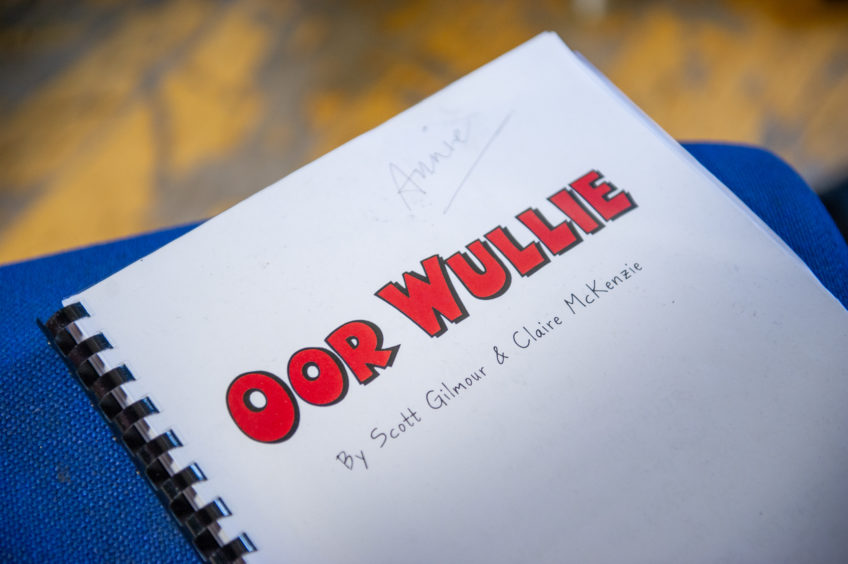 In 2019 – Dundee Rep's 80th anniversary – it seemed like the perfect time to put on a show celebrating Oor Wullie in his 83rd year.
The musical is a unique collaboration between heavyweights Selladoor Productions, Dundee Rep Ensemble, DC Thomson and music theatre production company Noisemaker, so it's sure to raise the roof.
The world premiere of the stage show opens tonight at the Rep and runs there until January 5 before it tours the country.
My visit, during the second week of rehearsals, sees cast members getting to grips with their roles and experimenting with props.
Martin, aka Wullie, sports a plastic rain bonnet and knitting needles as he pretends to be "an auld wifie", hoodwinking PC Murdoch and escaping his clutches.
Meanwhile, his pals chortle and guffaw as they don police helmets in an attempt to outfox the bewildered officer.
A "secret character" also shows up, duping PC Murdoch into heading off on a wild goose chase.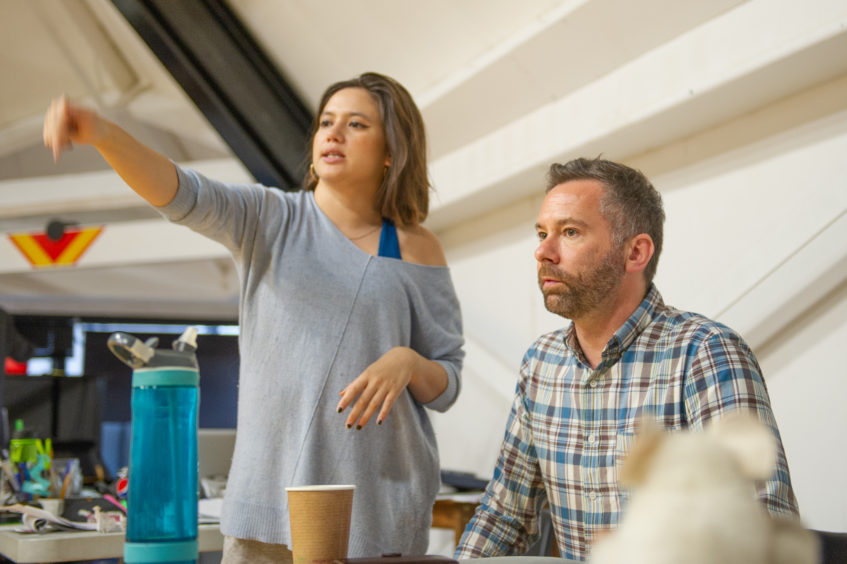 Movement director/choreographer Chi-San Howard is up and down like a yo-yo – squatting on the floor, standing up to give instructions, and reading through the script with a beady eye.
Artistic director Andrew Panton strolls round the room, arms folded, laughter in his eyes, although there's an air of seriousness about him too, because of course, things have got to be bang on.
"Can we all do slow faces?" he implores. "That's what will really sell it. Wipe the sweat from your foreheads as you run – in slow motion."
I watch as Wullie uses a catapult to knock off PC Murdoch's helmet and then there's the moment I've been waiting for – the proclamation of the famous catchphrase, Jings! Crivens! Help Mah Boab!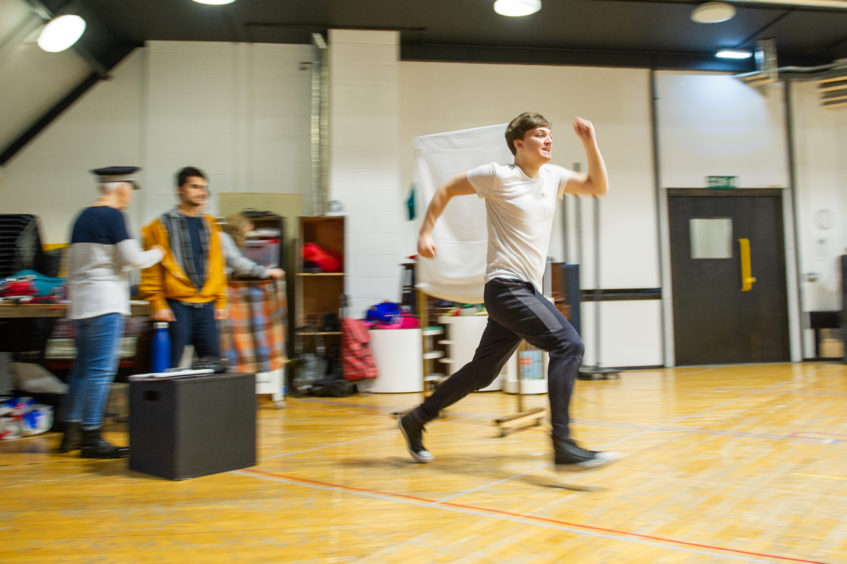 Veteran actress Ann Louise Ross – whose CV includes roles in Trainspotting, River City, Sunshine on Leith and Katie Morag – does a wonderful job of playing the bamboozled PC Murdoch.
It's a very active role (and that of a man) with a cycling scene, about which the 69-year-old is slightly anxious.
"There are a lot of young people in the cast and I'm probably the oldest person in Dundee Rep," she tells me.
"At the moment, I'm very tentative; I'm not full-on cycling across the stage."
I wonder Wullie featured prominently in Ann's childhood. "I have to say no!" she laughs.
"I was brought up in the Highlands and my granny bought the Sunday Post, but it wasn't a thing. I longed at Christmas for a Bunty and a Judy – they were my favourites. But Oor Wullie is iconic and having read the books now, I can see the show has all the humour, innocence and affection."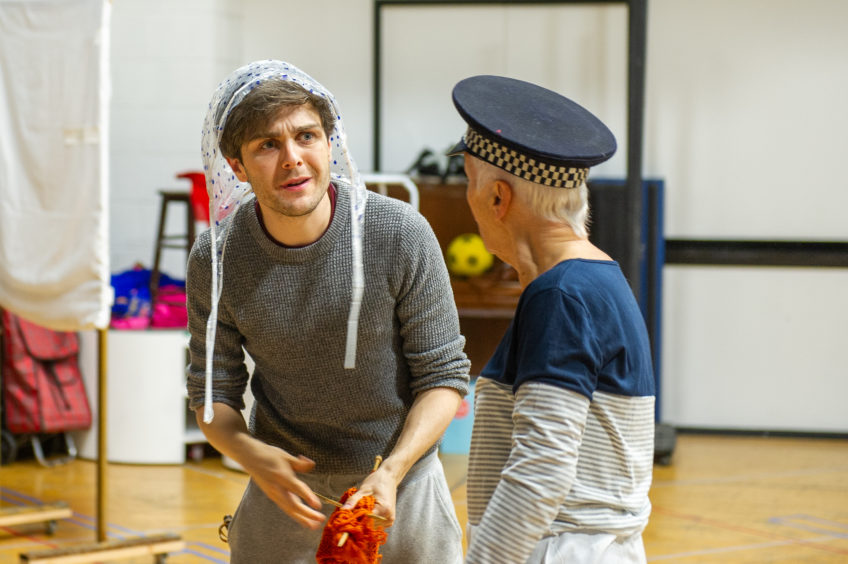 Ann admits she finds playing the role of a man challenging.
"I'll obviously need padding to make me fat but I've got the boots, the uniform and the moustache," she smiles.
"I did ask the Rep if I could play the role as a WPC (woman police constable) but PC Murdoch is such an established character that the answer was no."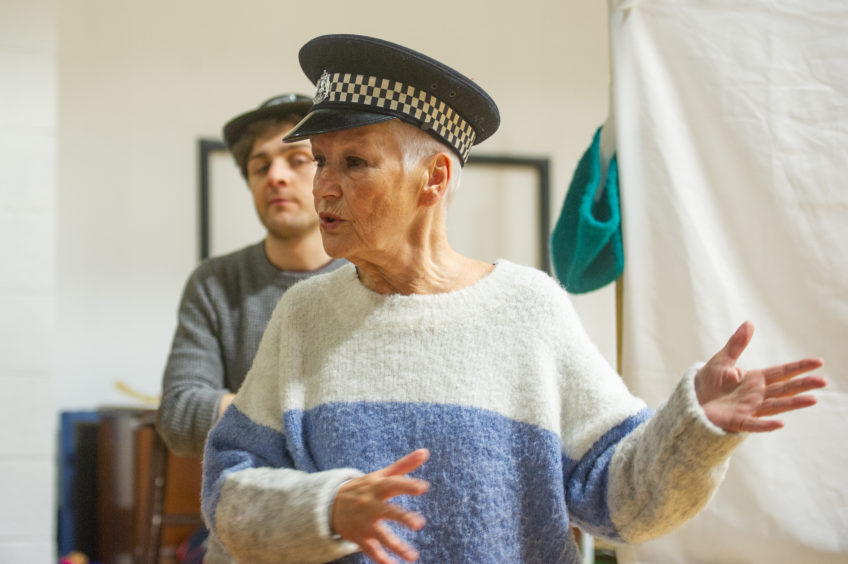 A NEW STORY
Bringing the story of Oor Wullie to life on stage, something that's never been attempted before, is no mean feat.
Andrew Panton, the artistic director, doesn't want to give away any "spoilers", but loosely hints that while we meet Wullie and his pals, it's about his quest to find his bucket.
"People have different expectations but Oor Wullie's been around since the 30s so it's about taking those expectations and where the character came from and making sure we absolutely satisfy the people who want that, but also thinking about how the Oor Wullie stories can be for a contemporary generation and a contemporary Scotland – an Oor Wullie for now," he muses.
"When you're making a new piece you have to ask why, and why now? It can't just be because it's a fun idea. There has to be a reason to tell that story and work out what the story we want to tell is. I think that's what I'm most excited about."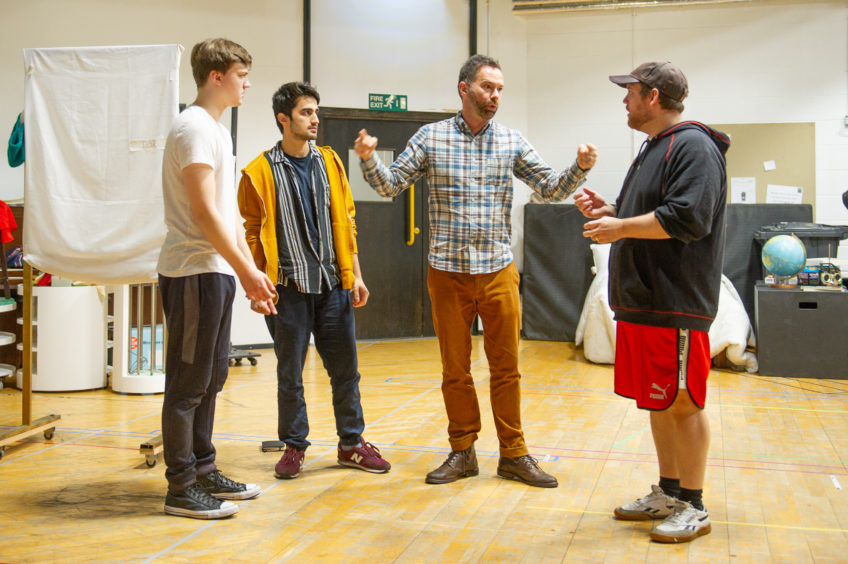 Andrew was delighted when Martin took on the role of Wullie after seeing his skills in action when he played small-town boy Brian in the Stephen Greenhorn's coming-of-age comedy drama Passing Places at the Rep last year.
"It was great working with him then, and he made his professional debut on the Dundee Rep stage in Let The Right One In (playing 12-year-old Oskar) so he's got a long-standing link with the Rep.
"I always had Martin in my mind when I knew we were doing Oor Wullie, and he's doing a fantastic job. We're really fortunate in having a top-notch cast and nice, buoyant funs rehearsals often result in the best work."
This is the year for all things Oor Wullie, says Andrew, with a lot of buzz around the character, including the nationwide Oor Wullie Big Bucket Trail, a public art project designed to raise money for children's charities.
"The story we're telling really speaks to a contemporary Scotland – a Scotland of now. We deal with themes of belonging, and what it is to be Scottish, and those are themes we're not just dealing with in Dundee or Scotland, but worldwide. What does home mean? What does it mean to be from somewhere?
"Getting people thinking about these themes, particularly young people, is a real responsibility for us as theatre makers. It's about ensuring we not only give them a fun night out but also something to think about – that theatre can change people's opinions of the world; that it can help them understand the world around them."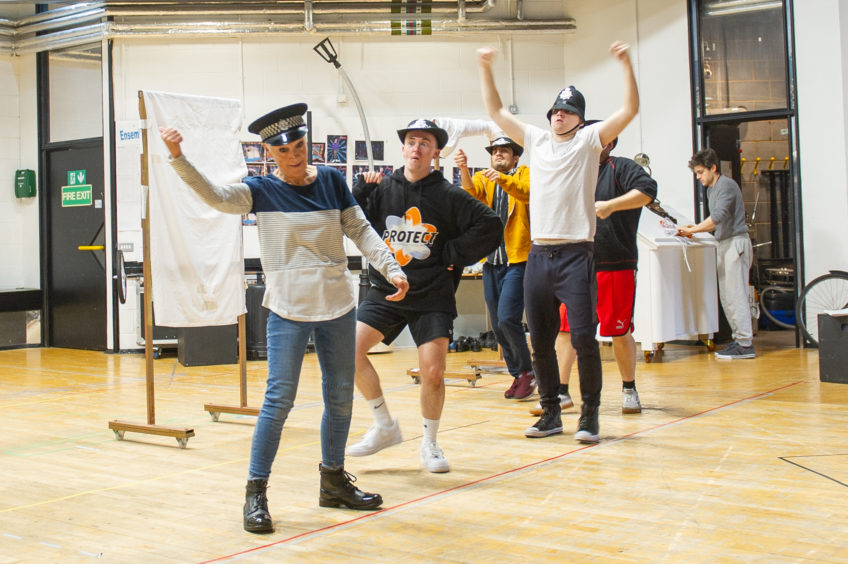 Andrew, who has worked with Noisemaker (Scott Gilmour and Clare McKenzie) a lot, says Scott likes to test him with challenging stage directions.
"Last year, when we did The Snow Queen, one of Scott's directions was, 'and she rises up above everyone's heads and splits into a million pieces'." he laughs.
"It's like, ok, how on earth are we going to do that? I don't want to give too much away but there's lots of elements of different types of travel in Oor Wullie, some real and some verging into fantasy.
"There's lot of challenges in how we transport various characters from different places.
"It's about all departments working together to find the best way to tell the story, moment to moment, which sometimes is speaking, sometimes singing, sometimes movement, sometimes visual design, sometimes projection, sometimes costume."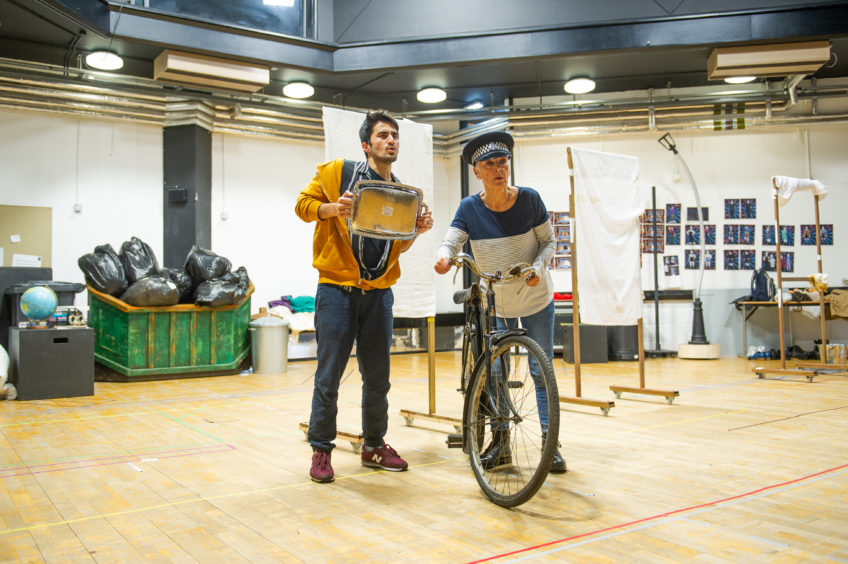 MAKE SOME NOISE
Noisemaker – the internationally renowned musical theatre team of writer/actor, Scott Gilmour, and composer/musical director, Claire McKenzie – worked with Dundee Rep to bring Oor Wullie from page to stage, and they've done a terrific job.
Despite previously having written Little Red and the Wolf and The Snow Queen for the Rep, who also co-partnered Noisemaker in developing Hi, My Name is Ben, the duo were nervous about taking on such an iconic character.
During rehearsal, they hang back in the background, glancing at sheets of music and leafing through comics, and I wait until an opportune moment arises to approach.
"There's a lot of expectation that comes with Oor Wullie," says Claire.
"Making it a musical, we really wanted to make sure it appealed to a young audience who might be coming to Oor Wullie for the first time, as well as tapping into the nostalgia and acknowledging the history and traditions of Oor Wullie. The story and the music tries to celebrate those 80 years."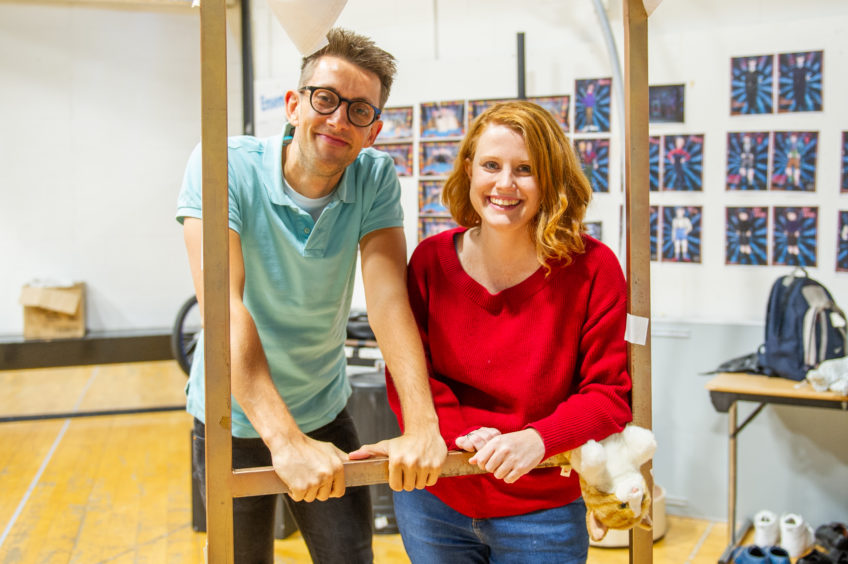 In terms of music, the soundtrack reflects the cartoon world of Oor Wullie and goes "quite big" with musical choices, colours and styles, says Claire.
Instruments played include fiddles, brass (the blast of a trumpet can evoke many different emotions), and perhaps unsurpsingly, good old bagpipes.
"It's about representing these brilliant characters in a musical form," says Claire. "There are modern sounds as well as Scottish folk music – it's a combination of both, depending on which character happens to be singing at the time."
While Noisemaker scoured Wullie annuals to create a unique story together, Scott wrote the lyrics.
"Like so many, we grew up with those stories and Oor Wullie was a big part of Christmas for both our families," says Scott.
"There's that connection and fondness. But the immediate challenge was taking those stories and allowing them to exist on stage.
"The comic strip is such a short form of narrative – there aren't massive, long adventures; there's a couple of frames each week – so it was about taking stories that last minutes and making it into a story that feels like it's supposed to span the arc of a piece of theatre.
"We tapped into a story that felt like it made sense of that and very quickly found all the things you associate with Oor Wullie – the sling shot, his wee cart, Jeemy his pet mouse and all of those things – are not what allow it to endure. Overarchingly, all these stories are about friendship, family and community in Scotland. Those things are the best things to build a good musical out of."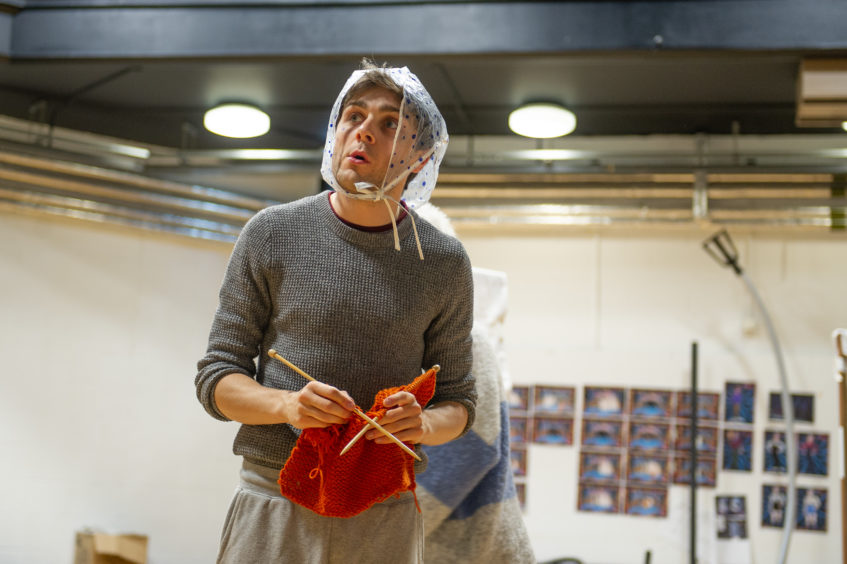 Will it be particularly Christmassey, I wonder?
"There'll be a nod to Christmas but knowing it's going on tour into the New Year, we wanted to make a piece that can exist outwith the holiday period," says Scott.
"It's very much a story about people coming together so there's a warmth and a cosiness to it that I think should work at any time of year."
info
Oor Wullie opens at Dundee Rep tonight at 7pm.
For details and tickets see dundeerep.co.uk
It runs there until January 5 and then goes on a tour of Scotland until March 2020 with venues including Glasgow, Edinburgh, Ayr, Inverness, Stirling, Aberdeen, Kirkcaldy and Greenock.