Scottish SPCA centres across the country are bursting at the seams with animals looking for happy forever homes. Gayle spends a morning volunteering at the Petterden site, north of Dundee…
When I turn up to volunteer at the Scottish SPCA centre in Petterden, it dawns on me that I've dressed rather inappropriately.
That's because my first duty is to clean out cat and rabbit cages, and assistant manager Dale Christie warns me I'll get covered in all sorts of stuff, from animal fur to "who knows what else".
Pulling on a pair of rubber gloves and tying back my hair, I try not to think too much about my smart(ish) clothing and get stuck in.
After a quick briefing from animal care assistant Rebecca Rodgers, I drag out a cat litter tray, brimming with poo, and empty it into a bin. This is my first mistake.
"Not that bin!" giggles Rebecca, as the grim contents drop into the wrong container with an almighty thud.
"Not to worry," she smiles, scooping out the offending matter with her bare hands. "I used to work in a zoo so I'm used to all sorts of poo!"
Nobody said working for the SSPCA would be a glamorous business and I can confirm that it most definitely is not.
Once I've dealt with the litter tray, I remove the cat's bedding and soiled newspapers before spraying everything with disinfectant.
I won't lie – I don't particularly enjoy this. However, I do enjoy getting to meet the animals, most of which are super-friendly.
One elderly cat is due to be rehomed today which is bittersweet news for Rebecca, who's his biggest fan.
Two cross-breed rabbits desperate for owners are Harvey and Shadow.
I'm delighted when Rebecca asks if I fancy holding 18-month-old Harvey, because he's oh so cuddly!
He's a lovely chap but he attacked the previous owner's dog.
The other rabbit, seven-month-old Shadow, came in more than a month ago. The trouble with this lad is that he bites, occasionally.
"These rabbits need to be kept indoors – the bad weather is too much of a shock to their system," explains senior animal care assistant Megan Wilkinson.
The problem is that many people stick their rabbits in hutches outside, with the only interaction being a brief visit from their owners bringing food and water. They're very sociable animals so they can become stressed, lonely and bored.
"Many owners find rabbits become a chore and it's these animals which tend to be dumped outdoors or handed into rescue centres," laments Megan.
After I've helped fill the cats' and rabbits' feed trays, it's time to meet the dogs.
There are six here at the moment, three of which desperately need homes.
First up is three-year-old Buddy, an absolute sweetheart who came to the centre in April with his mum. While his mum was rehomed, poor Buddy keeps getting overlooked.
As he bounds out of his kennel to meet me, I fall for him – hook, line and sinker. He's absolutely gorgeous, with expressive eyes and ears and a very waggly tail.
As we go for a walk through woodland, I ponder adopting him until I discover he'll need to go to a pet-free home…and of course, I have a black Lab, Toby.
"He's a lovely, bouncy young lad who can get quite excited when going for walks but he does calm down and walks nicely on the lead," explains Megan.
"He loves people, but he needs to go to a home without other pets or children under 16.
"He can be quite boisterous and reactive to other dogs so needs a patient and understanding owner who can help with his socialisation."
As Buddy is a lurcher, he'll need to be kept on the lead at all times – otherwise, the chances are, he'll do a runner.
He needs a home with a secure garden so he can have off-lead exercise in a safe, secure area.
His pal, three-year-old Elsa, is rather a shy girl who's nervous of men.
"She'd be best suited to a quiet home with a patient, understanding owner," says Megan.
The owner should have no young children, cats or small animals due to her high prey drive.
I also meet Alfie, a gorgeous nine-month-old Collie. He chases and lunges at cars – and barks a lot – so he'll need a country home with space to run around.
"He'll need a lot of training but in the right environment, he'll make a fantastic pet," says Megan.
"He loves other dogs and he'd be great at flyball and agility. Collies are smart dogs, bred to do a job, so Alfie will need stimulation."
Centre manager Elliot Hay is keen for me to meet two snakes – a corn snake and a milk snake – needing homes. Their owner joined the army and of course, he's not allowed reptiles!
"Ten years ago, it was mainly cats, dogs and rabbits coming into centres, but we've rehomed more reptiles than dogs this year," says Elliot.
"They can be more difficult to rehome because they don't give much back. You can't put them on a lead to take them for walks!"
A gecko and a bearded dragon are coming in this week so keep your eyes peeled for information on the SSPCA website.
Other animals to have come to Petterden include ferrets, fish, hamsters, turkeys, peacocks and the odd tarantula.
And of course, there've been birds aplenty – including chickens and cockatoos – and small animals like guinea pigs,
It's a sad fact that the SSPCA gets more calls from people wanting to give up animals than adopt them, says Elliot.
That's why the charity is urging people not to buy pets for Christmas, as they often end up unwanted when the novelty wears off.
But if you think you can offer Buddy or any of his pals a loving home, get in touch.
info
The Petterden centre is the fastest SSPCA centre in Scotland when it comes to rehoming rescue pets, especially birds and smaller animals.
The centre takes in stray dogs, cats, small animals and birds, as well as animals which have been abandoned, abused or neglected.
A careful application process ensures pets are matched with suitable owners. Before they're put up for adoption, animals receive medical care, training and lots of love and affection to prepare them for their new home. For more information, and to find about volunteering opportunities, see scottishspca.org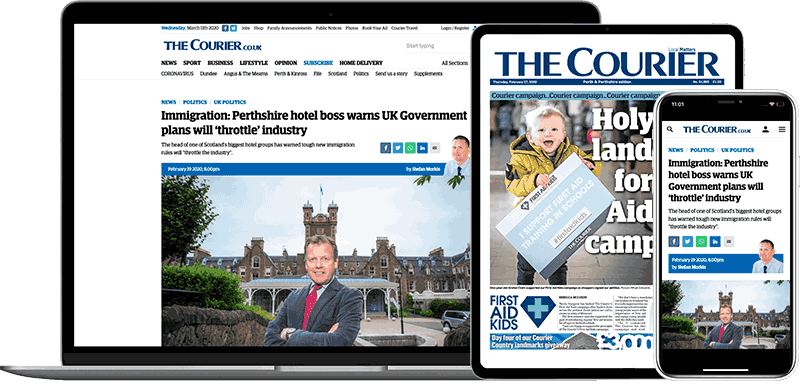 Help support quality local journalism … become a digital subscriber to The Courier
For as little as £5.99 a month you can access all of our content, including Premium articles.
Subscribe