VIDEO: Bounce yourself fit at trampoline workout sessions in Dundee
Love trampolining? Looking for a fresh fitness challenge? Gayle checks out a Bouncercise class in Dundee
Desperately downing a bottle of Lucozade and exhibiting a series of huge yawns before you take part in an exercise class is never a good look.
Yet that's exactly what I found myself doing minutes before I participated in a Bouncercise session at Dundee's Ryze Trampoline Park.
It was Wednesday night, I'd had a busy day at work and I was still recovering from a rather boozy weekend.
Yep, the world's smallest violins were playing for me.
"It's amazing exercise – you might burn as many as 500 calories, or more if you really throw yourself into it!" chirped Becca Stewart, instructor for the half hour session.
While I'm normally up for doing energetic stuff, on this particular evening, the idea of throwing myself into anything did not appeal.
My energy levels were at an all-time low: the tank was empty, I was frazzled, wabbit and creamcrackered.
After listening to a series of safety briefings with the class, which was completely full (there were 30 of us, including boys and men but mainly girls and women), we walked bravely into the trampoline park.
As soon as I saw it, something strange happened – I completely forgot I was tired.
"Find a trampoline each and get on it," instructed Becca, bounding across to one on a raised platform.
It had been decades since I'd been on any sort of trampoline, but, just like riding a bike, it came back to me.
My initial confidence levels were fairly low, especially as I was suffering from a slightly sore back and definitely didn't want to make it worse, or God forbid, end up spending the night in Ninewells!
The thing is, the more relaxed you are, the safer trampolining is, and conversely, if you're tense (which I was), you're more likely to do yourself an injury.
With upbeat dance music pounding from the speakers, Becca got started, firstly teaching us how to perform a bounce.
Basically, you bend your knees, keep your body straight and spring up through your feet, and Bob's your uncle.
When you land, you need a slight bend in the knee. Too much bend absorbs all the power and you'll stop bouncing.
While loads of other folk appeared to be bouncing to the moon, I played it safe until I got the hang of things.
Yes, height gives you more time to get into position for a move, but it also leaves more time for an error!
In essence, if you jump 25ft and mess things up, you could land badly.
During the warm-up, I made the mistake of glancing down and slightly jarred my neck. That's because looking down places your centre of gravity in front of your feet and causes you to lose balance. Bad move, Ritchie.
We progressed through a series of moves – leapfrogs, scissor kicks, seat drops (landing on your bum with your legs out straight, and bouncing back up again, or trying to) and I found myself getting higher and higher. Heck, I was virtually soaring into space, or at least that's what it felt like.
These moves were interspersed with ab, leg and arm exercises – planks, V-sits, toe-taps, push-ups, burpees, squats and lunges – made more difficult on trampolines.
All of this was repeated several times, so the 30-minute session was over in no time.
In fact, it was almost over too quickly – perhaps 45 minutes might have allowed more time to truly get into the swing of things.
I found myself perspiring only slightly, which surprised me, given that Becca had promised an exceptional, calorie-blasting workout.
I put this down to the fact that I didn't fully immerse myself in the session, due to initial lack of confidence.
Next time, I promise to 100% throw myself into it.
The one thing I would recommend, though, is to purchase the special, grippy, trampoline socks. They're only £2 but worth it.
I was the only person in the class not wearing them, although Becca gifted me a rather fetching purple pair when I left, perhaps in the hope I'll return.
Before I departed, she treated me to a tour of the massive indoor park and I watched in awe as a group of brave lads unleashed their inner Spidermen on "super tramps" – massive trampoline areas with glass walls and multiple ledges of varying heights.
There are also foam pits, inflatable obstacles, a "ninja" obstacle course, trapeze, aerial silks, plus a suspended "wrecking ball", which one lad, beaming from ear to ear, jumped on to.
So what's to love about Bouncercise in particular?
Basically, it's a fun alternative to the gym and one which takes many people back to childhood.
And of course, there are a whole bunch of benefits that accompany trampolining.
It increases mobility, burns calories, works your core muscles and therefore increases the chances of giving you a six-pack. It also improves overall body strength, is an excellent toning and cardiovascular exercise and apparently aids sleep.
It's one of the few sports that a total couch potato can do right away, unlike running, and the act of "rebounding" on a bouncy surface protects joints from impact.
The downside? There's a risk of injury with trampolining, but if you do it in controlled conditions – in a class like Bouncercise with instructors – your chances of staying safe increase hugely.
There's also a weird kind of novelty to Bouncercise – it sounds better than saying you're going for a run!
Certainly, I left Ryze a very different person – pumped full of energy and with adrenaline coursing through my veins.
Now that's got to be a good thing for a bleak Wednesday night in January!
info
Bouncercise is a 30-minute beginner/intermediate fitness class at Dundee's Ryze Trampoline Park. Classes cost £5.50 per person. All participants must complete risk acknowledgment forms before they take part. For details of Bouncercise and other classes, or to book a party or event, see ryze.co.uk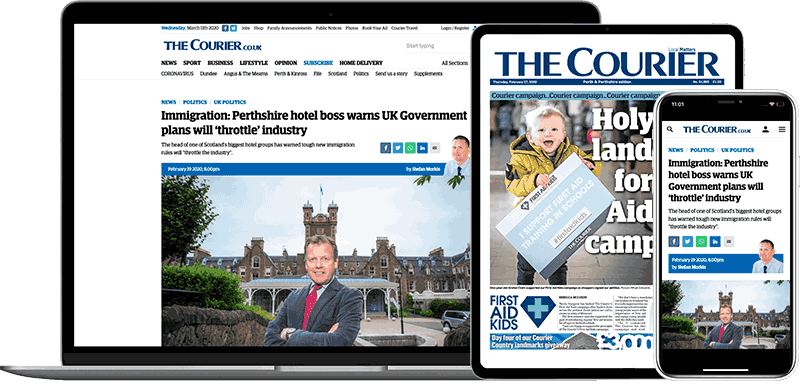 Help support quality local journalism … become a digital subscriber to The Courier
For as little as £5.99 a month you can access all of our content, including Premium articles.
Subscribe