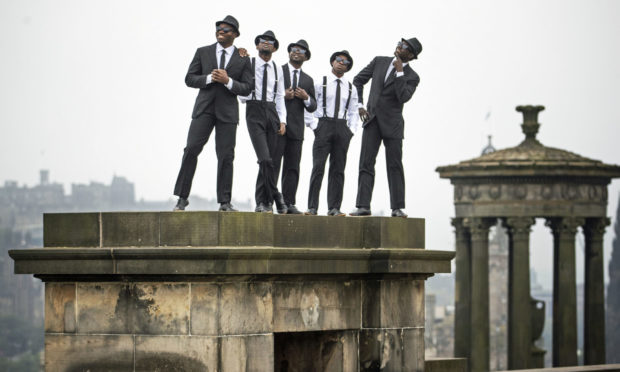 The show won't go on – not this year, anyway. What does the loss of the 2020 Edinburgh Festival mean to our arts communities? Gillian Lord reports.
Theatres and venues had already gone dark in Tayside and Fife when the 2020 Edinburgh Festival was cancelled. It added to the dystopian feeling as the world shut down.
The Festival is one of the biggest arts showcases in the world and Scotland is the star. The figures are dazzling too – Festivals Edinburgh estimates its annual events generate more than £313 million for the Scottish economy and create the equivalent of 6,012 full-time jobs, the main festivals being the Edinburgh International Festival, the Fringe, the Military Tattoo, the Book Festival and the Art Festival. The Fringe generates £173 million annually, hosting artists, arts industry, media and audiences from over 150 countries in 2019. Of the 3,800 shows last year, some 25 per cent were Scottish.
Essentially it is a giant shop window for the arts, a huge marketplace where promoters and theatre directors look for new talent, commissions and collaborations, where actors look for new work, and everyone gets access to an international network that can reap benefits for years to come. It's Scotland's chance on the world stage.
Dundee-based Scottish Dance Theatre's artistic director Joan Cleville's Antigone, Interrupted, was scheduled for the 2020 Fringe Festival as part of the Made in Scotland programme.
Antigone was slated for a three week run.  "As an artist it is great to be able to perform every day for three weeks. A work is always developing, and you learn so much from an audience,"Cleville said from his home in Dundee, where he was, like everyone, in lockdown.
And of course there are the prospects, the networking, the chance to "plant seeds that maybe two years down the line result in a collaboration of some kind. You can feel a bit far away sometimes in Scotland, in Dundee."
"At the Fringe, because there is so much choice, you really have to be hot, you really have to be on your best all the time. I love the mixed audiences, the international flavour, the diversity. You break out of the circle of connoisseurs who love the art form, you get completely new audiences."
Local theatre companies will also miss being plugged into the powerboard; many performers will appear at their venues pre- or post-Festival.
"We will have artists, especially comics, who want to try their work on audiences before the Fringe," Dundee Rep artistic director Andrew Panton says. "We are also able to help give their work another life after the Fringe, especially emerging artists. We're part of the network, pre-Fringe and post-Fringe."
The Rep also uses the Festival to stock up their "artistic fuel tank", it's a place for inspiration. "As a programming and planning team we coordinate to see a wide range of work," he adds.
Perth Theatre artistic director Lu Kemp takes a similar view.
"The Festival is an important source of both the large and small scale work we receive. Much of the theatre work presented in our Joan Knight Studio is programmed out of the Edinburgh Fringe, and one of our most successful visiting shows of recent years, Wind Resistance by Karine Polwart began life in the rehearsal room of the Lyceum as a small show within the EIF [Edinburgh International Festival] programme."
For the arts sector in Edinburgh, the cancellation is devastating. The city's arts calendar revolves around it.
From his time as artistic director of musical theatre at the Royal Conservatoire of Scotland, Panton is well aware of this. "It's a bit like Christmas. It comes around so quickly. You're either planning for it and talking about that, or it's just happened and you're talking about that."
"We worked with the promoters from November, getting contracts and details finalised by February, by the beginning of April until August you have the time to make the work. It's a massive part of the arts."
Young drag cabaret artist Jordan McKinlay, who performs as Jordy Deelight, is a typical Fringe hopeful. Jordy, who has cystic fibrosis and recently featured in the BBC documentary Jordy's 65 Reasons to Live, was due to take two shows to the Fringe.
"The Fringe is crucial if you are live Edinburgh," he tells The Courier as he waits out a 12 week isolation period due to his medical condition. "If any local artist is not performing they are involved in some way. Income-wise it is very important, people start working on it from October the year before. Some make use of funding grants, others invest their own money and try to get it back – but if you are a performer in Edinburgh, the Fringe is the biggest highlight on the calendar."
It's not just the performing arts. The Book Festival, also in August, is the largest of its kind, hosting some 900 authors from around 60 countries.
For Sarah Hunt, owner-publisher at independent publisher Saraband, it is the highlight of her year. Hunt, who has local authors Jim Crumley and Sue Lawrence in her stable, believes the cancellation will be keenly felt by publishers and authors alike, who enjoy good sales and invaluable exposure.
"It is the best in the world, it has an incredible sense of community," she explains. "It is the most egalitarian book festival of all, they pay the same attention to everyone, whether it's JK Rowling or the newbie nobody's heard of, they encourage all authors to be received in the same spirit."
There is some irony that the Covid-19 pandemic, being compared to a world war in its impact, should shut down a Festival started in a flourish of post-war optimism, intended as a cure for its damage.
The idea of an international festival with a remit to heal the wounds of war and enrich cultural life took shape after the Second World War; the first Edinburgh Festival was in 1947. It was an idea conceived by Rudolf Bing, general manager of the Glyndebourne Opera Festival, arts patron Lady Roseberry, theatre director Sir Tyrone Guthrie and Audrey Mildmay, the wife of John Christie, a wealthy theatre producer and founder of the Glyndebourne Opera Festival and Opera House. The first event was financed with the £10,000 race winnings of Lord Roseberry's horse.
Much like today, the performers at the first International Festival were invited. The Fringe immediately started in protest – eight theatre companies turned up uninvited, to find the best venues in Edinburgh already taken. So the "uninvited" made do with the venues they could find, with one company staging a version of the medieval morality play, Everyman, in Dunfermline Abbey.
And so the character of the Fringe was set – it is still for the "uninvited", anyone can perform there, and shows are still staged in unconventional venues. Today it is a world leader, at the centre of some 200 other fringe festivals around the world.
It is a festival of possibilities. Hugh Lawrie, Billy Connolly, Dylan Moran, Billy Bailey, Emma Thomson – the list of people who got their big breaks there is enticing. But you've got to be heard above a lot of noise and performers don't go expecting to make a lot of money. The competition for good venues is fierce, promoters take a high percentage of box office, marketing costs are high, as are technical support costs such as sound and lighting, and accommodation. Many freelance Tayside performers are daunted by the costs. One artist spoken to for this story enjoyed a successful run at a popular Fringe venue in 2019, but it cost her £5,000 to do so. She made £200.
But, you could say, that's show business. For now the coronavirus pandemic has robbed us of human contact and the arts sector needs to be seen and heard.  Yet resilience is a key part of any artist's make-up, and Andrew Panton believes artists will do what they always have, they will adapt, stay relevant, and survive. "They will find a way to keep telling their stories," he notes, "and when it comes back next year it is going to be the biggest party ever."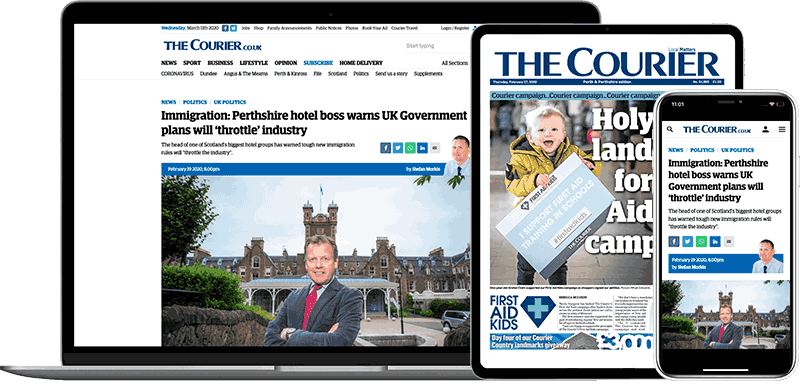 Help support quality local journalism … become a digital subscriber to The Courier
For as little as £5.99 a month you can access all of our content, including Premium articles.
Subscribe