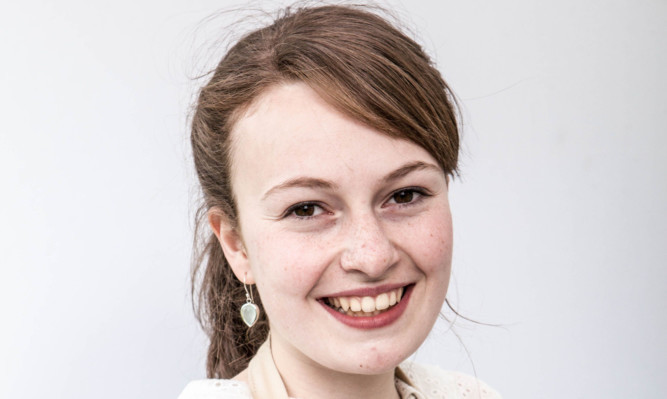 It's been a dizzying 12 months for Flora Shedden.
A year ago Flora, who recently turned 20, was set to begin an art history degree at St Andrews University.
A few months later, she was competing against a Lithuanian bodybuilder, the Dalai Lama's personal photographer, a fireman and eight more wannabe winners in The Great British Bake Off.
Flora was just 19 when she found herself starring in one of the BBC's biggest primetime shows. "It was quite daunting but the good thing is: I was very naive as to how television works," she says.
"If I'd really known about it – what it was like, how many people are involved in making a show and just how many people watch it – I'm not sure I could have gone through with it."
Flora made it to the semi-final of Bake Off, just missing out on a place in the grand finale.
While she's delighted by the career avenues the show has opened for her, she doesn't miss fame.
"When it was on telly, it was a big thing," she continues.
"Most places I went to there was someone who was aware of me. It was really bizarre and I'm not sure I liked it.
"These days, I'll get the occasional person who wants to come over and chat to me about it, which is quite sweet."
Despite misgivings about fame, Flora loved the Bake Off experience.
"I have to admit: the first few series of Bake Off passed me by. I'd seen the odd episode but it hadn't really gripped me. But I became hooked on it in the last two series.
"Being on the show was overwhelming at times. Meeting and working with Mary Berry was a huge privilege. She has more than 80 books published. She never stops coming up with ideas for something new. She really is an idol and a national treasure.
"She was always able to pick a positive from what you had done. Paul Hollywood was definitely the bad cop out of the duo. He could be quite scary!
"Mel and Sue made me giggle constantly. They're hysterical. We were doing long days shooting and they always kept people's spirits up. They are ridiculously energetic."
On Thursday, Flora will be appearing at Birnam Arts in Dunkeld. She'll be in conversation with Dunkeld author and couturier Ann Lindsay, talking about her experiences on and since Bake Off.
Both are giving their time freely and the event will raise money to purchase new auditorium chairs.
Flora will be making macarons and canapes on the night and the winner of the raffle will be able to request a cake of their choice.
"Ann is actually my neighbour," Flora laughs. "She's such an amazing woman – I should really be interviewing her.
"I'm glad we can raise money for Birnam Arts. I've spent so much time in there – seeing shows, doing ballet when I was really little.
"Most of my book was written there. I'd sit upstairs in the cafe and write it, drinking coffee and taking advantage of their wifi."
Flora completed a year at Edinburgh University and has a place to study at St Andrews University but has deferred so she can concentrate on writing her first book.
Gatherings – a collection of recipes for baking and cooking, with pictures taken by Flora – is due for release in January.
"I was surprised at how many doors being on Bake Off opened for me. I do want to go to university at some point but I'm so busy with my career right now.
"I want to ride this wave as long as I can."