Have remakes of Are You Being Served? and Porridge left you feeling stale? Or are they a welcome return to the classic sitcoms of a golden era?
Michael Alexander looks at the mixed reaction to the launch of the BBC's Sitcom Season.
When asked in the 1970's if the Beatles would ever reform, Paul McCartney allegedly responded: 'You can't reheat a souffle'…
The same could be said about attempts to remake classic TV sitcoms.
"They don't make 'em like they used to…" goes the old saying.  Or do they?
Fans of golden comedy from the 1970's and 1980's were salivating on their couches when the BBC announced its new Sitcom Season.
It marks 60 years since the misanthropic Hancock's Half Hour hit the small screen.
One off special remakes of Are You Being Served? and Porridge were screened at the weekend with a Keeping Up Appearances prequel to be aired on Friday night.
But early indications suggest many critics and viewers were left unimpressed.
The legendary British sitcom Are You Being Served? set in a department store, was revived – with a new cast – on Sunday night.
Written by Derren Litten, the creator of ITV's Benidorm, the show featured Sherrie Hewson as Mrs Slocombe, John Challis as Captain Peacock, Roy Barraclough as Mr Grainger and Justin Edwards as Mr Rumbold.
But many viewers were not keen on the BBC1 show, which was followed by a one-off Porridge special as part of the BBC's sitcom season.
James Bailey wrote on Twitter: "The BBC have tried to improve Porridge and Are You Being Served? and failed. What's next in this Beeb fad for retro remaking? Jim'll Fix It?"
The Daily Telegraph's Michael Hogan only gave the show two stars, saying it was a "turgid, interminable half-hour" which made "Mrs Brown's Boys look like PG Wodehouse".
Glasgow-based Courier TV critic Paul Whitelaw, 41, also panned  Are You Being Served?  – describing it as "crap".
But the lifelong telly-addict who was never a fan of the original show in the 1970's and 1980's, thinks the one-off special will still prove popular appeal for the BBC to justify a spin off series.
He said: "You could cynically say they shouldn't be looking backwards and should focus on new comedy.
"Just because Are You Being Served? is old, doesn't mean it was a classic. The innuendo and camp-ness was fine for a laugh. Even in its day it was old fashioned.
"But it didn't surprise me at all when I heard they were doing a remake. It was the 'Mrs Brown's Boys' of its day.
"A few years ago, they revived Open All Hours in a one off Christmas special, starring David Jason. It proved such a hit that it led to a spin off series."
Shane Allen, the BBC's controller of comedy commissioning, believes the time is right for a return to a simpler age of mirth, telling Radio Times: "Sometimes there is a trend in comedy to do the new and pioneering and to forget there are these great writers and voices that the audiences want. There is a nostalgia there.
"My happiest memories growing up are watching sitcoms with my family. Our job in comedy more than ever is to cheer everyone up after all the miserable drama and the harrowing news – that is what we are here for, to create a bit of joy.
"This is a season about comedy writing. People think that it is sacrilegious to go back to these old classics and this is going to sound pretentious but you can redo Pinter seasons and Chekhov. It is about the power of the writing and these  comedies stand the test of time."
Crafty
It's ironic that the remade Are You Being Served? was screened during the weekend when the last of the UK's BHS stores closed. The recent demise of  McEwens of Perth is also a local reminder of how retail and the era of the giant department store has changed.
Noting the remake was "craftily" set in the 1980's, he added: "The show wouldn't work if set today – that's quite clear."
Yet Paul is even more critical of the Porridge re-make which did try to move with the times but in his opinion, failed.
"Porridge was one of the greatest sit coms of all time and was a bigger mountain to climb," said Paul, a Blackadder and Only Fools sand Horses fan.
"But it just didn't work. Without Ronnie Barker it had a big gap in it. Kevin Bishop played the Ronnie Barker character Fletch's grandson – a cyber-criminal sharing a cell with an old lag.
"But it made you realise what Barker brought to the original."
Ingredients
Paul said it was "ridiculous" that he ended up in prison with a 'Mr Mackay' type Scottish warden with the same mannerisms as the original. "What would be the chances?" he added.
The remake, he said, ticked all the boxes for ingredients. It had the characters and was even written by the show's original writers, Dick Clement and Ian La Frenais. But he felt they had been asked to do it and felt "obliged" to come up with a script.
"Are You Being Served? will probably spin out for a series. But Porridge is dead in the water if you ask me,"he added."Viewers would be as well tracking down the original episodes on Freeview."
Paul hated the original Keeping Up Appearances. But on a brighter note, he says the prequel, Young Hyacinth, set in the 1950's, is actually "very good".
He is also looking forward to the 10 or so new sitcom pilots to be rolled out by the BBC including Motherland, written by Father Ted creator Graham Linehan; Our Ex-Wife, starring Robert Webb of Peep Show fame, plus Home from Home starring Johnny Vegas.
"If you get a sitcom right views will watch it. The concept will never die," he added.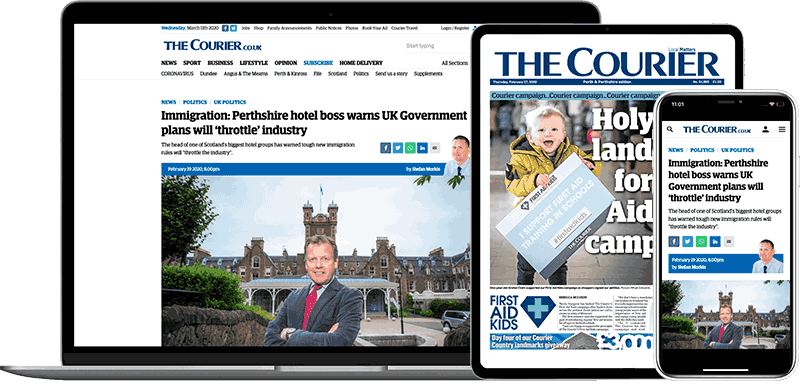 Help support quality local journalism … become a digital subscriber to The Courier
For as little as £5.99 a month you can access all of our content, including Premium articles.
Subscribe