He may appear on a satirical TV show with Channel 4's The Last Leg, but don't expect Josh Widdicombe to be unloading topical comedy on you during his tour.
When What Do I Do Now? rolls into the Alhambra Theatre in Dunfermline on November 7, his concerns will be much closer to home.
"I don't talk about big issues in my act," the Devon-born comic insists.
"On TV, a lot of shows are topical, but that's not why I started doing comedy. I've never done stand-up about politics or human rights.
"That's not what I talk about on a day-to-day basis with my mates, so why would I go on stage and talk about it?"
OK, so that's what he's not going to be talking about, but what will this show actually contain?
"As a stand-up, you naturally talk about what's interesting to you, so I'll be discussing what's annoying me right now.
"But I'll also be doing a lot about growing up in Devon during the 1990s.
"At my primary school, there were only four children in my year. It was a very different experience from a lot of other people's. So I'll be doing some comparing and contrasting with how I live now."
How Widdicombe lives now is no doubt determined by the success his career has achieved in a relatively short space of time.
He's gone from playing lunchtime shows in pubs at the Edinburgh Fringe (alongside Nick Helm and James Acaster in 2009) to selling out some of the biggest arenas in the UK.
His appeal lies in what might best be described as "grumpy young man" syndrome.
With the withering air of a heyday Jack Dee or the permanently fed-up Rigsby from Rising Damp, Widdicombe has put his irritations to good use.
The success of his live shows has spawned significant TV work: as well as The Last Leg, he's written and starred in his own BBC Three sitcom, the less than obscurely-titled Josh (featuring, rather fittingly, a ticked-off Jack Dee).
Alongside Adam Hills and Alex Brooker, he's helped make The Last Leg one of the most watchable topical comedy shows on the box, having initially aired as a complement to the 2012 London Paralympics' coverage.
"Why has it struck such a chord? It's a total fluke really.
"The chemistry between the three of us is obviously key and the fact that it goes out live helps; that gives it a real energy.
"Also, for the last 10 years, a lot of TV panel shows have looked the same, but The Last Leg feels very different."
While all this TV glory is clearly welcome, it's on the live circuit where Widdicombe truly comes alive, and his connection to a living and breathing crowd in front of him helps maintain his motivation.
"That interaction with the audience is what keeps the show lively and it's what keeps you interested as a performer.
"If you're doing a show for 50 nights, it's very nice to make every show a bit different.
"That way, each night feels like a one-off for that particular audience.
"To just do a completely rehearsed show would seem odd. You might as well send the audience the DVD.
"I say that the loyalists are the ones I'm interested in, the ones who have been there from the start. But in fact I'll take everyone!"
Alhambra Theatre, Dunfermline, November 7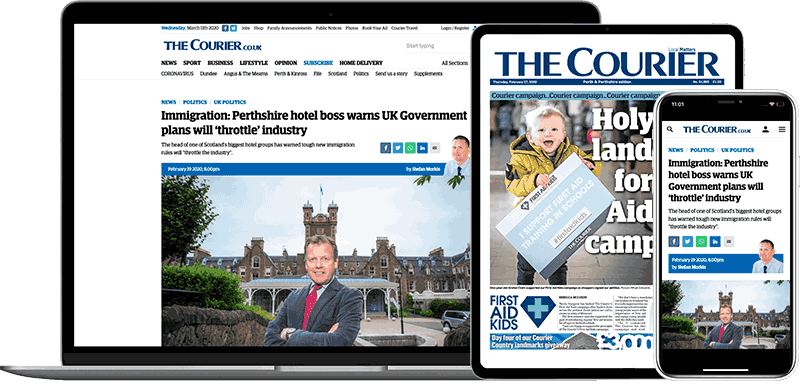 Help support quality local journalism … become a digital subscriber to The Courier
For as little as £5.99 a month you can access all of our content, including Premium articles.
Subscribe