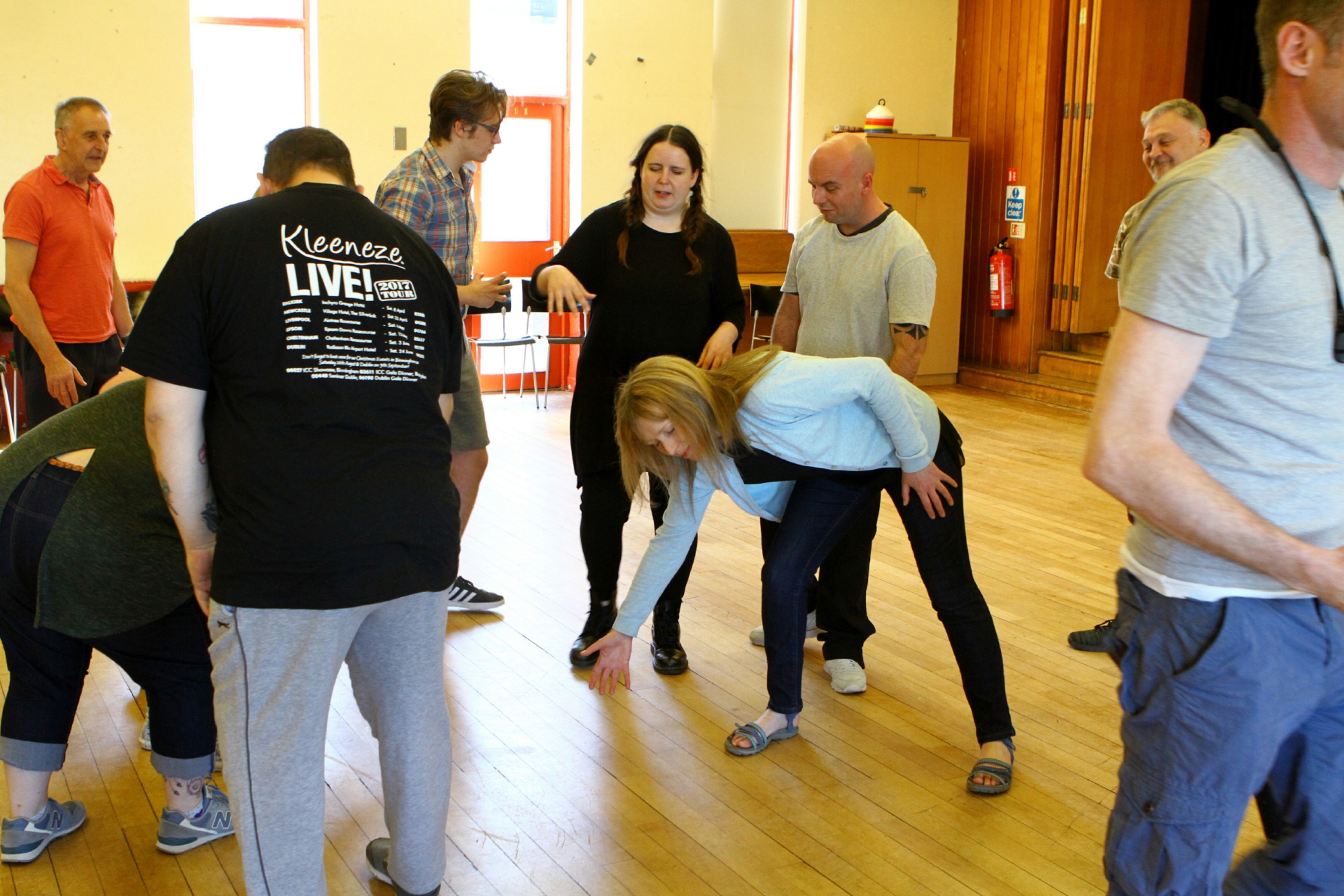 A charity which uses theatre skills to aid the recovery of army veterans is touring a new play across Courier Country. Gayle turns up during rehearsals…
A group of army veterans is running round in circles, shouting about cats and laughing when I arrive at Menzieshill Community Centre in Dundee.
No, they're not crazy – they're working on a drama project run by Stand Easy Productions, a charity which uses theatre skills to help veterans express themselves and aid recovery.
After a few weeks of rehearsals, they will showcase a performance – which members themselves have devised, along with actors and drama students from Dundee and Angus College – to audiences across Courier Country.
It's early days when I visit the group and they're warming up with games before moving on to character work.
Four veterans are on board this year's project (the first one was a huge success in 2016) and they all have what project manager Alan Cameron describes as "mental health barriers" such as post-traumatic stress disorder (PTSD), excessive anxiety or depression.
"It's very difficult for veterans to make the first step into the unknown," he says.
"Eight were signed up for the project but only four managed to get their feet across the door.
"Lots of us have anxiety or get depressed but it's ramped up a lot more for these people."
Watching them in action, laughing and joking and enjoying themselves, you would never know.
Beckoning me to join in some vocal warm-ups and mime exercises, I feel a rush of anxiety, but this soon dispels.
"Pretend you're picking up a heavy parcel," instructs Alan, pointing to an empty space on the floor.
"Open it and visualise whatever it is you've found inside. It might be a mouse, a book, or something else."
For some reason, I imagine a dog, which transforms into a tiny hamster, and I cup it in the palms of my hands and stroke it.
I'm unaware of what others are doing, and become completely entranced by this wee furry rodent. I think this is the point.
Next up is a crazy game, which Alan calls "pussy wants a corner". It's a kind of tag or "chase" and is a fantastic inhibition-loosener.
But behind the fun, there's a serious message, as Alan explains.
"Veterans are sharing their experiences and ultimately, we're exploring the transition of leaving the army to civilian life, mental health issues they face, and the effects on everybody.
"We've had creative work, funny work, work which the veterans have found difficult, and work which they have taken to like ducks to water.
"There's no script – that could increase anxiety; it's more a flow of improvisation."
Billy Girdwood, 48, took part in last year's project and couldn't wait to sign up again this year.
He has been suffering with PTSD and chronic depression for more than a decade, having started his military career with the Royal Signals before transferring to the Royal Highland Fusiliers.
"The prison camps in the first Gulf War we were involved in turned out to be more than we expected," he recalls.
"And when I was in Northern Ireland, I witnessed unexpected things."
While in Bosnia, he was sent home because he had a stroke.
"This project has helped me massively. It's therapeutic and a great laugh," he says.
"As soon as someone mentions 'drama', I used to think, 'I've got no use for that.
"But when you see students and actors making fools of themselves, it helps you to let go.
"If you can stand on stage in front of people, you can pretty much do anything."
Gary Gillan, 36, left the Royal Logistic Corps in 2006. He later broke his neck in a car crash.
"This is the first time I've been out of the house in 18 months," he says.
"The project helps you to interact with people. We use comedy to protect ourselves so it's a good tie-in."
Harry Marshall Snr, 37, was diagnosed in 2012 with severe PTSD, depression and anxiety after "experiences" in Bosnia and Kosovo.
"I had more than two years' trauma therapy with Combat Stress and now I'm navigating my way back to normal civilian life," he says.
"The project is helping us to face fears head on. I can't have someone touch me while my eyes are closed as it triggers flashbacks, but this is helping me to express myself. I'd normally be crawling with anxiety but being focused has helped boost my self-esteem and confidence."
Jim Kettles, 48, sought help for his PTSD three years ago and joined the group to meet people and overcome his fear of public speaking.
"I used to be very shy and I'd clam up," he says. "This has helped bring me out of my shell."
Alan is keen that people watch the play to get a deeper insight into the lives of veterans.
"Until we get their stories out there, people don't understand just how debilitating their experiences can be," he says.
"It's great fun, but also very insightful and thought-provoking."
info
The play will be performed at: Monifeth Amateur Drama Club Theatre on May 22 at 3pm; Douglas Community Centre on May 23 at 2.30pm; Perth Prison on May 24 at 2.30pm; Kirkton Community Centre on May 25 at 2.30pm; Charleston Community Centre on May 26 at 11am.
The project is being filmed by Sandie Jamieson, who's also running film-making workshops for the veterans.
The project is funded by various military charities, including ABF The Soldiers' Charity, as well as Dundee City Council.
For more details, see standeasyproductions.org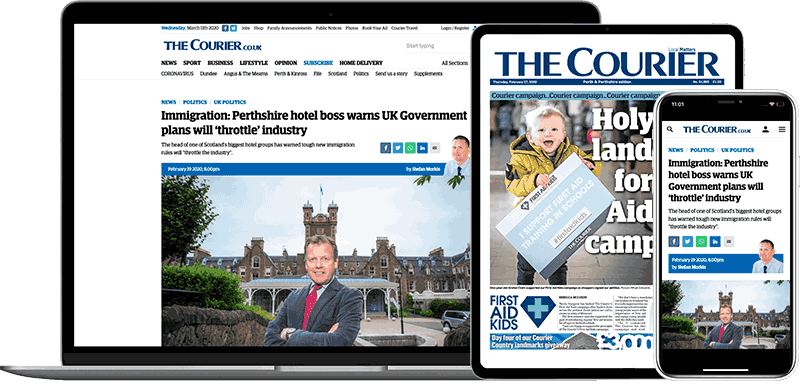 Help support quality local journalism … become a digital subscriber to The Courier
For as little as £5.99 a month you can access all of our content, including Premium articles.
Subscribe