Scooter Gran Barbel Roerig is a massive hits on the streets of Perth. A group of primary school pupils (and Gayle Ritchie) followed her lead.
Zipping through the streets on her scooter, her flowery skirt billowing in the breeze, it's hard work keeping up with Barbel Roerig.
The 79-year-old became an online sensation in 2012 after being filmed speeding around Perth on her scooter with her shopping.
Barbel – better known as scooter gran – is inspiring kids (and adults) to get fit and be more active and when I meet up with her at the town's North Inch, she has a string of pupils from St Ninian's Primary in tow.
The retired architect took up the funky mode of transport 14 years ago.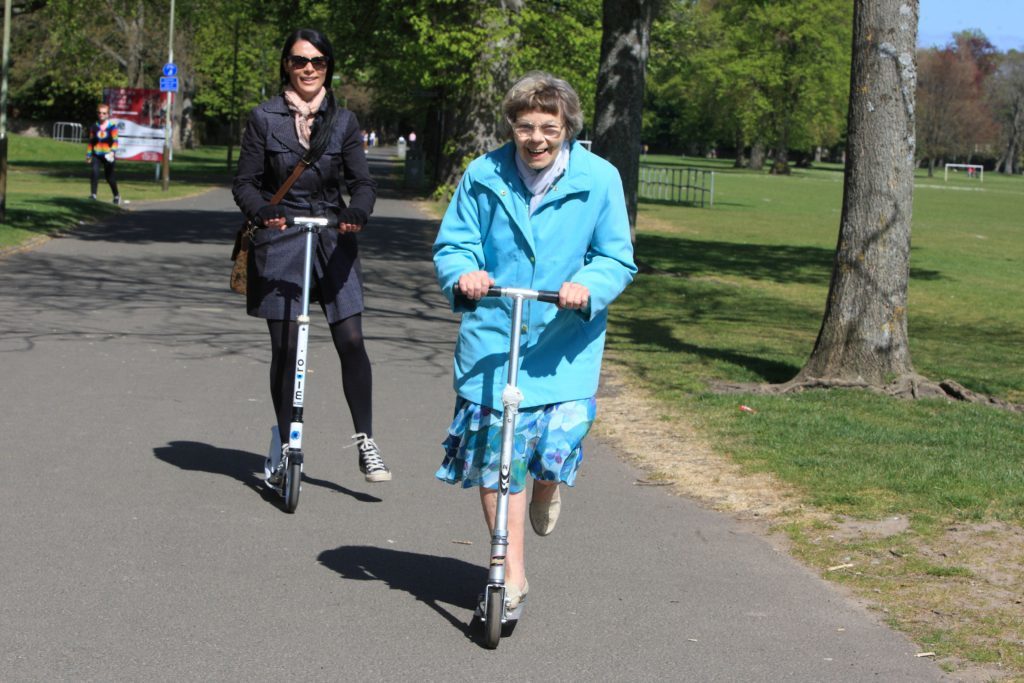 "Buses don't go in the direction I want, including to my allotment on Moncrieffe Island," she explains.
"I had a bike but it was difficult getting it up and down stairs."
It was a trip to Oslo that inspired Barbel to take up the scooter, after seeing airport staff whizzing by on big ones.
"The scooter is ideal," she beams.
"It's like a shopping trolley and transport rolled into one. I dangle bags from the handlebars – I've had up to six – and the more bags I carry, the better the balance."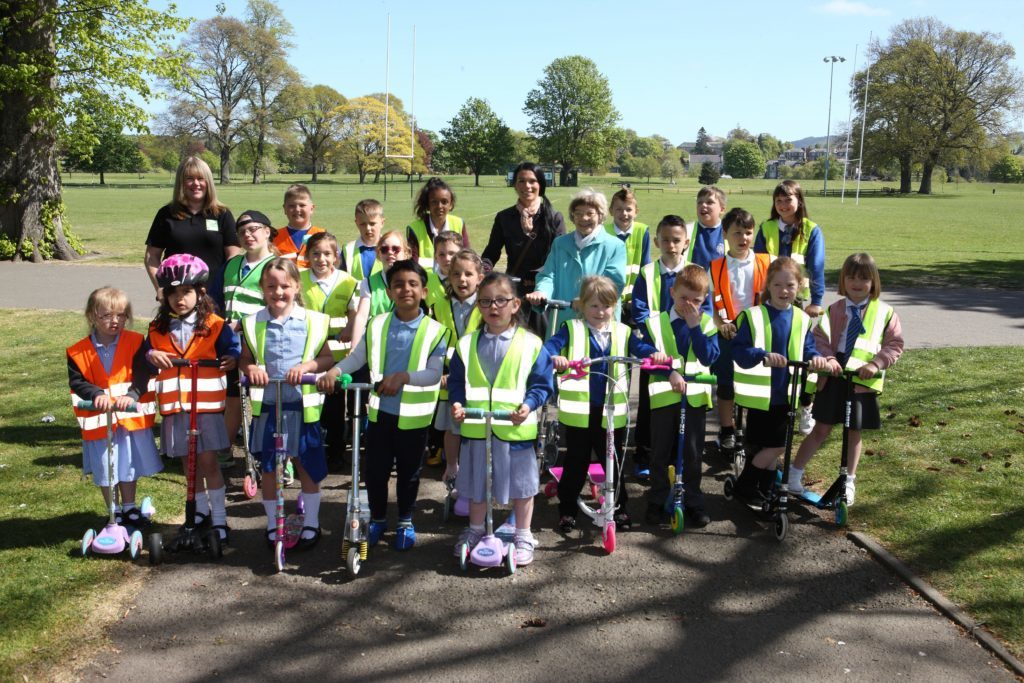 While her first scooter was, in Barbel's words, "an extension of myself, a good friend for 11 years", its successor hasn't been quite as user-friendly.
"On the first day I rode it, I caught a pavement edge and ended up lying on High Street!" she recalls.
"I wasn't hurt – more shocked and embarrassed!"
What Barbel enjoys most about riding her scooter is when it gets her noticed.
"I love it when young men wave at me from their cars!" she grins.
"People don't pay any attention to me if I'm not on my scooter."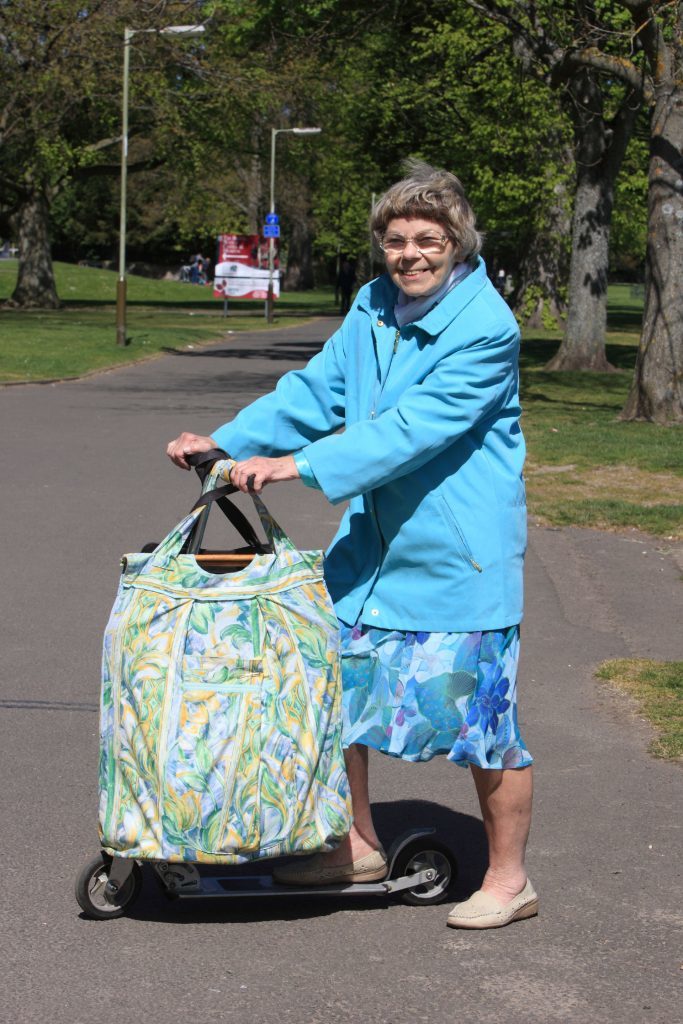 Having never been on a scooter, I'm slightly cautious and a lot slower than Barbel and the kids who follow in her wake (and I don't fancy the attention!).
It's quite a bit of exercise and requires good balance.
Barbel – who is German – has it down to a tee and I watch as she pushes off with one of her beige pumps.
She is very graceful. Alas, I am not.
Most of the kids who've come along have their own scooters and many either walk or scoot to school every day, spurred on by the plucky pensioner.
"I like scooting better than walking," says seven-year-old Campbell McNeillie.
"And scooter gran is just ace."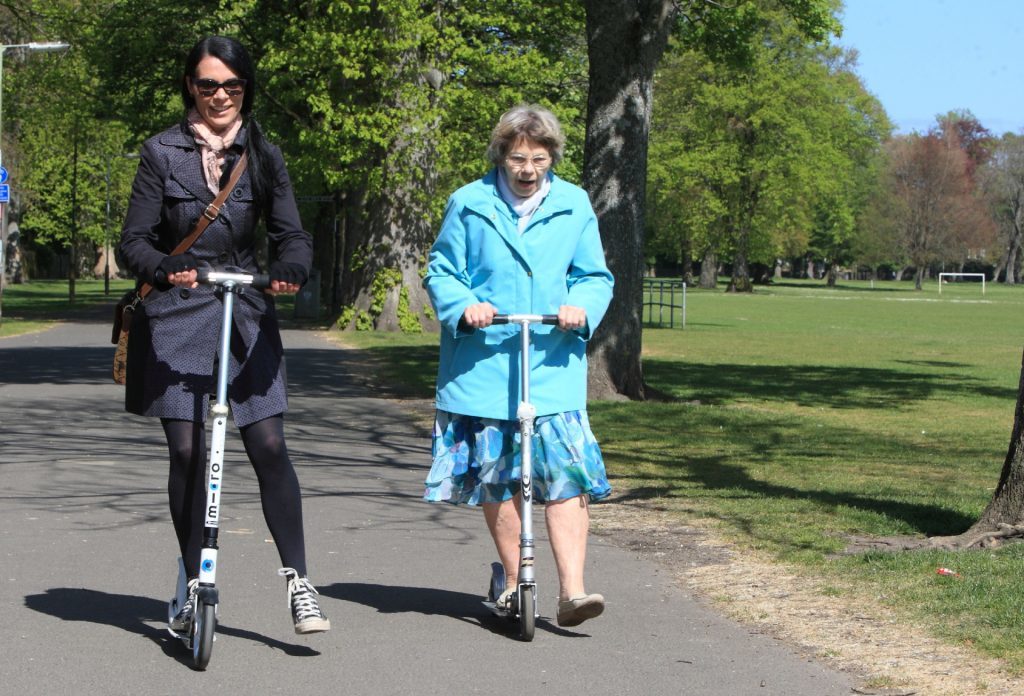 Sarah Bozic, 10, says most of her pals have scooters and she reckons it's better exercise than walking, quicker than the bus and good for the environment.
Nine-year-old Elize Grogan loves scooting to school and round the streets near her house.
"I use it all the time in summer," she says. "And when I'm stressed, I either bake or go on my scooter." Wise words indeed.
St Ninian's is taking part in the year-long WOW challenge set by Living Streets Scotland, which encourages children to walk to school at least once a week.
Now, 67% of pupils walk to the classroom, with 10% making the school run on scooters, thanks to a dedicated scooter park in the playground.
It's thanks to Donna Cromb, schools associate for Living Streets Scotland, that scooter gran is on board.
"I spent about a year trying to track down Barbel and I'm so delighted I did," she says.
"She is a great advocate for the WOW project, so enthusiastic and of course, very active – a fantastic role model for children.
"We want to keep cars away from schools and encourage kids to walk to school or use some form of active transport, like a scooter, skateboard or bike."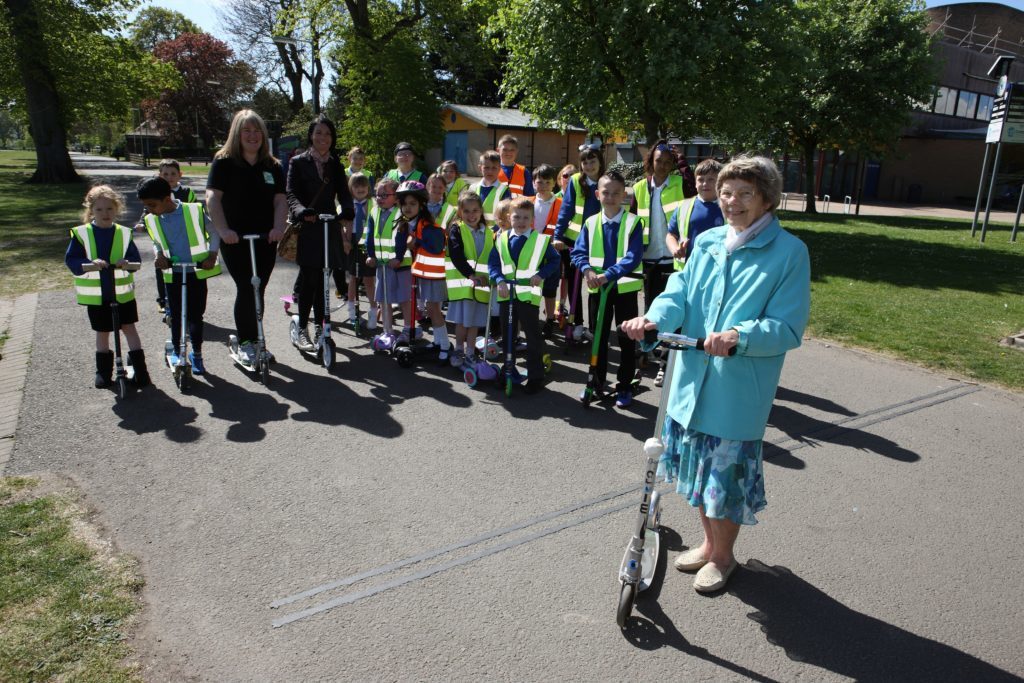 info
WOW runs in schools all over the UK and has a high participation in Scotland including Dundee, Fife and Angus.
The project not only encourages walking but also other forms of active travel such as cycling, scooting and park and stride (parking away from the school and walking at least 10 minutes).
The school sets a threshold for the number of active journeys required per week and if the children meet the target they are awarded a badge every month.