Tealing Dog Training Class in Angus is a finalist in the prestigious "Pawscars" awards. Gayle and her Labrador Toby take part in a session.
Monday night, 6pm, Tealing Hall – the place to be if you're a dog lover.
This is where the legendary Margaret Thomson, aka The Dog Whisperer, works her magic on the young, the unruly, the troublesome, the cheeky and the downright rude.
Margaret has been running dog training classes here for more than two decades, so she knows her stuff.
She's worked with hundreds of dogs and their handlers over the years so it's no surprise her class has made it to the 2018 Pawscars shortlist – an awards ceremony which recognises success, hard work and effort in the UK dog scene.
Bearing this in mind, I head along to one of her sessions with my five-year-old Labrador, Toby.
Although he's generally pretty well-behaved, there are times when he most definitely is not.
Living in the country, we don't see many other dogs, so when we do meet one, Toby gets very excited indeed – and tends to ignore any commands.
This leaves me red-faced and feeling like an idiot.
The other thing is that he's rarely on the leash – he doesn't need to be – so when I have to attach him to one, he loves to pull and drag me along. Not good.
When we enter Tealing Hall, Toby's tail windmills round wildly and he leaps up to meet Margaret.
The place is wall-to-wall with dogs of all breeds and sizes – from dinky puppies to older chaps and chapesses – and what follows is an evening of fun and frollicks with the focus on socialisation and basic obedience.
We test our dogs by asking them to sit and stay while we turn our backs and walk away, and some attempts are more successful than others.
We weave between other dogs, get them to approach a gate in a controlled fashion, and then see if they have patience to allow us to walk through it before us.
Some dogs are working towards attaining their Kennel Club (KC) Good Citizen Dog Scheme bronze, silver and gold awards but they do this in a relaxed and fun fashion, with absolutely no elitism or snobbery.
Toby does me proud on all accounts, despite tugging the lead in the direction of some chicken pieces dropped on the floor.
This is when I realise that many people here aren't bribing their pets with cheapo dog biscuits like Toby usually gets.
No – these dogs are treated to the real deal, whether that's chicken, ham or even squeezy cheese!
I've definitely been missing a trick because Toby is utterly fixated on a classmate's chicken supply…
When the main session is over, the dogs tackle a fun obstacle course which includes small jumps, agility poles and tunnels.
Toby isn't keen on the long, dark tunnel, so Margaret kindly makes it smaller, and bingo, he trots through.
He's more than happy to blunder his way through a transparent alternative, although he gets stuck in the middle briefly.
"I've always felt that dogs should do what they're supposed to do, but I like them to have fun and let off steam, too," says Margaret, patting Toby's head and giving him a biscuit.
"I love working with dogs and have a great rapport with them. It's so rewarding to see them come on."
Margaret has been around dogs since she was a child but she's had Rottweilers for 40 years and is keen to dispel negative perceptions of the breed.
"I love Rotties," she says. "They're so loving, caring and friendly."
Her Rottweiler, Becky, won the Pets As Therapy's PAT Dog of the Year in 2006, while her champion Rudi won the top Rottweiler in the UK award in 2009.
"It's a great achievement to be in the Pawscars final," says Margaret.
"It would be fantastic if people could get on board and vote for us – to win would be amazing."
Tealing Dog Training Class is up again two contenders – Jersey Dog Handlers Association and Plymouth Training Class. So come on folks – pledge your support to Tealing and they could "pawssibly" win!
info
Tealing Dog Training Class is shortlisted in the Training Class of the Year category of Pawscars 2018.
The glittering awards ceremony, which raises money for good causes, takes place in Birmingham in March.
Voting is open until midnight on February 28. Get voting now at www.pawscars.co.uk
Margaret runs three classes on Mondays, at 6pm, 7.15pm and 8pm, becoming more advanced as the evening progresses. She also runs Ringcraft classes on Tuesdays at 7.30pm which focuses on prepping dogs for showing championships.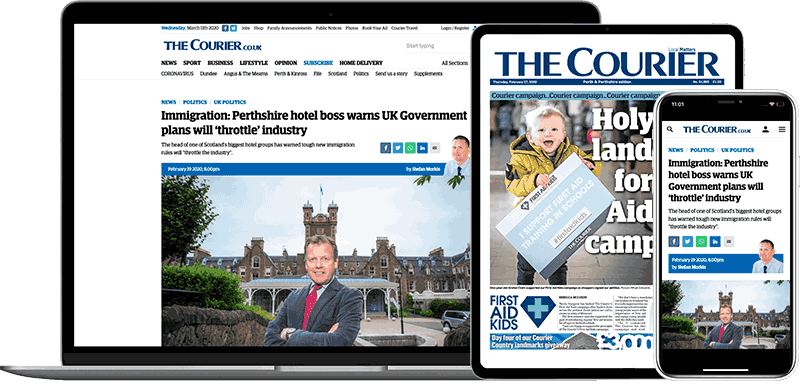 Help support quality local journalism … become a digital subscriber to The Courier
For as little as £5.99 a month you can access all of our content, including Premium articles.
Subscribe