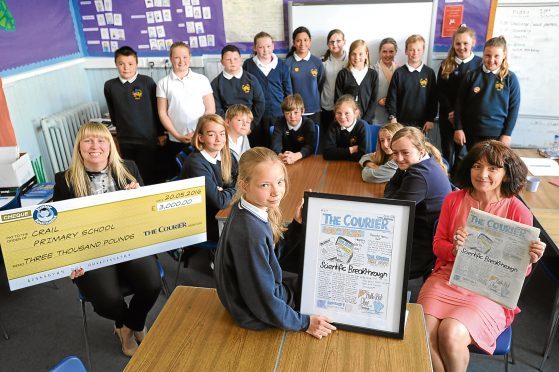 The race to become tomorrow's top reporter is hotting up.
The Courier's Junior Journalism contest starts soon – and the deadline for entry is the end of Friday.
Open to all primary schools in The Courier's circulation area, Tayside and Fife, the free project challenges youngsters to design their own front page.
There's £5,000 of money for your school to be won and the theme of this year's event is "fake news."
With 22 classes, Forthill Primary is the biggest primary school in Dundee. Nearly 70 of its P6 pupils will be taking part in Junior Journalist, making them the largest group to have entered so far.
Rachel Anderton is one of two teachers who will be involved in the competition. "This is my first time but my colleague Gill McIrvine has taken part before and says it's a really good project," she explained.
---
Find your entry form in Thursday's Courier
---
"The kids love imaginative writing and they're excited about the fake news theme of the competition – they're all totally bonkers about Donald Trump."
Rachel and her class have already thought of how they're going to tackle the theme.
"We're going to look at Old Dundee – Jute Jam and Journalism. We'll take an old story such as the Tay Bridge Disaster and write a fake news story about it.
"The children can write all sorts of fake news about whose fault it is, the people being blamed for the disaster and people trying to save their own skin. What's really nice about it is they have to blend factual research into an actual event with imaginative writing."
Junior Journalist runs every two years and is open to all primary schools in The Courier's circulation area.
There's a pot of £5,000 for the classes that come up with the best front pages – £3,000 for the winners and £1,000 for the two runner up classes. This can be spent on anything the class feels would benefit the school, from tablets to computers and cameras – the choice is yours.
Once registered you'll be sent a Junior Journalist 2018 Class Pack. This contains information on the project, comprehensive teacher notes, poster, some great classroom ideas and news activities. Each pupil will also get their very own Junior Journalist activity book.
In addition, your class will receive copies of The Courier delivered to your school once a week for six weeks.