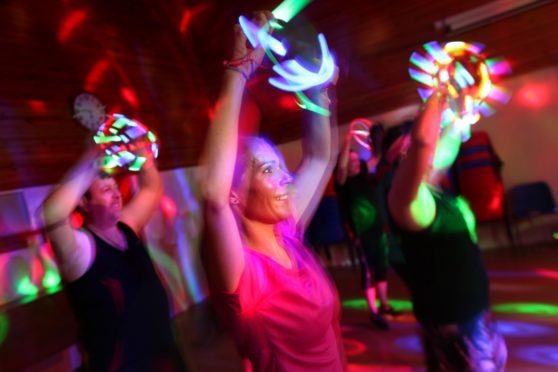 Forget toiling away at the gym. Gayle checks out Clubbercise – an exercise class that feels more like a night out
Glow sticks raised high, disco lights flashing, club music pumping – I'm in rave heaven!
Dance anthems from the 90s are booming out through the speakers and I'm leaping around a gym hall with a bunch of equally enthusiastic people.
No, I'm not at a rave or a party – I'm taking part in an exercise class called Clubbercise.
This one takes place in Dundee's Brooksbank Centre, just off Pitkerro Road, and is led by the effervescent Marina Miller-Kelly.
Dressed in pink and black, with a snazzy neon headband, flashing rings and brandishing the obligatory glow sticks, she looks and acts the part.
Marina is fantastic at whipping everyone into a frenzy, and the minute she cuts the lights and puts on the first track, everyone is going for it.
The concept is simple – Clubbercise is a blend of aerobics, toning and street dance moves, all done to upbeat club music ranging from 90s tunes to the latest floorfillers.
Glow sticks are optional, but make it so much more fun, and help you to stay focused.
Plus, it's ace fun twirling the things around in front of your face, up and down your body and in the air.
There's a mix of men and women at the class (although to be honest, it largely consists of women), and ages range between 17 and 70.
The fantastic thing about Clubbercise is that you can take it at your own pace – it's up to you whether you opt for low or high impact – and because it's done in darkness, you don't feel self-conscious because nobody can see you!
Hence, if you're as uncoordinated as me, it really doesn't matter. When faced with moves that flummox me, I simply dance around in my own world or bounce on the spot.
It's a great excuse for a dance – close your eyes and you could be at the Hacienda circa 1998.
Want to know the track list? It changes regularly but we bounce around to bangers including Oceanic's Insanity, 2 Unlimited's No Limit, Reel 2 Real's I Like to Move It, Livin' Joy's Dreamer, Eric Prydz's Call On Me, Snap's Rhythm is a Dance, Berri's Sunshine After The Rain and Princess Superstar's Perfect.
The hair stands up on the back of my neck and adrenalin shoots through me like there's no tomorrow. Hell, this is great fun!
After the class, when I'm dripping with sweat and grinning from ear to
ear, I catch up with my fellow Clubbercisers.
"I've been going to Clubbercise for four years," says Debbie Blaney, 38.
"I love the music and you can have fun while working out. The atmosphere is electric and I've made some lovely friends."
Andrea Leslie, 34, comes to class with her mate Cat Graham.
"It keeps us fit without being too serious," she says. "Everyone is really friendly and Marina is the best fitness instructor ever!"
Laura McRae says while she also attends Slimming World, Clubbercise helps the pounds drop off and I can well imagine that it does.
"Marina is just amazing," she adds. "She's bubbly and friendly to everyone and makes the class a real highlight of the week."
I have to agree with Marina's statement that Clubbercise is "exercise in disguise".
"The time flies when you're having fun – and we always do!" she beams.
"So many people have formed great friendships through classes and it's a brilliant way to get fit.
"If you're into club music and want a new and adrenaline-pumping way of working out, give Clubbercise a whirl."
One class lasts an hour and can burn up to 600 calories, depending on how hard you push yourself.
The routines are pretty simple to follow – probably easier than the likes of Zumba – and as I said, you can do your own thing and no-one will give a hoot.
Clubbercise? I highly recommend it.
info
Born in the UK in 2014, Clubbercise has become one of the biggest concepts to hit the fitness industry.
Around 80,000 people take classes with more than 2,000 instructors across the UK, Europe, Asia and Australia.
The Dundee class is on Wednesdays from 5.45pm to 6.45pm at Brooksbank Centre, Pitairlie Road and Marina hopes to start classes in Forfar in spring.
She also runs classes for adults with learning difficulties and disabilities. See the Facebook page, Clubbercise with Marine – Dundee and Angus.