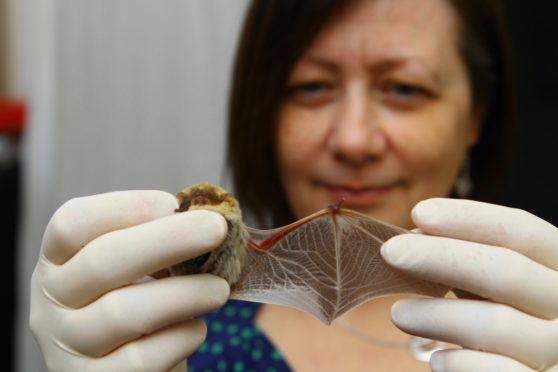 A tiny room in a ground floor flat in Kirkcaldy with the blinds drawn. A woman with healing powers and an affinity with creatures of the night.
Step forward Tracey Jolliffe, aka Fife's very own Batwoman.
Tracey, a former veterinary nurse turned microbiologist, nurses sick, injured and orphaned bats in a custom-built bat hospital in her home until they are fir to return to the wild.
She is a woman entirely obsessed by the fanged creatures. Her front door has an image of a bat embossed on it, her Facebook photo is – you guessed it – a bat, and bat paraphernalia dominates her flat.
Bat books line the walls and "cuddly" bat toys are on shelves, on tables – everywhere.
On the day I visit, Tracey has five bats in the hospital, but during summer, she can be inundated with up to 30 at a time. They sleep in cages and while you might think there'd be a bit of a whiff, there really isn't.
If Tracey ever needs to go away, she's lucky enough to have a neighbour who'll nip in to "bat-sit".
But baby bats (pups) need to be fed milk every two hours, so when Tracey is nursing them, she has to keep them with her all day, feeding them from tiny syringes.
Luckily her pals don't mind when she turns up with a baby or a sick one in a travelling cage. Hotels, however, can be more tricky. "I've hidden a few bats in hotel wardrobes!" she chuckles!
Bats are sent to Tracey from across the UK and today I meet Heinrich, a Kuhl's Pipistrelle that hitched a ride from Romania to Aberdeen in a shipping container!
There's also a brown long-eared bat, two common pipistrelles and a serotine.
"Around 20% of casualties are caught by cats," explains Tracey.
"Bats swoop low to eat insects and cats strike out with their claws, leaving pinprick holes in their wings. Cats also like to sit and wait by roosts."
According to Tracey, Fife is a hotspot for bats. "Most like warm, cosy buildings and in summer, the girls get together in maternity areas – schools, hospitals, old folks' homes – anywhere they can get heat. They're crevasse dwellers, often living in cavity walls, but they don't do any harm although a roost can be smelly."
Surpringly, Tracey tells me she wasn't always so fond of the winged critters.
"As a veterinary nurse, you take all sorts of animals home with you – three legged dogs, one legged cats," she says.
"I wasn't keen on bats initially but when I got to know more about them, I realised they're awesome creatures.
"I started looking after them in 1995. They get a bad press but most people have never met them and imagine them to be like the blood-sucking vampire bats in Bram Stoker's Dracula."
What about the perception that you'll get rabies if bitten by a bat?
"Only one species in the UK can carry rabies and only 5% has it, so it's rare," says Tracey.
"Any wild animal will bite if you pick it up; it instinctively feels threatened."
At this point, Tracey brings out Thunder, a serotine bat, who has had one wing pretty much amputated, and demonstrates exactly that. I feel sorry for the wee chap as he flashes his pearly whites and tries to attack Tracey's glove. I'd do the same.
Tracey's aim is to treat each bat and release it back to the wild, but that's not always possible.
"Some, like Thunder, are so badly injured that they can't fly so they can never be released because they'd starve to death. I look after them and use them to educate people about the species in public talks.
"They also have to be happy to be handled. If they're not, it's sometimes kinder to euthanase."
Unlike Batman, Tracey doesn't dress up in a cap and a mask fighting crime, but she's definitely a local heroine.
If you still find bats creepy rather than cuddly, perhaps these facts might go some way to convincing you. They love midges – they eat around 3,000 a night, plus other flying insects.
They pollinate crops and the lesser long-nosed bat, or tequila bat, is the prime pollinator of the agave plant from which tequila is derived. So without bats, the beloved booze from Mexico might not exist!
info
Tracey's bat hospital has space for assessment and first aid and there's even room for a short test flight. It's also Scotland's only registered quarantine facility for bats.
If you find a sick, injured or orphaned bat, Tracey advises contacting the Bat Conservation Trust at www.bats.org.uk Bats are the most protected animal in the UK. There are more than 1,300 species of bats in the world, making up around a fifth of all mammals.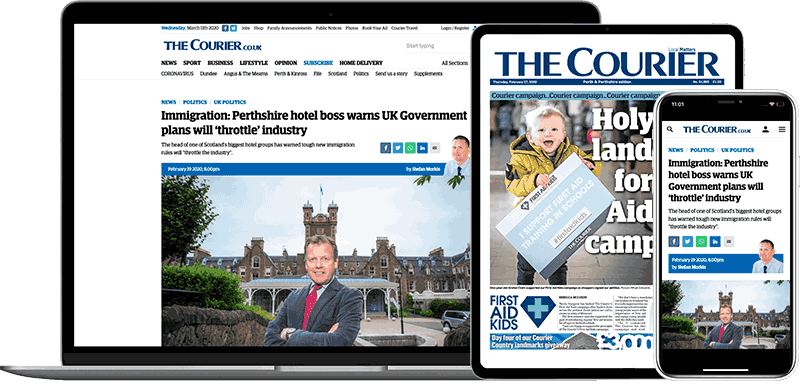 Help support quality local journalism … become a digital subscriber to The Courier
For as little as £5.99 a month you can access all of our content, including Premium articles.
Subscribe