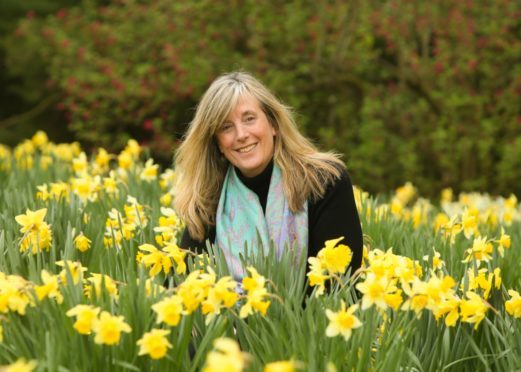 Spring is in the air and daffodils are a sign of hope and renewal. Caroline Thomson tells Gayle Ritchie why people are flocking to the Scottish Daffodil Festival this weekend
In the evenings, when there's nobody else around, Caroline Thomson goes for a stroll amongst the daffodils that grace her garden.
Peering into the flowers, she's overcome by a sense of sheer joy.
"Their fragile, ephemeral beauty engages the senses," reflects Caroline. "They lift my heart; as I watch them flutter in the breeze catching the light, their transient beauty is just as described in Wordsworth's poem."
Caroline, her husband Andrew and son Hamish, of Backhouse Rossie Estate in North East Fife, launched Scotland's very first Daffodil Festival last year to showcase their unique collection of heritage daffodils, along with other daffodil producers, Elmwood College and Plant Heritage.
A roaring success, the couple are running the festival in 2018 – this weekend – and they're already planning one for 2019!
The festival isn't just for daffodil experts – amateur gardeners, families, children, lovers of the outdoors and indeed anyone who visits is guaranteed a fantastic day out.
"The event aims to bring together knowledgeable daffodil growers to answer questions, give demos and talks to encourage and pass on information about daffodils to folk interested in growing something a little different while wandering past an array of different varieties of daffodils and spring flowers in the walled garden and grounds," says Caroline.
The Queen's walk, planted with spring flowering bulbs, celebrates the estate and the family's connection with Mary Queen of Scots who hunted around the former Loch Rossie.
From the mid-1800s to the mid-1900s, Caroline's Backhouse family developed the cultivation of daffodils, and the estate, which is an RHS Partner Garden, is now home to the National Collection of Narcissus Backhouse cultivars with many of the daffodils descended from their original cultivars.
"My mother raised concerns our Backhouse family ancestor' work over three generations, which is synonymous with daffodils, had all but disappeared from horticulture," explains Caroline.
"She suggested Andrew and I should collect the remaining daffodil hybrids and their history, hence Backhouse Rossie Heritage and Education Centre and the National Collection of Narcissus Backhouse cultivars came into being over the past 12 years."
Caroline painstakingly began sourcing named plants from family gardens, cross-referencing stock with catalogue listings from the Royal Horticultural Society's archive library.
In the process, she learned a lot about the family influence on many well-known daffodils.
William Backhouse (1807-1869) bred the stately golden yellow "Emperor" and the bi-colour "Empress".
His son Robert Ormiston registered the pink-trumpeted, creamy white petalled daffodil Mrs RO Backhouse, which Caroline describes as "the most widely known and grown pink, more of a salmon pink to our eyes".
His son William created the "first division 1 red trumpet daffodil" and his mother Mrs RO Backhouse's fiery red-cupped daffodils are some of the garden favourites.
Caroline and Andrew travelled to America to speak at the World Daffodil Convention, such has been the international call to action to raise awareness and search for these daffodils.
"It also made us realise how successful 'flower tourism' is and made us want to start something in the North East of Fife," she says.
"The festival is attracting people from the USA, Germany, Ireland and hopefully China."
Caroline was brought up around daffodils and always thought they were special.
"As a child, I saw daffodils in relatives' gardens and felt connected to them," she recalls.
"I remember looking into their flowers and thinking about the history and beauty. As an adult, that's never changed.
"There are so many different forms of daffodils and their flowers tell you of their history, breeding and hybridisation.
"The festival is about celebrating daffodils as well as my family's dedicated work over three generations spanning 150 years and I can't wait to share this little piece of horticultural history."
There will be 80 prize-winning, heritage and scented daffodil varieties on display in the show area and many more in the walled garden.
There will be talks, tours, demos, walks, stalls and more but Caroline has a few other reasons why we should celebrate the daffodil.
"They may hold the key to an Alzheimer's cure, and daffodils are being trialled for cancer treatment.
"In addition, Scotland is the world's largest exporter of daffodils and our preservation of plants for education, diversity and sale, economically stimulates the area we are in".
"We're also working on forging links with China where daffodils are a good luck symbol."
The festival runs at Backhouse Rossie Estate by Collessie today and tomorrow between 10am and 4pm. www.backhouserossie.co.uk