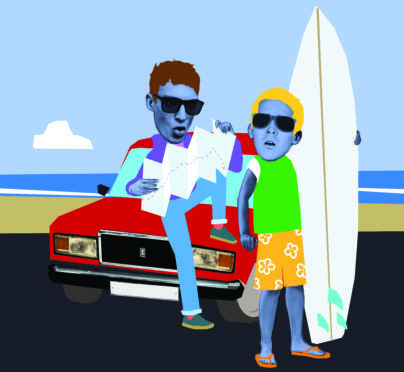 This month sees the Dundee Rep staging the comedy road movie-come-play Passing Places.
The show, which was created by Sunshine On Leith writer Stephen Greenhorn, may be celebrating its 21-year anniversary but Dundee Rep artistic director, Andrew Panton says it feels just as fresh and relevant today.
He explains: "Passing Places still has a lot to say about the ruts we get into during our lives and how we can be more proactive about making a change.
"It's a really iconic piece of Scottish theatre and one that really resonated with me when I first saw it.
"Now feels like a really great time to do a revival. We want to remind the people who grew up with this fantastic play just how special it is and to introduce Passing Places to a new generation."
The production, which stars Ewan Donald and Martin Quinn, kicks off in Motherwell and centres around the lives of two small-town boys, Alex and Brian, who are a little bit lost in life.
Andrew goes on: "Alex and Brian are feeling quite disillusioned. They've been left behind by this post-industrial town where one of them works in a sports shop and the other is unemployed.
"For a number of reasons, they end up stealing this surf board from the sports shop when they're drunk one night which results in all sorts of trouble for them, so they have to leave town."
What follows is the road trip of a lifetime, which sees the young men riding from Motherwell to the Highlands in a clapped-out Lada, on a wild and chaotic journey of self-discovery.
Andrew continues: "When they hit the road, with the surf board in tow, they meet all of these weird and wonderful characters as they make their way right across Scotland."
Famed for its snappy dialogue, Andrew says that it's one of
the play's great strengths.
"It captures people speaking, like people speak.
"It has a lot of rough language and quite a bit of swearing in it, but it really captures how two guys in their 20s would speak to each other.
"A lot of the comedy and humour of the piece comes from the dialogue but there is this great reality to it as well."
Andrew describes the contemporary play as "physical, funny and very energetic", but says that it also has a real heart to it.
"There is a life-affirming vibe running through Passing Places.
"Like in any good road movie, the characters really change and develop during the play.
"By the end of the story, this silly act of running away with the surf board has really turned them into different people and helped them to discover themselves."