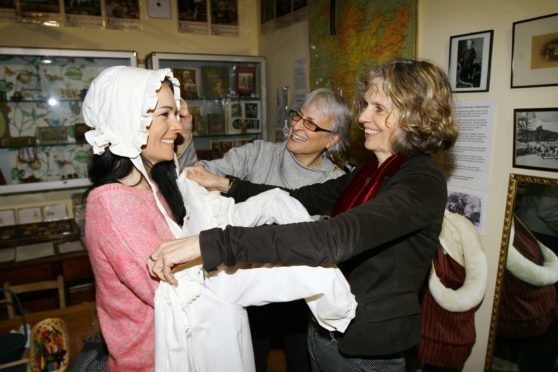 Glenesk Folk Museum in the heart of Angus is a treasure trove of delights, as Gayle Ritchie discovers
Glenesk is a land of wild, rolling moors and shady woodlands, green fields and heathery hills.
It's perhaps not a place you might expect to find a museum – nine miles north of the tiny village of Edzell and to some people, the epitome of "the middle of nowhere".
But a museum there most certainly is, and it's one that invites exploration.
Inside, you'll find the unusual and the unexpected. Some exhibits will make you smile; some might bring a tear to your eye.
Crucially, like the crumbling ruins and network of hill tracks peppered throughout the glen, they tell the stories of those who lived and worked here. And despite its remoteness, the museum has proved hugely popular since it opened last century.
Driving up the stunning glen, your first sight of the imposing white building is breathtaking. Housed in a former shooting lodge known as The Retreat, which used to belong to the earls of Dalhousie, it was refurbished and expanded in 2007.
Local schoolteacher Greta Michie opened the museum in 1955, using innovative methods of telling ordinary people's stories by drawing on living history ideas then being pioneered in Scandinavia.
She collected an extraordinary selection of artefacts chronicling the lives of those living in the glen from the 17th to the early 20th centuries.
Incredibly, the museum also boasts a diverse collection of objects from beyond the glen and worldwide, carrying many, as yet, unravelled mysteries.
Inside, there are tens of thousands of objects waiting to be discovered.
"They've come from homes nearby and abroad but their stories touch each one of us, wherever we live," curator Maria MacDonell says when I pop in.
"It's not an inward-looking glen and never was. People love the museum because it gives such a fantastic window into the past; into the lives of those who lived here. The tug at the heart for many who left was strong. Many were homesick and longed for Glenesk, with its peat fires, beauty and cocooning, tight-knit community."
Like many small communities in Scotland, when arable farming began to be replaced by sheep and deer farming in Glenesk, people emigrated to the likes of Canada, Australia, New Zealand and South Africa to find work.
The population figures speak volumes. In the 1850s, 860 people lived and worked in Glenesk – today, there are less than 100.
These days, many people return from foreign lands to explore their ancestors' homes, visit the museum, and take their stories across the sea.
"There's a wonderful element of discovery which makes the place special, but we are easy to reach, being just over an hour's drive from Dundee," says Maria.
It's like stepping back in time as you enter the museum and prepare your senses for a feast.
You can wander freely and Maria tells me a recent visitor planned to spend 15 minutes exploring and ended up staying for five hours! I soon discover why.
The phrase "There's something for everyone" has never felt more appropriate.
The first room, the Victorian parlour, boasts a harmonium, fine china, paintings, writing bureau and tapestries.
"We wanted to evoke a particular period in time and imagine the kind of person who just left this room," smiles Maria.
"We want people to discover things for themselves by opening cupboards and having a peek around. We've left little teasers everywhere."
Next door is the milk room, a cramped space where metal spurtles line the walls. These were used for turning oatcakes while more ornate ones were often gifted to "sweethearts".
Wandering into the kitchen, Maria tells me this was the heart of the house where "everything" went on.
There's a fire in the corner and a "hinging lum" directing smoke up against a wall and through a simple flue.
A large spinning wheel, more than 300 years old, takes pride of place. Apparently it was used by a lady named Jess Cattanach who was more than six foot tall.
In the children's room, you can have a go at being a Victorian child, and Maria and fellow curator Virgina Aspinwall dress me in a bonnet and shawl, much to the amusement of photographer Gareth Jennings.
You can while away the hours wandering through other rooms where you'll find exotic displays of fans and lacework, smoking hats, and weird and wonderful examples of taxidermy.
There's also a bothy, complete with mannequin and 17th Century box bed.
There's an enormous collection of both children's and adults' clothes and the museum enjoyed a visit from the Scottish Costume Society last month.
"They came from Edinburgh and it was hugely exciting," says Maria. "It was their first visit since they last came, 51 years ago, in June 1967. Our current costume display tells that story of 1967, so it's very special.
"Back in 1967, glen folk put on clothes their relations would have worn. It's fantastic that half a century on, there's still great interest in the costumes."
Other museum highlights include an exquisite diorama of the Gannochy Bridge, a rarely seen bronze bust of Montrose poet Helen Cruickshank by Scottish sculptor Vincent Butler, a bronze age sword found on nearby Rowan Hill, various guns and rifles and a new display of commemorative items marking royal events.
There's also a carved stone head by Montrose sculptor Adam Christie. Christie, from Shetland, had spent his adult life in Sunnyside Royal Hospital, shunning sophisticated tools in favour of a nail, an old file, and a worn-down piece of glass.
The belongings of glen dweller Minnie Lindsay are fascinating, including letters from a lover who, at the beginning of the 20th Century, left the glen to seek his fortune in the Klondike gold rush of Canada's Yukon river.
He writes, promising to return to marry Minnie, but alas, never did. Instead, he died alone in 1959 in Vancouver, while Minnie died in 1964, surrounded by her cats.
"It's a sad story," reflects Maria. "It's also a universal story; one that needs to be told. We're planning to publish the letters at some stage."
Outside, there's a shed which boasts an agricultural display, smiddy and cobbled stables with magnificent horses' harnesses.
There's also an archive room, where you can browse the library and delve into detailed genealogy, painstakingly collected by Gilbert and Agnes Lowden.
For me, the icing on the cake is getting a peek into the storage area where there are hidden treasures galore!
My eyes are drawn to a strange looking vacuum cleaner, complete with bellows. A label reveals it's a 1910 Star model. There's a mind-boggling range of costumes, textiles, quiltwork, waistcoats, a dress that belonged to Queen Victoria in the 1890s, a penny-farthing, a sword used at Culloden and much, much more.
"We have tens of thousands of objects and it's not possible to display them all at once, so they're kept in storage until the time is right," explains Maria.
"Displays change frequently and it's exciting to think about what's next. Many of our exhibits trigger memories and tales that are shared between generations. The museum draws visitors into the lives of glen families reaching back generations and across the world. We're aware our community is global and that our history resonates in many ways in different countries and communities."
Maria believes museums are vital to communities, acting as hubs for meeting people, asking questions and sharing ideas.
"Every object in a museum has a story, or possibly many stories, which connect people with each other and the past. As we deal with so many changes in our lives, museums become ever more important for telling us who we are, where we come from and where we might be going.
"Museums need to be lively, inspiring places of communication and change and that is certainly the purpose of the Glenesk Folk Museum."
info
Entry to community-owned Glenesk Folk Museum is free but donations are welcome, as it's funded entirely by public generosity.
Displays change frequently, as do exhibitions of paintings and photographs. Tours of the museum store can be booked in advance.
Don't miss the great cafe which boasts freshly-cooked meals and home baking together with art and museum artefacts.
The shop stocks local produce, books, gifts, crafts and more. There's also a nature trail.
The museum also regularly runs workshops and classes, along with music recitals and storytelling events. www.gleneskretreat.scot.
Fancy volunteering at the museum? Maria and Virginia are keen to get volunteers on board so get in touch.