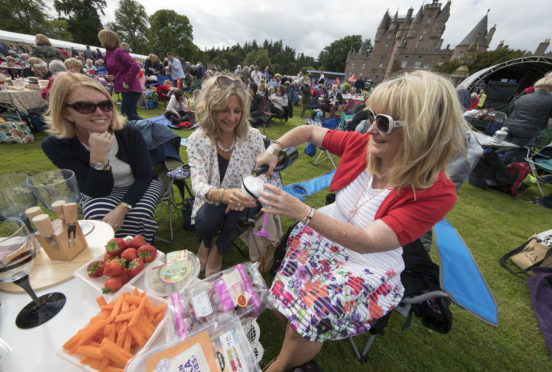 Entries are flooding in from local singers hoping to steal the spotlight at Glamis Prom. As the deadline fast approaches, Gayle Ritchie finds out why YOU should enter!
Sensational singers across Courier Country have until Friday to enter an exciting competition to win a once-in-a-lifetime chance to perform at Glamis Prom.
Organisers of the star-studded event, on August 25, are inviting local people to send in their audition clips pronto – by July 20.
Applications are being invited from people of all ages but only one person will win the experience of sharing the stage with this year's celebrity singers – Kerry Ellis, Tom Urie, Saskia Eng and Norman Bowman.
Last year's winner was Erin Paterson, who was only 12 years old and a pupil at Inchture Primary School.
Producers were flooded with entries but Erin took the top spot and performed "Tomorrow" from Annie, sharing the stage with Susan Boyle, Lee Mead, Jai McDowall and Christina Bianco.
"It was an awesome experience," said Erin, now 13 and a pupil at Perth High School.
"Before the Prom, I'd never had any singing lessons but my mum and dad are both musicians so being musical runs in the family.
"Meeting all the stars and singing along with a big orchestra was amazing; something I never thought I'd do."
Erin's advice to anyone thinking of entering the talent competition is to "just go for it".
"All you have to do is send in a video of yourself singing and you never know, it could be you on the stage this year," she added.
Event director Peter Ferguson said: "The contest is open to all ages this year. The audition clip should showcase your voice but you should be prepared to sing a song that fits with The Great British Songbook theme which is what the Glamis Prom 2018 is all about."
The Glamis Prom is one of the highlights of Scotland's music calendar, bringing national and international superstars to the stage.
It's set against the stunning backdrop of Glamis Castle and music lovers can purchase gazebo pitches and are allowed to bring their own picnics to enjoy al fresco food and drink.
To be in with a chance of sharing the stage with Kerry Ellis, Tom Urie, Saskia Eng and Norma Bowman, all contenders need to do is email a video of themselves singing to the organisers.
Applications must be sent to sing@glamisprom.com with subject line "Glamis Prom Local Star Search".
Entrants can be any age this year. Applicants must send either a YouTube link or a good quality video clip that clearly shows their performing abilities. It should be no longer than five minutes.
Video clips can be of any song or performance but the winner's chosen song must fit with The Great British Songbook theme.  The deadline for submissions is Friday, July 20.
Tickets for Glamis Prom are on sale now www.glamisprom.com.