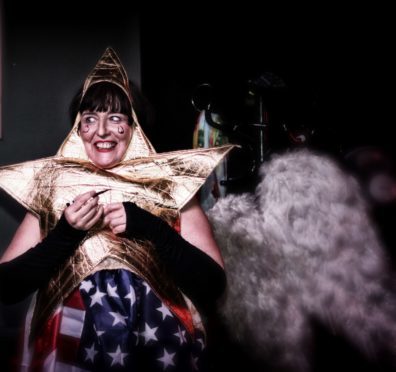 Tayside-based cabaret The Onion Club is heading to the Edinburgh Festival Fringe. Gayle Ritchie meets singer Pauline M. Hynd…
Billed as a "deliciously dark and dystopian cabaret", The Onion Club's new show is sure to raise a few eyebrows when it debuts at Edinburgh Fringe next month.
Simultaneously unsettling and uplifting, American Apocalypse Now tackles themes such as the disintegration of the American Dream, body image, alienation in society, gender ambiguity, sexuality and the rise of fascism.
A collaboration between singer and performance artist Pauline M. Hynd (alias Dubiety Brown) and pianist/composer Stephen Lee, the pair present a stunning musical performance in the style of "cabaret noir".
Ask Pauline – who describes herself as "a queer activist, high maintenance femme, feminist, cabaret artist, and fully paid up member of the carnival of resistance and left wing intelligentsia" – to define cabaret noir and she tells you it "defies genre".
"The vehicle is cabaret noir but there are no fishnets and spangles here – only stark emotion, black humour, wry observation and fierce truth, occasionally lightened by raucous moments of comedic surrealism," she muses.
"I guess it's cabaret in a kind of Weimar aesthetic (cabaret as protest evolved in the Weimar era between 1919 and 1933 in the hope of creating a more activist audience) combining satire, surrealist comedy and giving permission to experience catharsis.
"The new show is intended to capture something of the current historical moment and to invite the audience to respond with open hearts. "It's about coming together and allowing what's subversive and forbidden. It's about opening up space to think. It's a place where tears of sorrow and laughter stream down your face in the dark. There are lots of layers to it."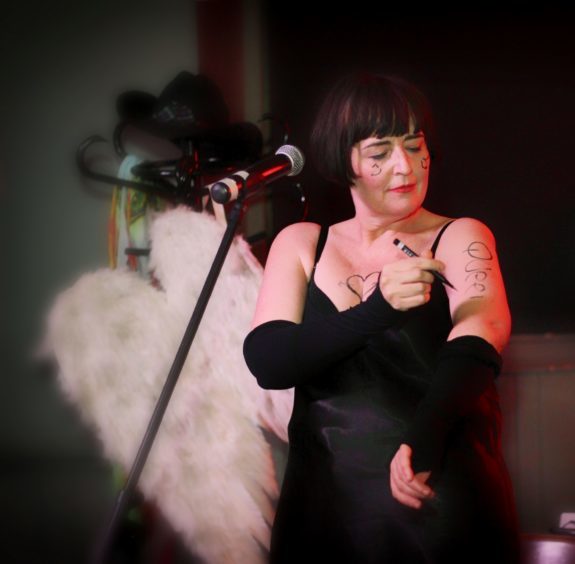 There's usually a "kind of de-layering" throughout The Onion Club's shows, says Pauline, who lives in Carnoustie.
This involves her stripping off various layers of clothing.
"By the end, I'm down to a minimal garment," she smiles. "During the last song, people get to write on my body."
There's nothing smutty or salacious about this act. Rather, this is Pauline's declaration and celebration of being "unashamedly middle-aged and unapologetically voluptuous".
But there's no denying it's a provocative and intimate gesture.
The point, says Pauline – who is a woman who refuses to take life too seriously – is to break down barriers between performers and audience members in "Brechtian" style.
"What I find hilarious is that the style of the show is as much about me as a 54-year-old woman being exposed vocally, and the middle-aged body I have to reckon with," she says.
"People find it quite empowering that I'm not the media stereotype. Middle aged woman become invisible, so it's about stripping back the layers of what that means."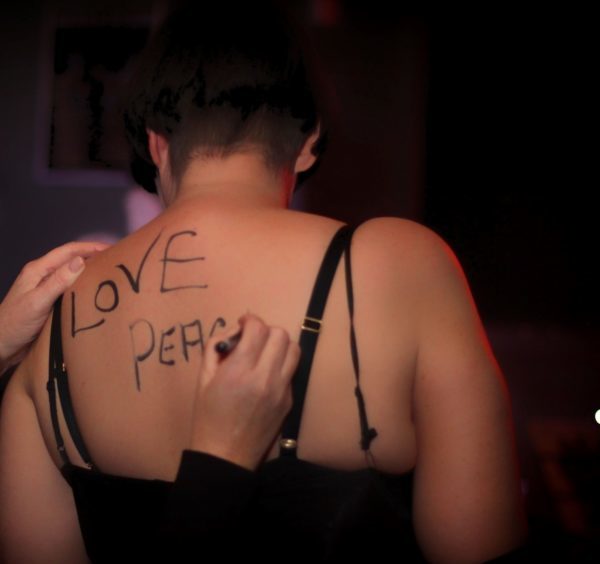 Back to the concept of onions and Pauline explains the name The Onion Club was taken from a chapter in the novel The Tin Drum entitled The Onion Cellar.
"The collective grief in post-war Germany was so overwhelming that there was a massive taboo against its expression," she says.
"The Onion Cellar, a dingy underground music club, provided a safe space for people to listen to music and enjoy a drink which is served with an onion and a knife. In cutting the onion, tears could be released so that people can experience a catharsis.
"Something about that idea chimed with Stephen and I, and so, The Onion Club was born."
The new show, while journeying deep into the heart of "American darkness", also promises to lift your spirits and restore your faith in human goodness.
"We often reference American culture in our lives – it lives in people's hearts and minds and is more than a place," says Pauline.
"But American Apocalypse Now is far more than a simple polemic on Trump and the rise of the far right. Trump barely gets a mention in it; we don't ever say Trump is bad (although of course, he is evil!). It's done metaphorically."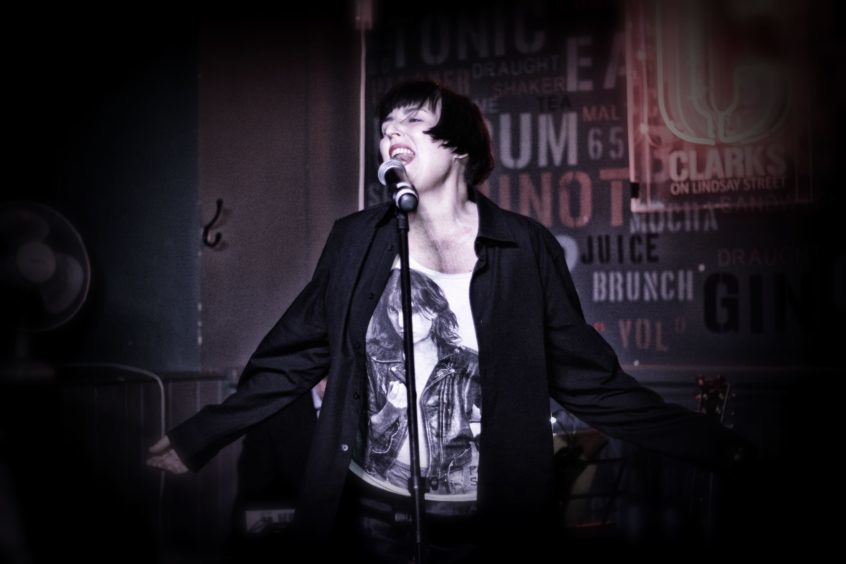 Both Pauline and Stephen grew up in Dundee and describe themselves as "Dundonian to the core".
Outside their performances, they both have full-time jobs – and use other "real-life" names.
"We lead double lives; we're not the same people on stage as we are in reality," says Pauline.
"But I always consider myself an activist in terms of intellectual awareness and promoting diversity.
"My background to do with creativity and change is a different person from Pauline M. Hynd.
"On stage, Stephen is my equal. He's hugely talented and I'd not be able to do it without him."
In terms of the Fringe, Pauline hopes people from Tayside and Fife will flock to see their show.
"It means a lot to have local support. Our usual audiences are so diverse – we get people in their 20s and 70s.
"It'll be interesting to see how an international audience respond to it. There aren't barriers between us and them."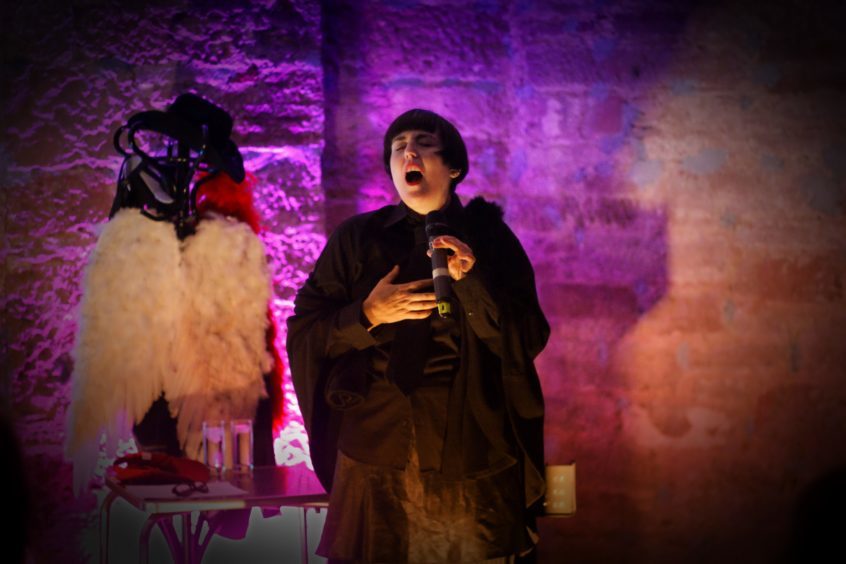 Regulars to Arboath's Hospitalfield, which is dedicated to art and "ideas", will probably have encountered The Onion Club as Pauline and Stephen regularly host shows there.
But while they might make connections, the new show – which Pauline describes as an "emotional rollercoaster" – is exactly that.
"The show is timely. It captures a moment in history. There's never been a more relevant time to consider the implications of what's happening around the world. The show teaches you to be awake."
The Onion Club: American Apocalypse Now, runs at the Gilded Balloon Rose Theatre from August 1 to 26. www.facebook.com/TheOnionClub/