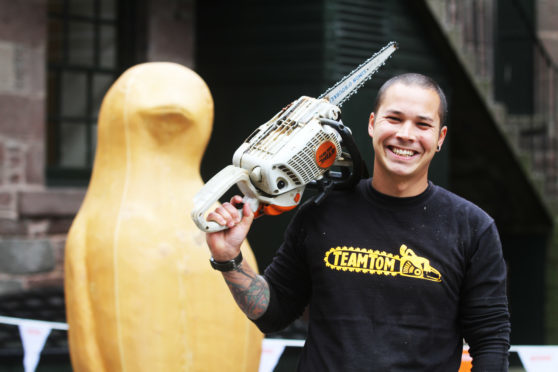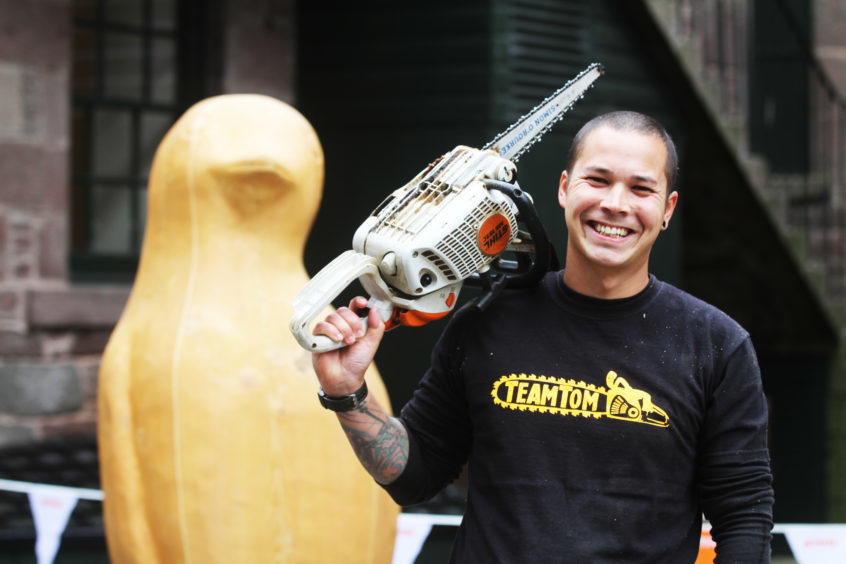 Chainsaw artist Tom Harris-Ward tells Gayle Ritchie how he carved out a career for himself
Tom Harris-Ward has been wielding chainsaws since he was nine years old.
His dad worked in forestry and was more than happy for his young son to accompany him on missions into the woods.
Tom, of Arbroath, recalls dragging branches into piles and stacking logs but what he loved most was being allowed to fell the odd tree.
"When I got bored of that, I'd play in the woods and imagine old tree stumps and dead branches were monsters or animals," he smiles.
"That's probably when, subconsciously, I first saw trees and logs as something other than firewood or timber."
It wasn't until Tom was in his early 20s that he realised he could use a chainsaw to carve wood to create art.
When his parents bought a small cottage surrounded by woodland, he bought his very first chainsaw – "a heavy old beast of a thing that would rewind the pull cord so fast that I felt I might lose my fingers every time I started it!"
It was on one of his trips to Angus Chainsaws that Tom, now 34, first encountered chainsaw carving.
"There were a couple of wooden bears and a wizard outside the shop and I was fascinated by them," he recalls.
"The first thing I carved was a mushroom but I didn't really know what I was doing. I just hacked away at a log until it started to take shape. In fact, that's how most of my early carvings were created."
Other than Andy Wallace at the saw shop, Tom had nowhere to turn for guidance as online videos were thin on the ground.
However, Tom had always been artistic, having studied graphic design at Dundee College, so his natural talent shone through.
These days, he performs carving demonstrations and competes at events up and down the country.
In 2015, he came second at the international carving championships in Carrbridge, when he carved the first moving sculpture in the event's history.
The following year, Stihl UK started sponsoring his protective clothing and since then, Tom has regularly carved at Stihl dealership open days and promotional events.
Most of his work is based on Scottish wildlife but he's carved a few strange sculptures over the years, too.
"One commission was a life-size North sea commercial diver for a friend celebrating having worked in the industry for 30yrs," says Tom. "Another was a VW campervan. A time-lapse video of me carving it went viral with more than 2.5 million views online in the first 72 hours."
In June, Tom created a sculpture for the Maggie's Penguin Parade in Dundee, starting with a huge Douglas Fir tree, milling it into four pieces and glue-laminated these together.
The Antarctica-shaped inlay in the penguin's chest was a piece of teak, salvaged from RSS Discovery during restoration work.
Chainsaw sculpting brings its own challenges and Tom enjoys figuring out how best to fit a carving into a log.
"Visualising what I want to carve before I start is something that's taken a long time to learn.
"With most forms of art you start off with nothing and build up to the finished piece, whether with layers of paint, clay or fabric. "With carving, the finished sculpture is already inside the log. You have to cut in and take away the bits you don't want so it looks like the thing you want to carve."
When I ask Tom what he reckons is his greatest carving achievement, he laughs and says: "Probably the fact I still have all my limbs attached!"
But safety is no laughing matter and of course, chainsaws are potentially very dangerous.
Untrained and inexperienced operation of chainsaws is the biggest cause of chainsaw-related accidents in the UK, so Tom has  completed all the relevant safety courses.
On a lighter note, Tom loves talking about his "mishaps" and has an anecdote about his first competition.
"Having spent almost four hours carving, I'd finished my sculpture, a stag's head mounted on a shield.
"I had five minutes before the buzzer went when the wind toppled my carving, snapping one of the antlers off as it hit the ground. I managed to repair it but it almost certainly cost me the best newcomer award!"
Then there's the time he started carving a dugout canoe. Tom had spent weeks shaping the outside and burning and scraping the inside.
"I was running late so left the fire inside smouldering away. I returned to find the fire had caught light again and burned my canoe in half. Even now I can't utter the words 'dugout canoe' in front of my wife without her laughing!"
When Tom, who owns more than 10 chainsaws, isn't carving, he works shifts in the pharmaceuticals industry.
"That affords me plenty of time to play with my saws. Just as well because chainsaw carving is highly addictive."