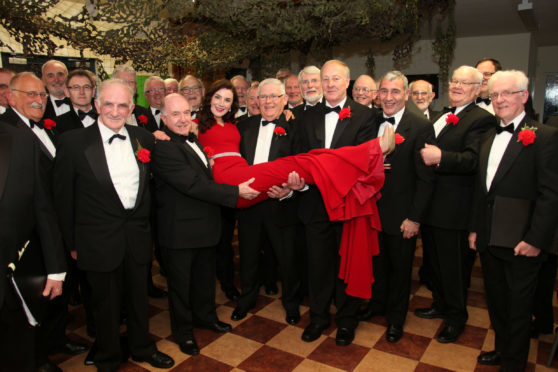 If you happen to be passing Knox's Church Hall in Arbroath on a Monday evening you might be lucky enough to hear the Arbroath Male Voice Choir hard at work, practising a variety of popular tunes at their weekly get-together.
One of only a few male voice choirs left in Scotland, the group was founded in 1934 by workers of Douglas Fraser & Sons, a local engineering and textile company.
Dr Richard Irvine, a part-time lecturer at Fife College and a former president of the choir, is proud the choir is still going strong more than 80 years on.
"I joined the choir in 2005 and I sing in the second tenor section – this is the most important section, as any second tenor will tell you," Richard smiles.
He's keen to stress you don't have to be a talented musician or singer to join the choir – just bring a large dose of enthusiasm with you.
"Although I received some basic piano tuition as a child, I have no formal musical or singing qualifications – I just like music," he says.
"I joined the choir because of my love of music, my sense of community and a need for a new challenge. I didn't know what to expect – the whole idea of choir singing was new and strange to me," he admits.
"However, I found a hugely welcoming and friendly bunch of people, who showed me the ropes.
"One of the most important lessons was to learn to listen – knowing when not to sing and listen to your more experienced neighbours or to the piano is just as important as singing."
The choir currently has around 30 members from across Courier Country, aged from mid-40s to the late 80s, and is divided into four sections: the first tenors (the highest vocal range), the second tenors, the baritones and the basses (the lowest voices).
"We sing a wide variety of music, mostly on the lighter side of things," says Richard. "We sing popular songs from the great American songbook, folk tunes, popular opera choruses, Christmas songs and carols. Variety is paramount and learning more about the world of music is one of the fun things about the choir."
The choir typically holds two public concerts each year, at Christmas and in the spring, and special guests have included Scottish tenor Jamie MacDougall, Scottish Jazz Award winners Rose Room, and internationally acclaimed soprano Lesley Garrett.
Richard explains the ensemble has had only seven conductors since its inception. "Currently filling this role is Adam Baliga, our first male conductor since 1981," he says.
"Adam was born in Hungary where he studied to the highest level, before coming to Scotland a few years ago where he has since become a much-respected member of the team. Our accompanist is Brian Hirst, a hugely talented pianist and arranger from Montrose."
Richard, who is also a volunteer costumed guide at Verdant Works jute museum in Dundee and a presenter of vintage music and jazz on Radio North Angus, reveals the appeal of the choir.
"For me, I love the challenge of learning the notes of the second tenor part and then hearing myself and the other lads in the section blending together over the weeks with the three other sections to form the complete wall of sound," he muses.
"It can be quite magical and even, sometimes, musical! Singing is a great way to express yourself, and choir singing has the bonus that you are never alone – there are 30 other guys there to support you.
"Singing is creative, stimulating and yet relaxing, great physical exercise and enhancing well being too," he continues.
"A wonderful aspect of the choir is the friendship and the humour, we don't take things too seriously and people are always ready to help each other – there are no divas in our choir."
The choir is keen to attract new members and are hoping to welcome men from 18 years upwards.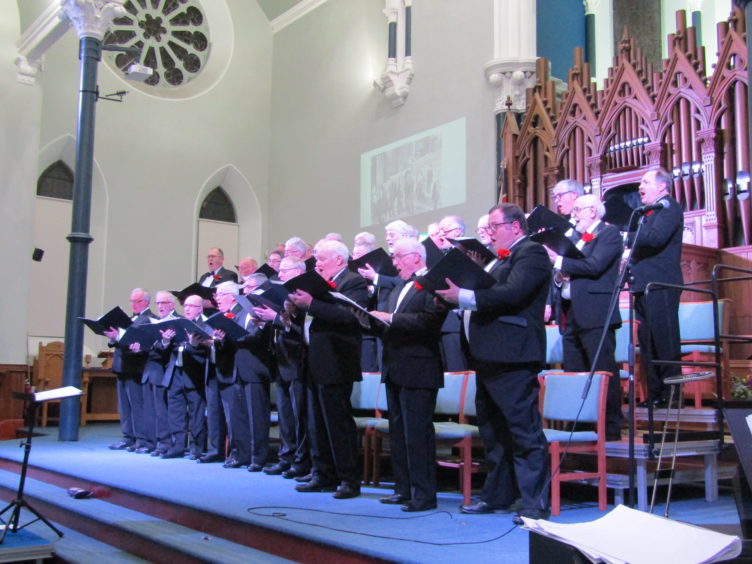 "There is no formal audition and no requirement to be able to read music," says Richard. "Enthusiasm and a desire to try something new are far more important. Making music together is a great experience and a lot of fun. Whilst we always strive to do our best musically, pleasure is the key factor that keeps the choir going.
"Without new blood the choir will struggle to survive and develop. I know it's difficult for people to give over time for group community activities but the choir has the power to give so much pleasure to both its members and the wider community and it would be shame to lose this after 84 years.
"I've had a blast over the past 13 years and have done things I never thought I could or would do," he smiles.
"I would recommend choir singing to anyone – it's not highbrow or old fashioned so don't be put off, give it a go!"
For more info contact Richard at richard.j.irvine@talk21.com, call 01241 872969, or check out the Facebook page. Alternatively, simply turn up on the first Monday practice on August 27 at 7.30pm at Knox's Church Hall, Howard Street, Arbroath.