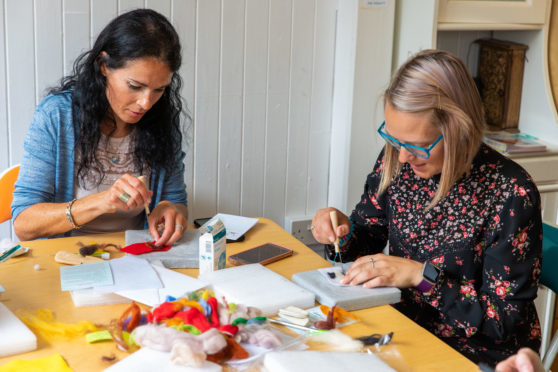 It's not just for bored housewives and grannies. Needle felting is highly addictive for everyone and can lead to compulsive creativity as Gayle discovers…
Let's get this straight – I am most definitely not what you'd call a domestic goddess.
I'm no great shakes when it comes to cooking or cleaning (my house is more dog hair and dust than wooden flooring) and I haven't picked up a knitting needle since I was forced screaming into a home economics class at primary school.
However, when I learned I could make some cool artwork via the craft of needle felting – without having to sew, knit or follow a pattern – my interest was sparked.
So I signed up for a workshop with Coupar Angus crafter Sarah Urie at NEST studios in Blairgowrie.
The main attraction was the promise that in just two hours, I would produce a gorgeous piece of art to take home.
Handing all eight of in the class a kit packed with needles, foam pads and finger protectors, Sarah summed up needle felting for those not in the know.
"In a nutshell, it's the process of tangling wool fibres together by repeatedly stabbing using a barbed needle," she said.
"The basic equipment required to do this is unspun wool, a pad of foam, a strip of felt and needles."
While Sarah excels at needle felting 3D animal and bird sculptures, they're somewhat advanced for beginners.
Instead, she suggested we make 2D pictures using merino wool.
Photographs, sketches and images from the internet can be useful to follow at this stage.
I asked whether a Labrador might be too tricky to create and Sarah advised trying something easier, perhaps a sheep.
She then handed out pieces of felt and wool and told us to practice making basic shapes.
"Use less wool than you think you need or it can end up lumpy," she advised.
I managed a very wonky looking ball of brown fluff while others produced more intricate and elegant flower and plant designs.
When she deemed we were ready to move on to our main creations, Sarah handed out bigger pieces of felt and invited us to choose wool from a range of vibrant colours.
Having decided to follow a sketch – a simple scene with sheep, grass, sky, the sun and a tree – I picked out some appropriate shades.
Glancing sideways, I noticed my neighbour was attempting to produce a robin following a tricky-looking Pinterest design. She was truthful enough to reveal she had tried needle felting a few times before, which made me feel less inadequate.
Starting with the grass, I carefully worked wisps of green wool into the fabric background.
Next, I attempted the sheep – two white blobs with brown ears and unsymmetrical legs.
My sky consisted of layers of blue and white wool and then there was the tree.
My first attempt at this was truly dreadful; it looked more like a bargain basement mop.
Eventually, after recreating the trunk, adding branches and rearranging the foliage, I ended up with something vaguely resembling a Scots pine.
"It's not about precision – just go with it," encouraged Sarah with a smile as I questioned my handiwork.
I also discovered, to my detriment, that if you're not fully focused on the task at hand, needle felting can be painful. Several times, I stabbed the needle smack bang into a finger. Ouch!
Just shy of the two hour mark, everyone had finished their designs.
Some artworks were more intricate than mine – their sheep had eyes, flowers and skies boasted richer textures – but in truth, I was very happy with my first attempt.
The plan is to frame my whimsical rural scene, or perhaps to slot it into a greetings card.
What I found most surprising was just how much I enjoyed the process of rolling wool into balls and stabbing it into shapes.
It's a combination of hypnotic, therapeutic and addictive and you're limited only by your imagination. Indeed, I can see myself doing this in front of the fire with a wee dram come winter!
To get started, you can read books or watch online tutorials, but many crafters prefer to attend classes, like Sarah's, to help them start their very own needle felting journey.
info
Sarah runs workshops at NEST in Blairgowrie, The Peacock and the Tortoise in Perth and Hobbycraft in Dundee. Each session lasts two hours and a course lasts three sessions. Anyone interested should contact Sarah on 07969 256886.
The craft of needle felting was developed in America in the 1980s, copying the felt-making method used industrially since the end of the 19th century. A little nudge from the likes of Kirstie Allsopp has given it a modern makeover.
Wool can be bought locally from those who prepare fleeces for spinning, and online craft suppliers. Embroidery or embellishments can be added to finish projects.
For more information on NEST, see www.createatnest.co.uk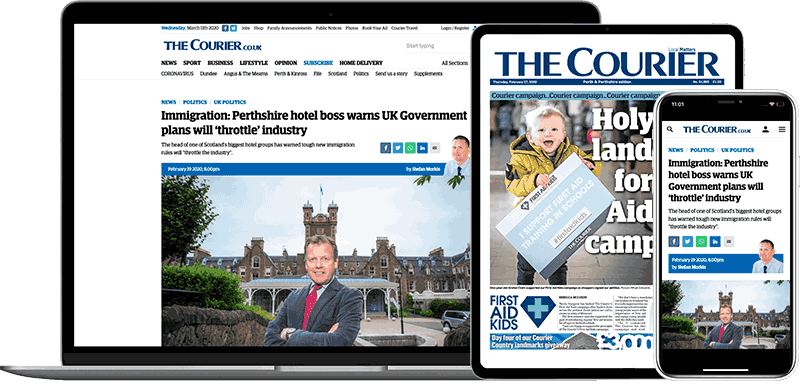 Help support quality local journalism … become a digital subscriber to The Courier
For as little as £5.99 a month you can access all of our content, including Premium articles.
Subscribe