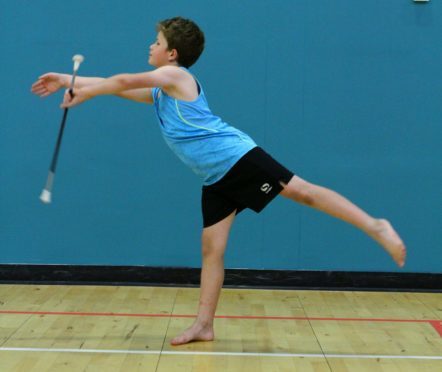 Perthshire schoolboy Ciaran Muir has high hopes of becoming one of Scotland's top baton twirlers. Gayle Ritchie meets the 10-year-old "twirlwind"
Ciaran Muir gives a cheeky wink as he spins his baton high in the air, cartwheels underneath it and artfully catches it.
In time to the thumping bass line, he then flips the baton up again and catches it behind one leg.
The 10-year-old, who is just one of four Scottish boys twirling in British Baton Twirling Sports Association (BBTSA) competitions, picked up a baton before he could walk and entered his first competition aged 14 months old.
"I love the thrill and excitement of it," says Ciaran, as he catches his breath.
"I enjoy learning new routines which challenge me and I love competing. Twirling is a great way to keep fit and make new friends."
Ciaran, a pupil at Dunbarney Primary, Bridge of Earn, is a member of the Dardas Diamonds squad in Glenrothes under the tutelage of Alanna Dardas.
He's also a member of Perth's Fair City Baton Twirlers, does ballet and street dance at Inspire Studios in Perth and is a member of the Great Britain baton twirling junior freestyle group.
"People don't understand how difficult and physical baton twirling is," he smiles.
"You do spins, elbow rolls, cartwheels and different aerial moves with the baton."
Ciaran recently won the British baton twirling junior freestyle individual title in Blackpool for the fourth year in a row.
He twirled to one of his favourite tunes, T-Rex's We Love to Boogie from the film, Billy Elliot.
He's also won numerous top spots at various BBTSA events.
Meanwhile, Dardas Diamonds clinched fourth place at Eurotwirl 2018 in Dublin after the team was selected to represent Scotland.
Ciaran's mum, Sarah Stobbie, is, unsurprisingly, very proud of her son.
"It's a very complex sport, akin to rhythmic gymnasts, and Ciaran is aiming to be one of Scotland's top twirlers," she says.
"Routines are made up of elements such as rolls (where batons roll over twirlers' bodies in amazing ways) and aerial tricks."
However, it takes hours of practice to become skilled at the sport.
Ciaran trains once a week with Alanna Dardas, then in the hall at home three times a week and in the garden before school and when he has free time.
In the past, Ciaran had been the target of cruel remarks, with ignorant bullies calling him "gay". But he's determined not to let the teasing put him off achieving his dream of becoming both a European and a world champion.
"It's an unusual sport for boys a couple more have taken up twirling recently so I'm not alone," he says.
While there are few boys twirling in the UK, the numbers are greater across Europe, USA and Japan where boys twirl well into adulthood, says Sarah.
The new BBTSA season kicks off in November with Ciaran gearing up for the next series of national competitions.
He also competes in "friendly" competitions, with the first of those in Perth later this month.