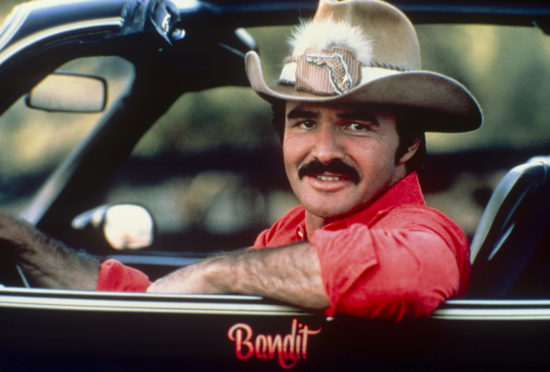 Hollywood actor Burt Reynolds, the star of such films including 'Smokey and the Bandit' , 'The Cannonball Run', 'Deliverance', and 'Boogie Nights' has died at the age of 82.
His manager Erik Kritzer confirmed the sad news on Thursday evening, adding that Reynolds had passed away at the Jupiter Medical Centre in Florida on Thursday morning.
Reynolds, who received an Oscar nomination when he portrayed porn director Jack Horner in the 1997 film Boogie Nights, rose to fame in the 70s and 80s with a series of stellar roles in the likes of Starting Over; The Best Little Whorehouse in Texas with Dolly Parton; Best Friends and The Man Who Loved Women.
He was Hollywood's top-grossing star every year from 1978 through to 1982, and was probably most famous for his iconic role as the Bandit in the 1977 movie 'Smokey and the Bandit', where he drove across the US in a Pontiac Trans-Am while trying to escape the law.
That spawned two further successful sequels, and there was similar success with The Cannonball Run, another fun-filled caper that spawned another franchise.
Reynolds' career also is marked by the movies he didn't make. Harrison Ford, Jack Nicholson and Bruce Willis surely were grateful after he turned down the roles of Han Solo, retired astronaut Garrett Breedlove and cop John McClane in Star Wars, Terms of Endearment and Die Hard, respectively.
Reynolds also indicated he was Milos Forman's first choice to play R.P. McMurphy (another Nicholson Oscar-winning turn) in One Flew Over the Cuckoo's Nest, "backed away" from playing Batman on TV in the 1960s and declined the part made famous by Richard Gere in Pretty Woman.
Reynolds starred alongside Sally Field, and the two were an item for some time. He also had relationships with the likes of Dinah Shore, Inger Stevens and Chris Evert, and he talked about dating Hawn and Farrah Fawcett in his book.
Reynolds was married to British actress Judy Carne from 1963-66 and then to Loni Anderson, the voluptuous blonde best known for the CBS sitcom WKRP in Cincinnati, from 1988-93. Both marriages were tempestuous, and his divorce with Anderson was particularly messy.
"I always wanted to experience everything and go down swinging," he wrote in the final paragraph of his memoir.
"Well, so far, so good. I know I'm old, but I feel young. And there's one thing they can never take away: Nobody had more fun than I did."