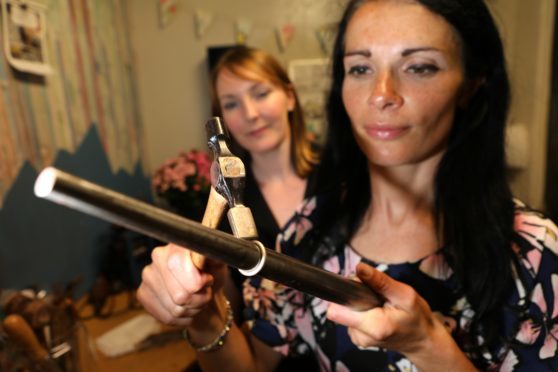 Gayle has a bash at being a silversmith at a ring making workshop in Forfar
Blowtorch in hand, I blast the flame at a skinny strip of silver until it turns ruby red.
Picking it up with a pair of tweezers, I lower the hot metal into cool water where it spits and sizzles angrily.
Keen to boost my creative skills, I've signed up for a jewellery workshop with Zoe Duthie and today's plan is to produce a silver stacking ring.
I'm in good hands as Zoe is a design graduate of Duncan of Jordanstone who clinched the coveted title of jeweller of the year in the Scottish Wedding Awards 2017.
As well as running jewellery workshops, the mum-of-two creates bespoke commissions, some of them more wacky than others.
"One lady asked me to make a gold and silver chicken brooch with ruby eyes," laughs Zoe.
"Then there was a man who commissioned me to make a bullet necklace with a special date on it and another potential order is for a witch's broomstick bangle!
"I welcome these unusual orders as they help me develop as a jeweller and take me out of my comfort zone."
Before we get started, Zoe needs to know my ring size, so she whips out a measuring tool and reveals I'm an "N".
Next up, she cuts a strip of silver to size and hands me a blowtorch, which scares me slightly.
"Heat up the silver so it becomes malleable," she instructs, and I do so with some degree of caution. Heck, I don't want to lose an eyebrow!This soon glows red as the underlying copper alloy is exposed.
I pick this up and gently pop it into a vat of cool water, where it fizzes frenetically.
Then it's a case of bending the strip round a "mandrel", also known as a "ring stick" – a rounded, tapering metal pole. The aim here is to manipulate it into a curved band.
Once I've got a vague ring-shape, out comes the blowtorch again. This is used to solder the joint so it looks seamless.
Handing me a mallet hammer, Zoe encourages me to have a right good bash at my creation to "shape it up nicely". This is extremely therapeutic; a great stress reliever of a Monday morning.
When I express concern I'm going to muck up my creation, Zoe reassures me that silver is very forgiving, so I needn't worry.
It's up to me to create the final touches – to give it the "Gayle Ritchie" signature look.
To do this, I can choose how to texture it, using a variety of hammers Zoe lays out for me.
I opt for a "texturing" hammer, which has a sharp, knife-edged head, and thud away with gay abandon, producing a dimpled surface finish.
When I'm happy with my work, Zoe passes me an electric drill with a special buffing head attached. This enables me to polish and shine my ring.
The best bit? When I finally slide my gorgeous creation onto my finger.
It's a slim, delicate, beautiful piece of jewellery – it's definitely not a big and bold "I want to make a statement" piece – and I've been wearing it with pride every day.
If you're on the hunt for a unique piece of jewellery, whether a wedding or engagement ring, or a simple pendant or bracelet, Zoe is your woman. She's open to all ideas but says she's inspired by traditional styles with a modern twist.
"If I'm making an engagement ring, I might give it a textured finish or add some unusual gems or diamonds," she says.
"I like a piece to have a hand-made look, a more rustic, natural look and a bit out of the norm, but I always use quality materials.
"I work in silver and gold and run bespoke workshops, but the ones for couples are very popular."
My ring may have been produced in just a couple of hours but I'm amazed by how fantastic is looks.
It may boast a few imperfections but that makes it all the more unique. I adore it!
info
A textured ring making workshop with Zoe at Z.D. Jewellery Design in Forfar is £45. Other workshops are available – including wedding ring workshops for couples – and can be arranged on a bespoke basis.
Zoe created Z.D. Jewellery Design in 2009. The shop initially opened as an outlet for Zoe's own designs, as well allowing her to create bespoke commissions and offering a repair service. It now also stocks the work of many other designers. www.zoeduthie.com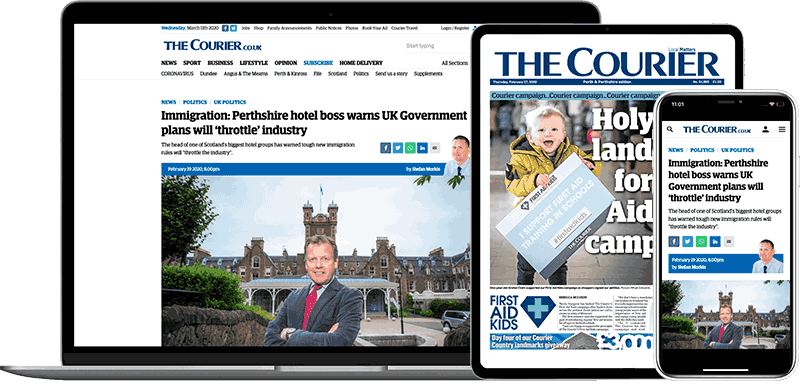 Help support quality local journalism … become a digital subscriber to The Courier
For as little as £5.99 a month you can access all of our content, including Premium articles.
Subscribe