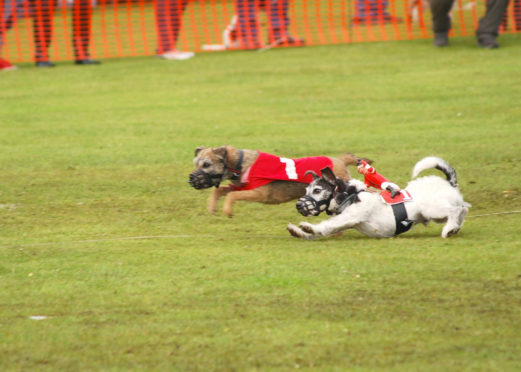 They make great pets and "ratters", but terriers are also fantastic racers. Gayle Ritchie meets the Ore Country Terriers
Their tiny little legs are a blur as they whizz after the rabbit-shaped lure.
Soaring over the fences, the terriers battle it out to catch the "prey", which bobs and bounces temptingly in front of them.
The Jack Russell is victorious, grabbing the fluffy lure by its "throat" and shaking it wildly.
Welcome to the wacky world of terrier racing, performed by Fife-based Ore Country Terriers (OCT).
The concept is fairly basic, but huge amounts of fun.
First up, the terriers are lined up in a series of starting traps similar to those used for greyhound racing.
Then a lure is set and the dogs are released.
What follows is a chaotic, speedy dash as the dogs race hell-for-leather to snatch and grab the lure.
OCT is a non-profit organisation run by Allan Burn, his wife Michelle, and son, "wee Allan".
The family is based in Crosshill but travels to shows all over Scotland, assisted by their friend John Hargreaves.
The Burn family have had terriers as working dogs, employed in Allan's pest control business as "ratters", for years but they started racing the dogs in 2015.
While ratting tends to take place in winter, racing is organised throughout the summer months, so the dogs never get bored!
They performed at agricultural and country events up and down the country this summer, including Angus Show, West Fife Show, the Scottish Game Fair at Scone Palace, Biggar Agricultural Show, Islay Show and Blair Horse Trials.
"The terriers always go down a storm with the public," says Michelle.
"We usually run them in pairs and they chase the lure which is often an old dog toy shaped like a rat, or maybe some old rabbit skin. They'll chase anything!
"But once our terriers have done their bit, we encourage the public to let their dogs have a go.
"We've had all breeds taking part – Rottweilers, German Shepherds, a Shar Pei, Lurchers, Collies and Labradors.
"There can be up to 50 dogs taking part! If there are too many, we split them into small and large groups so no wee ones get trampled."
The mechanism used to wind the lure is a 1915 hand-driven sheep shearing machine which runs a pulley on a continuous loop.
Among OCT's terrier breeds are a Bedlington, a Lakeland and a Border but most are Jack Russells.
Why do they chase a fake rabbit? "It's instinctive," explains Michelle.
"They start chasing balls when they're tiny puppies and go on to chase lures in the arena. They love it."
Their Bedlington Terrier, Smurphy, attended Ireland's biggest working dog weekend at Shanes Castle, Ireland in 2015 where he picked up first place at the all Irish Terrier Racing Championship.
The family were gutted when their little blind dog Maris died in August last year.
"For such a little dog, she had the biggest personality and left huge paw prints on many hearts," says Michelle.
"She was blind but enjoyed taking part in all demonstrations over the last three seasons."
Animal lovers Michelle and Allan put on all their shows to raise funds for the PDSA.
"My mum died two years ago and the PDSA was her favourite charity so we will continue to raise funds in her memory," adds Michelle.
For more information, see www.facebook.com/orecountryterriers/