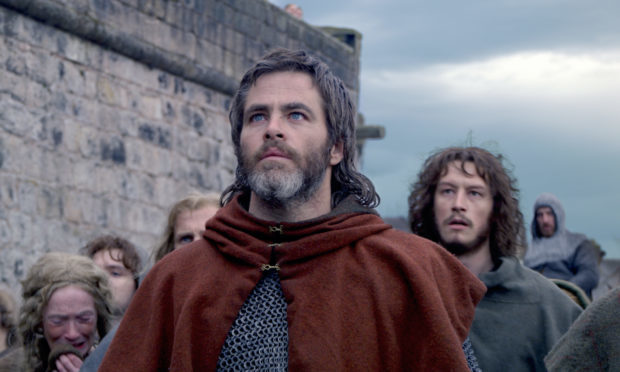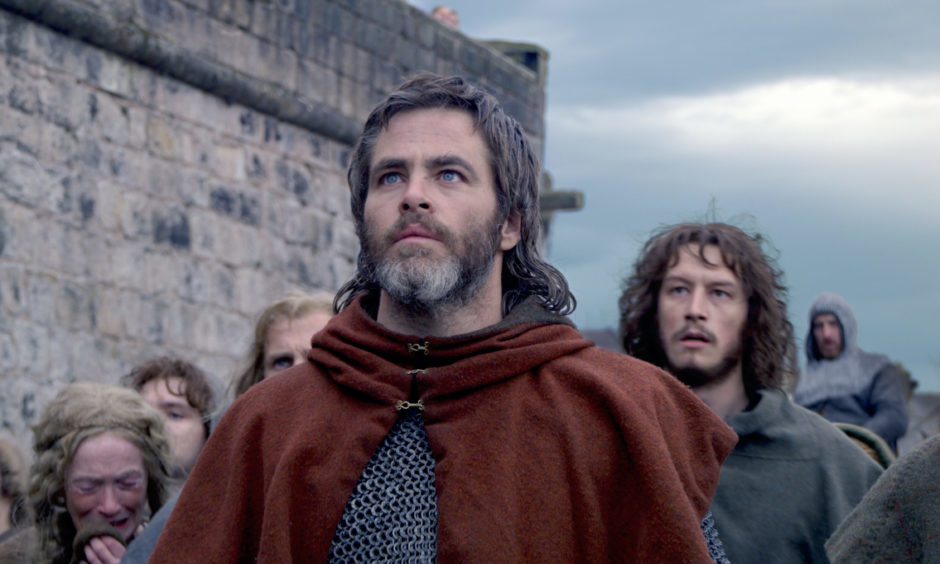 Outlaw King tells the "untold, true" story of Robert the Bruce. Gayle Ritchie grills Perthshire director David Mackenzie ahead of the film's Netflix release on November 9
You can almost smell the mud, blood and gore in Outlaw King.
Arguably, it's got everything one might hope for in a film that takes on the turbulent story of Robert the Bruce's extraordinary journey from defeated noble to murderer, to reluctant king, to desperate outlaw.
There are gruesome battle scenes, gory hangings, lavish feasts, brutal revenge plots, but also a blossoming romance, staggeringly gorgeous scenery, and a heck of a lot of horses.
Said to be the biggest film production ever made in Scotland, it's described as the "untold, true" true story of how Robert the Bruce used cunning and bravery to defeat and repel the larger and better equipped occupying English army.
The story is one that Perthshire filmmaker David Mackenzie dreamed of making for years.
"It feels like the story has been eclipsed by other stories," David, 52, tells me.
"There's a lot of mythology around Robert the Bruce that needs to be demythologised and made more complex.
"It took Robert 35 years – an epic lifetime experience – to get where he needed to go and even beyond his life.
"That's enough to fill several films. I felt the period 1304 to 1307 was where the most turbulent things were happening.
"It was a pivotal time in Scotland's tempestuous history and effectively the existence of the country was at stake.
"To tell the story in a compelling, entertaining way for a global audience, I focused on that concentrated time frame.
"Robert goes from servile noble to murderer, to king to outlaw. He grasped glory and tasted defeat. Everything goes wrong for him but he pulls himself back up again. In a way, the great story of Robert is the comeback factor."
Filmed on a grand scale with sweeping panoramas, epic battle scenes and showcasing Scotland's beauty, the film retains a personal touch, inviting viewers to invest in the characters.
The romance between Robert and Elizabeth injects a source of light in an otherwise brutal crusade.
"The great thing about that is it's a true story," says David.
"It was an arranged marriage (eager to ease tension with the Scots, King Edward of England arranged for Robert to marry his goddaughter), that ended up being a blossoming romance."
Hollywood heartthrob Chris Pine leads the cast as Robert the Bruce alongside a stellar line-up including Aaron Taylor-Johnson, Florence Pugh, Stephen Dillane and David's brother, Alastair Mackenzie.
Some may ask why David didn't use a Scottish actor to play the country's legendary warrior, but if you've seen the film, you'll probably understand – Chris's performance is spellbinding, his accent bang on.
"I worked with Chris before (in 2016 crime heist thriller Hell or High Water, earning four Oscar nominations) and we have a good relationship," reflects David.
"Wanting to go on a journey of doing stuff together was at the core of my decision to ask him to take on the intimidating role of a national hero of Scotland. He's a great actor and we're always trying to do be adventurous together. Chris embraced the physicality and complexity of the character and was determined to make sure he did Robert the Bruce proud."
Much fuss has been made over a full-frontal scene in which Robert washes in a loch. It's a brief glimpse of his essential parts; there's nothing gratuitous about it.
However, the merest mention of this makes David's bristle ever so slightly.
"It's just life," he sighs. "I think it's a load of nonsense. I don't really want to grace it with any more comments. "We've all got them – we've all got tackle; boys and girls."
Anyone familiar with David's work will know his cast strip often. Think Ewan McGregor in Young Adam. No big deal.
That such nude scene portray "realism" seems to be David's point.
Throughout the film, we feel him as a man with vulnerabilities. He gets drunks, he has sex, he gets dirty, he fights, and yes, he even washes his naked body…
So what were David's intentions when he set out to portray the character?
"He's quite a complex hero," he muses. "It's about unpicking the mythology, getting under the skin and trying to be as historically accurate as we can for a medieval drama.
"It's been a challenge to make an entertaining film while hanging onto the historical reality of an iconic figure."
The film is visually stunning – bloody, gritty, gory and bold on an epic scale.
Some scenes are harrowing to watch, but to this, David says: "Medieval warfare was gory. We tried to make the bluntness of that come alive and do it in a way that's not too exploitative or glorifying."
References have been made to Braveheart, some calling Outlaw King the "sequel" to Mel Gibson's 1995 Oscar-winning film. David, however, says he didn't spare the blockbuster a thought.
"I haven't seen it for about nine years and even then, I thought it was slightly dated – no offence. It belongs to the same era and there are crossover characters, but it's a much more mythological film than this is trying to be."
Some have speculated it could follow Braveheart in boosting support for independence but that remains to be seen.
Unlike Braveheart, mostly filmed in Ireland, Outlaw King was filmed entirely in Scotland, across more than 45 locations including Aviemore, Glencoe, Linlithgow Palace, Bannockburn and Craigmillar, Blackness and Doune castles and beyond.
For David, the shoot on Skye – in Talisker Bay, Coral Beach, near Dunvegan and on boats – was particularly special.
"We filmed in autumn, my favourite time of year. The light becomes more strangulated, you get the colours and the weather tends to be more stable. I've been scouting locations for this film half my life so we tried to maximise the scenery of the country as much as possible."
To those yet to be convinced Outlaw King is worth watching, David promises it will be entertaining, informative and as close to reality as possible.
"I wanted to make an epic realist film that in its own way stood against the tide of fantasy film-making.
"It's been fascinating to explore historical information that I myself was unaware of and hopefully people will learn things they too may not have known about.
"It's not a documentary but it's trying to be as close to reality as possible and that reality is 700 years old.
"We worked with historians and tried to make sure the world was well represented, the feudal system was well represented, the horses were accurate (there were 60 of them!) and that there are as many real historically connected characters in the film as possible.
"We were interested in exploring the realities of what life must have been like for our characters back then.
"We researched drawings and tapestries of the time and looked at historical records which included the number of minstrels and ingredients used in the Feast of the Swans in 1306. This gave us real insight into what was going on beyond the accounts."
Brought up in Trinafour near Pitlochry, David graduated from Duncan of Jordanstone in 1993 and was given an honorary doctorate by Dundee University last year.
"I have fond memories of my time in Dundee and Perthshire," he reflects.
"Dundee is on the up and I'm looking forward to checking out the V&A."
In August, David emerged as the front runner in the race to direct the next James Bond movie, but it's not a subject he's keen to discuss, stating: "The horse has bolted on that one. I don't have an opinion on that."
While Outlaw King is believed to have generated at least £17.5 million for the economy, it's sure to bring tourists flocking to Scotland.
Ultimately, the film investigates the bridge between hero and anti-hero in a way that's both epic and intimate.
Honour, loyalty, tyranny, friendship, love and loss all inform the story of Robert the Bruce.
info
Produced by Glasgow-based Sigma Films, Outlaw King is funded by the Scottish Government and National Lottery. It opens in select cinemas and launches globally on Netflix on November 9.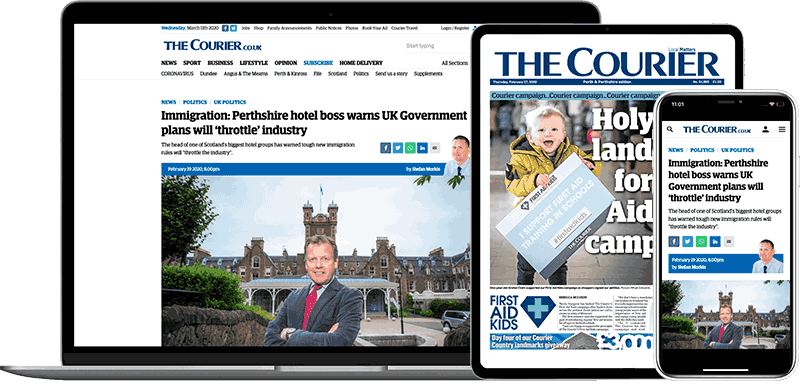 Help support quality local journalism … become a digital subscriber to The Courier
For as little as £5.99 a month you can access all of our content, including Premium articles.
Subscribe