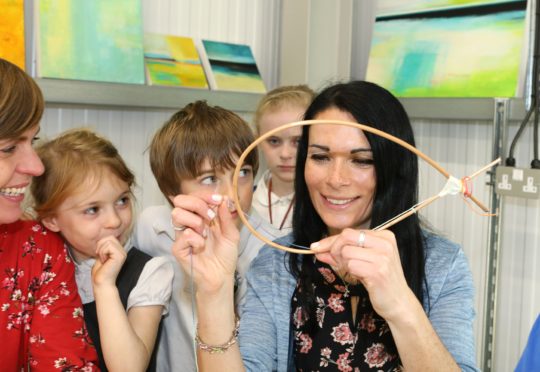 Artist Victoria Wylie runs workshops in which kids can "explore, play and create". Gayle joins one and makes a dreamcatcher…
Maybe it's got something to do with all the creepy films I watch, but nightmares tend to plague me more often than pleasant dreams.
So when I was invited along to take part in a workshop which made dreamcatchers – hoops you hang above your bed which supposedly ward off bad dreams and allow good ones to filter through – I jumped at the chance.
A collaboration between artist and designer Victoria Wylie – who runs Explore Play Create – and willow weaver Rachel Bower, the session was aimed at "older kids" although the duo run workshops for children of all ages, too.
My family friendly session took part at the shiny new Rural Skills Centre at Murton Trust near Forfar – a fantastic space to let your creative juices flow.
Joining me were Victoria's kids – Isobel, 10, Eve, 8, and Iris, 6 – and Rachel's eight-year-old son Reuben.
Victoria, who believes we're all "born artists", stressed that whatever we did, none of us would get anything wrong.
"There's no concept of right and wrong in 'Explore Play Create' workshops," she said.
"It's about young people getting creative, building relationships, and learning through play and exploration.
"It's a safe space in which to experiment and you really can't do anything wrong. There's no judgement here.
"That's why I don't call the sessions 'classes' as that word tends to be associated with school and getting things right or wrong."
Handing us a strip of willow each, Rachel showed us how to bend it into a "hoop" shape, explaining this would create a strong frame for our dreamcatchers.
Taping it tightly at the top, we then moved on making to the "spider web" netting across it.
I found this rather tricky until I stopped chatting, focused my mind and eventually mastered the act of weaving the string up, over and under (with quite a bit of help from Victoria!). Soon enough, the "catcher" – began to take shape.
The next step was to personalise and pimp up our creations adding feathers and colourful beads.
The world's your oyster here really – you can keep on adding – but I opted for subtle rather than bling bling.
My creation was certainly not as aesthetically pleasing as Rachel's, but if it catches bad dreams, job done.
Workshops cover all sorts of activities, whether making suncatchers, collages or drawings, or "mark marking" – making patterns and creating different designs.
There are also things like art camps and pumpkin carving sessions and a workshop to make "worry dolls" is on the cards, as well as Christmas-themed sessions.
Participants get the opportunity to play with colour, pattern, textures and materials – to investigate, experiment and maybe get a little bit messy.
The ethos is very much on encouraging kids to embrace their creative sides and building their confidence.
"I work with lots of shy and introverted kids for whom finding a way in socially can be tricky," said Victoria, who, as well as being an "educator" for "young creatives" is a freelance designer at V&A Dundee and creator of contemporary abstract landscape paintings.
"I'm inspired by the innate capacity of little folk who discover wonders and learn through play and exploration.
"The workshops are where these worlds collide – little people, creative minds, and an appetite for exploring and discovery.
"I believe we're all born artists. It's good for the soul to play."
Back home that night, I couldn't wait to hang my dreamcatcher above my bed and after reading a chapter or two of a very boring novel, drifted off to sleep.
I'm delighted to report that I dreamed some very happy dreams about sunny holidays, dogs and horses! I can't wait to hit the sack again tonight!
info
Some Explore Play Create workshops produce a finished creation to take away.
Others focus on processes and some may be collaborative but all are based around themes and stories.
Workshop groups are small. This ensures each child gets focused attention and offers greater potential for children to develop positive relationships with others while sharing, exploring, experimenting and imagining together.
For more details, see www.facebook.com/exploreplaycreate/