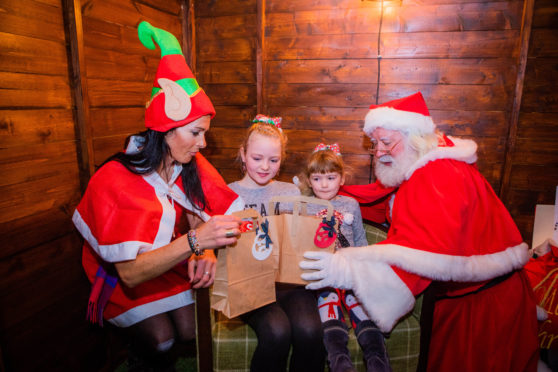 It's beginning to look a LOT like Christmas! Gayle heads to the Fairmont Hotel in St Andrews to meet Santa and have a go at ice skating
Noses glowing rosy red from the cold, eyes twinkling, the children beam with excitement as they line up to meet their hero – Father Christmas.
The big man in red is waiting for them deep inside his grotto, an enchanting space festooned with fairy lights and festive decorations.
His white beard is long and luxurious and his smile is kind and generous as he hands out gifts galore.
"Ho, ho, ho!" he booms. "Merry Christmas, everyone!"
I'm lucky enough to be sitting right up beside the jolly fellow with sisters Niamh and Alannah Cullen from Carnoustie.
I listen closely as they whisper their hopes and dreams for the big day into Santa's ear and then presents them with a paper bag full of goodies each.
"I would really like a computer for Christmas, please," pleads nine-year-old Niamh. "That would make me really happy!"
Meanwhile, four-year-old Alannah says she would love a baby.
"I think she means a baby doll!" laughs her mum, Claire, who is waiting patiently outside.
The grotto itself is very special, located next to a huge Christmas tree and themed on a gingerbread house, complete with icing and adorned with biscuits.
Experiences like this are exactly what Christmas memories are made of and in my role today as a cheeky elf with tremendously big ears, it's an honour to be a part of this yuletide tradition.
My outfit, however, has been somewhat cobbled together, with a red and green hat loaned from a kind member of staff at the Fairmont Hotel and a "Mrs Santa" dress and cape bought from Home Bargains for £2.99.
Perhaps if I had looked harder, I'd have found a "proper" elf outfit, but alas, time was of the essence and when I got the call from Santa, I had to jump to it.
"Do I look like an elf?" I query some cute children excitedly ripping open gifts.
"You kind of look like a cross between a weird elf and Santa's wife!" chuckles a wee boy. Fair enough!
The grotto appeals to all ages, and staff have gone all out to make it as family-friendly as possible.
Another big draw at the Fairmont is the ice rink which takes pride of place right outside the main entrance.
Having long deduced that I am rubbish at skating, I'm reassured to hear that what's on offer here is more to do with having fun than showing off how fantastic you are on the ice.
First-time skaters (or folk who are useless at it, like me) can use penguin skate aids – and thank goodness.
I'm reluctant to let go of my penguin, preferring instead to cling to the sides of the rink and watch in awe as tiny children whizz by fearlessly.
I dare to let go a few times and attempt to skate unaided but very soon, I realise I'm better off sticking with Pingu, and come to a standstill in the middle with cute cousins Olivia Farquhar (4) and Emma Robertson (5).
Olivia's mum Lisa tells me the two families are having a whale of a time.
"The girls loved having a wee chat with Santa and getting some presents, including wee teddy bears," she smiles.
"The ice rink is a lot of fun, too! And it's great to be able to go inside and get warmed up with mugs of hot chocolate!"
While I tried out the rink – which is environmentally-friendly and made with synthetic ice – it was during daylight hours, but it's a magical place to enjoy an evening surrounded by the beauty of the Fife landscape and the starry night sky above.
The rink and grotto are open to absolutely everyone – you don't have to stay in the hotel to enjoy the festivities.
There's a lot of fun to be had inside the hotel though as it's been transformed into a winter wonderland with Christmas trees, baubles, glitter and tinsel everywhere you look.
With mulled wine, mince pies, hot chocolate and festive treats available, you're guaranteed a fun day out for all the family at the Fairmont this Christmas!
info
Booking in advance is essential for both the skating rink and Santa's Grotto at the Fairmont Hotel.
To book, contact 01334 837000 or email ResortServices.StAndrews@Fairmont.com.
The grotto is £10 per child while skating is £8 per person or £5 per child. You can buy a combi ticket for both for £15 per child.
The grotto is open on December 15,16, 22 and 23 from 10am to 6pm.
The rink is open until January 6 (Monday to Friday 5pm to 9pm; Saturday and Sunday 10am to 9pm).
For more details, see www.fairmont.com/st-andrews-scotland/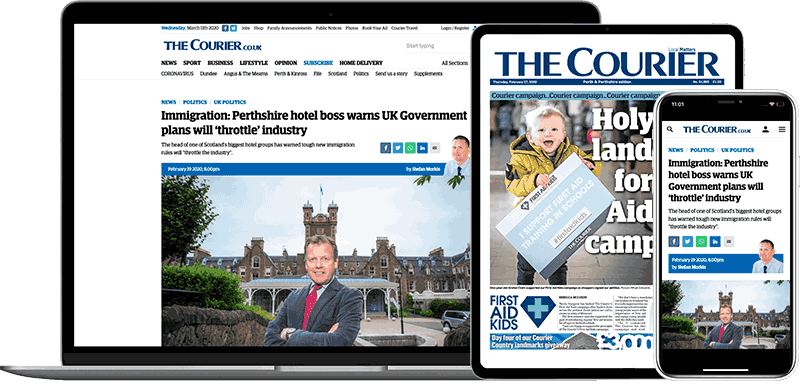 Help support quality local journalism … become a digital subscriber to The Courier
For as little as £5.99 a month you can access all of our content, including Premium articles.
Subscribe