Michael Alexander speaks to comedy actors and on-screen married couple Doon Mackichan and Jonathan Watson about the new series of BBC Scotland comedy Two Doors Down – and their connections to Dundee and Fife.
They had very different upbringings on opposite sides of Scotland.
But despite being associated with Glasgow through playing husband and wife Colin and Cathy in the award-winning hit comedy Two Doors Down, actors Jonathan Watson and Doon Mackichan also share a love of Tayside and Fife.
Now, as the fourth series of Two Doors Down airs on BBC Two, the actors spoke to The Courier about their connections to the area and explained why they think the BBC Scotland series has proved to be such a success.
Born in London in 1962 and brought up in Wentworth, Surrey, Doon was 12-years-old when her family moved from the suburbs to "an old manse in the middle of a field" at Upper Largo in Fife.
Her dad got a job running the Ballantyne Cashmere mill next to Loch Leven at Kinross.
"We used to get all the knock off jumpers to keep us warm in the cold old manse," she laughs.
Despite the seasonal climatic challenges, she remembers it being a fairly idyllic time of her life.
"We had a load of animals," she says. "We had a parrot that flew about free. We had a goat, cats and dogs, and mum and dad wanted to have chickens – wanted to be self-sufficient. I think mum wanted to be a bit like the Good Life! And she was pretty amazing milking the goat in a force nine gale, living off our vegetable patch. We sold off strawberries.
"It was an amazing view looking down to Largo Bay.
"I remember getting on my bike that first day and putting the dog in the basket and cycling until my hands froze. I was so amazed how beautiful the countryside was. I couldn't stop!"
Cross channel swimming veteran Doon, 56, puts her love of cold water swimming today down to those early experiences of bathing in summer in Largo Bay.
"It was freezing!" she laughs.
However, she also puts her acting success down to the determination of her English teacher – and now friend – Colin Mackay while a pupil at Madras College in St Andrews in the mid-1970s.
"I remember my first day at Kilrymont," she says. "There were 1000 kids waiting to get in – my mum and I standing in the playground feeling like a fish out of water. It was a bit of a tough school to start in having an English accent.
"My teacher Colin Mackay really got me out of feeling a bit lonely and a bit frightened really.
"There were a couple of bullies as there always are – I used to hide in the toilets.
"I used comedy for the purposes of distracting myself from potentially difficult situations.
"But once he got me into the drama group – that was how it all started.
"I owe it all to Colin Mackay!"
Doon, who moved back to England with her family aged 16 and went on to study drama at Manchester University, was a writer and starred in Channel 4's comedy series Smack the Pony.
Other appearances include the Chris Morris comedy series On The Hour, The Day Today and Brass Eye. She has also appeared in films The Borrowers and Gladiatress.
However, in recent years, the divorced mother-of-three has become best known in Two Doors Down playing Cathy – a white wine and e-cigarette loving, tactless, big-time party girl trapped in a small-time setting.
"I have enjoyed playing Cathy: She's quite exhausting – because of what she wears!" she laughs.
"There's quite a lot of standing about in heels – my feet are still suffering after a 10-week shoot!  She likes to dance when she's had a few drinks or do the splits or do the crab. She's an amalgamon of a lot of people I know and how they act after one drink too many!"
Comparing the show – which is set in the fictional Scottish suburban street of Latimer Crescent – to a Scottish version of the Royle Family, Doon attributes the success of Two Doors Down to "really good writing" and being "truthful" to the characters rather than just playing for laughs.
"A lot of people in a room not really talking about anything – that's brilliant," she says.
However, she also enjoys working with the wider cast including Elaine C. Smith, Arabella Weir and the "brilliant" Jonathan Watson who plays her on-screen husband.
"Jonny is such a truthful actor," she says. "I was so pleased he was nominated for a BAFTA this year.
"He works really hard. He's a proper trooper as they say in the business. He's always prepared. Not just sailing by the seat of his pants! He's got his lines down. He's focussed. And he's funny."
Doon says what she likes about Colin and Cathy is that they "genuinely love each other even though there's stresses and strains".
"It's not that hellish low level abuse that some couples have – especially when one gets a bit drunk," she says.
"She genuinely would not know what to do without him – although in this series we've got him with a little bit more of a roving eye!"
Jonathan Watson, 61, has also been a fixture and fitting of our screens for many years – again playing for laughs during Hogmanay's annual football outing It's Only An Excuse.
Like Doon, he attributes Two Doors Down's success to great scripts by Simon Carlyle and Gregor Sharp and the family atmosphere when filming at the BBC's Dumbarton Studios.
"It's so well written. It doesn't matter how good the cast is – if you don't have the scripts in place to begin with you'll be struggling," he says, noting that the clearly defined characters' appeal to folk in Scotland as much as they do in England – adding that a female fan once chased him into a shop on The Strand in London.
However, while he doesn't think he and Doon have a particularly "special chemistry" as such, the cast does have a very good working relationship and he believes this comes across on screen.
"When you work closely with people over a number of years you do get a short hand and do get to know each other quite well," he says. But ask Jonathan if in real-life he is anything like Colin – "smug and five foot of trouble" – and the actor replies: "Hopefully not!"
Jonathan's career dates back to 1979 when, as a Royal Scottish Academy of Music and Drama graduate, he was recommended to what was then the BBC Scotland Comedy Unit and started doing Naked Radio, which morphed into Naked Video, and all the different offshoots from that.
"I've been very fortunate to be working with people of a very high standard throughout my career," says the City Lights and Rab C. Nesbitt veteran, adding that he takes nothing for granted.
In recent years, however, he describes playing Frank in Bob Servant, written by Dundee's Neil Forsyth, as "one of the best things that ever happened to me".
Jonathan says: "It's one of the most enjoyable jobs I've done in my career. Although we don't make it anymore, we still all keep in touch. I loved doing that job.
"I loved going up to Broughty Ferry to film the exteriors. I just loved it. It was such a well written piece. So unusual. And just so great working with someone like Brian Cox who was just fantastic.
"Because of him we were able to attract some wonderful people onto the programme as well."
Jonathan says he hadn't been in Dundee for "yonks" before Bob Servant.  He is impressed with the city's ongoing transformation and loves the whole area.
However, having done the occasional book reading in the city, he'd like to return soon.
"The book readings are fantastic to do," he says. I haven't been up in the Gardyne Theatre for a wee while now. I'll maybe try and sort something out for 2019."
*Two Doors Down's six-part series four is due to start on BBC Two on January 7, 2019.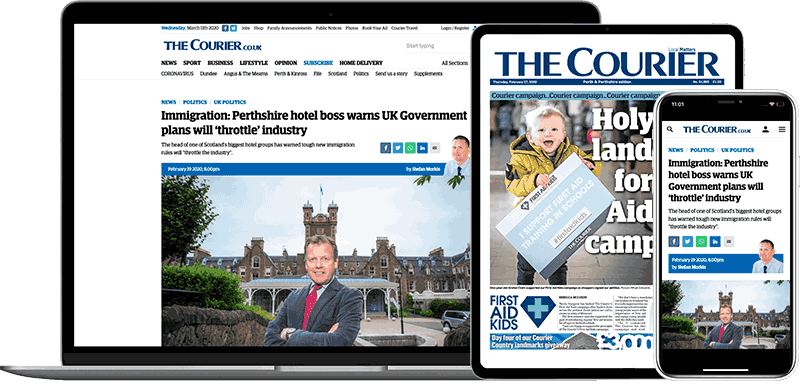 Help support quality local journalism … become a digital subscriber to The Courier
For as little as £5.99 a month you can access all of our content, including Premium articles.
Subscribe