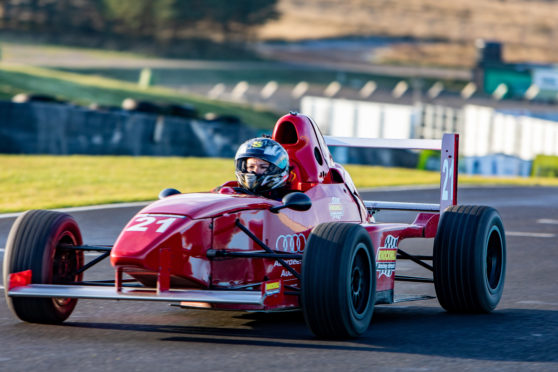 Driving a Formula Racing Car has to be one of THE most exhilarating experiences, as Gayle discovers when she takes a spin around Knockhill Racing Circuit
Michael Jackson's Speed Demon is blaring from the speakers of a DC Thomson pool car as I arrive at Knockhill Racing Circuit.
It's rather apt, considering I'm about to ditch the Kia Ceed and put on a show of heavy right-footedness in a Formula Race Car.
I love driving, but I've never been behind the wheel of a race car, so today is massively exciting.
However, I become strangely anxious when I enter the registration room and find it awash with a sea of men.
I needn't have worried because everyone is friendly and encouraging and, once I've had a briefing telling me what to expect (everything from the meaning of flag colours to how to tackle corners is covered), I chill out.
Before I'm allowed anywhere near a race car, I jump into a Honda Civic Type R to do four laps of the circuit with instructor Nick Forsyth.
The aim is to improve over each lap and, to be honest, my first one is rather sketchy.
Using cones as reference points, Nick shows me where to brake and turn and how to get on the right "racing line" – the safest and fastest line through a corner.
There are a few blind corners, which I whizz up and over, catching the car as it bounces round onto the straight.
The worst corner is a nasty hairpin bend. Nick advises me to brake as late as possible before it, keeping to the left and reaching the apex late before heading back to the start.
I even manage to overtake a bunch of cars – on the left, as instructed (because most corners are right-handers), which feels very odd.
Four laps completed, I wipe my sweaty brow and thank Nick for bearing with me.
Later, he presents me with a "driver report" in which he (very generously) gives me a score of 74 out of 100.
I'm particularly pleased he comments that I offered a "nice controlled drive to instruction" and that I had "good lines" and "good overall progress".
Next up is a thrilling two laps as a passenger in a Honda while race instructor Graham Whitehill demonstrates correct (and incorrect) technique. Woah – exciting!
After a quick change into a race suit and helmet, I climb into the cockpit of a single-seater racing car. It has a top speed of 140mph but it's restricted to 95mph for first-timers.
It's a tight space but my legs don't quite reach the pedals, so operations team member Kirstin Forrest props me up with cushions.
The plan is to do 10 laps in this bad boy and – while I've been told it's not about going as fast as possible – it's impossible not to feel slightly competitive.
The race car is strikingly different to a "normal" car. Aside from the fact the gear stick is on the right, the seat is just inches above the tarmac, making for a super-immersive experience.
Moving off, I pick up speed and I'm soon hurtling round the track.
I'm feeling pretty confident…until I reach the hairpin bend, brake too late and fly off into the gravel pit!
I'm able to drive out but head back to the pit lane for a check as instructed. Once Kirstin had cleared stones from the car, I'm good to go.
The car is mega responsive and, on my second lap, I lose the back end and skid coming out of a corner.
I also fail to catch third gear and coast for a bit (bad), the engine screaming.
The final eight laps are smooth and mistake-free – a dream.
As the chequered flag waves, I put on a huge burst of speed to the finish line, adrenaline sky high.
I'm also treated to two laps (as a passenger) in a Ferrari, tipping 130mph. To say this was a mega buzz would be a massive understatement!
Back at base, I'm awarded a certificate and reminded to drive safely on public roads.
Over coffee, I catch up with Knockhill events director Stuart Gray.
"Good drivers plan ahead and allow time to react and make adjustments for what's coming," he says.
"Lots of people like to blow off speed. You can do that in a responsible manner here, away from restrictions on public roads."
Stuart wants to see more women involved in racing, saying: "Women tend to be the best listeners! Around 20% who come here are women but a higher percentage win compared to men!
"Ultimately, Knockhill is open to everyone – not just speed-freak petrolheads. Speed is irrelevant; it's how you drive.
"If you only want to do 50mph, that's fine – instructors don't push you beyond your limits. We adapt teaching methods to individuals."
info
Knockhill Racing Circuit, around six miles from Dunfermline, offers a wide range of experiences. These include Formula race car experience: karting; rallying; skid control; supercars; performance driving; 4×4 driving; teen driving and superbikes. It boasts the only race track in the world approved for use in both directions. For more information, see www.knockhill.com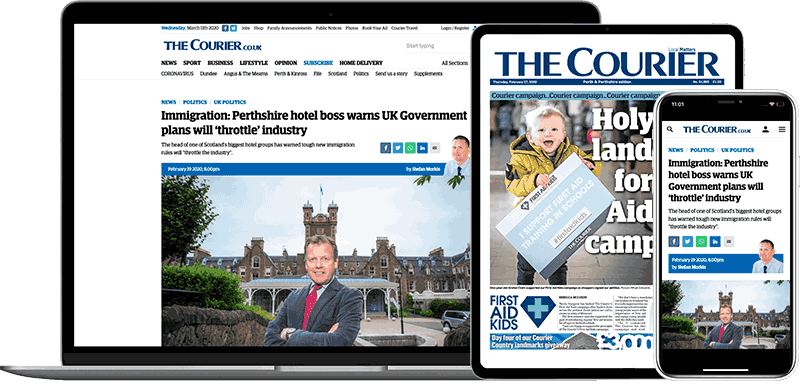 Help support quality local journalism … become a digital subscriber to The Courier
For as little as £5.99 a month you can access all of our content, including Premium articles.
Subscribe