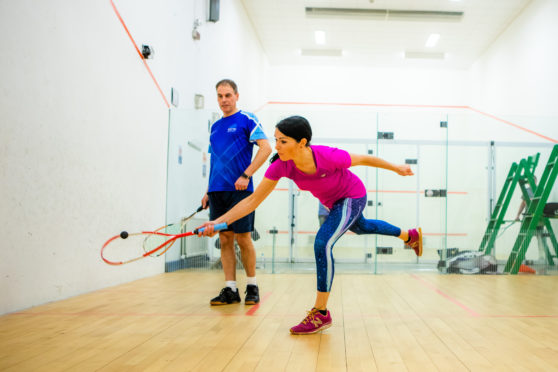 Ahead of an international squash tournament in Perth, Gayle has a bash at the fast, furious racket sport
As the ball whizzes past my ear and ricochets off a wall, a noise like a whip cracking forces me to duck for cover.
This is absolutely NOT how you're supposed to play squash, I realise.
It seems I'm not quite bold enough to take on this fast, furious, potentially painful game, which my coach Mark Beaumont describes as "physical chess".
"If you get hit with the ball, it can really hurt," he warns. "But don't worry – I'll do my best not to aim it at you!"
Mark has been coaching players to professional standards for decades, so I'm in safe hands.
He's a mega-fit, down-to-earth, friendly guy who does a damn fine job of putting people at ease.
Despite my wimpishness, he's determined to show me sport's plus points.
"The ball can reach speeds of 170mph and players can burn up to 1,000 calories an hour," he says.
"It's also a fantastic stress reliever. You can unleash a lot of anger in a squash court!"
Without getting too technical, squash is basically bashing a ball against a wall.
"There are so many different angles and variations of shot," explains Mark.
"The basic principle is to try to outdo your opponent by hitting the ball off walls until they can't get it back to you.
"It's easy to play and difficult to master. But it can get quite complex and tactical – like physical chess."
Without further ado, Mark shows me how to hold my racket – upright, "like holding a glass of wine you don't want to spill".
It's wise to warm up and we do so, sprinting up and down the court, punching the air, flicking our heels, thrusting our knees and sidestepping.
In a few minutes, our pulse rates have risen and we're ready to play.
Hitting the ball is easy enough, although my hand-to-eye coordination has never been great.
I lunge rather ungraciously across the court in my desperation to reach Mark's rebounding balls (oo-er). And because my hits are weaker and slower than his, they make a limp thwacking noise, rather than the sharp cracking his efforts do.
"It sounds like a gunshot, doesn't it!" beams Mark, as he drives a ball hard.
After 20 minutes, I'm knackered and sweat is trickling down my forehead.
I can see why folk do this and can well imagine taking out my aggression in a court after work, or during a lunch break.
Squash, which Mark describes as a "minority" sport that's awarded less publicity than tennis, can also help build confidence.
"I know people whose lives have changed thanks to squash," he says.
"Ultimately, the sport is good for you physically and mentally."
It's also an ideal indoor sport for Scotland, with its unpredictable weather (rain, wind and snow!)
Mark has taught all levels of player, including Scottish senior internationalists Katriona Allen from Perth and Elspeth Young from Kinross.
He was 14 when he took up the sport and says he's part of a "squashy family" with his wife, son and daughter all involved.
He's excited about an international squash tournament, mainly aimed at up-and-coming young players, that he's organised later this month.
It's running at Bell's Sports Centre in Perth from March 22 to 24.
The event is going ahead despite an unsuccessful bid to secure sponsorship. Instead, the games are being paid for by local squash groups and organisations. Live Active Leisure has also agreed to provide its facilities for free.
"Players are coming from all over the world," says Mark.
"The tournament aims to attract players starting off their careers on the professional circuit. There's prize money to be won and valuable ranking points.
"Ultimately, squash is a great spectator sport for young and old so those who come to watch will be guaranteed to have a great time.
"It's fast, furious and very exciting!"
info
The Tayside and Fife Open is at Bell's Sports Centre from March 22 to 24. The event is being organised by Tayside & Fife Squash Association.
Entry for spectators is free. For more details, see www.scottishsquash.org
To arrange a lesson with Mark Beaumont, email: beaumontaspen@hotmail.co.uk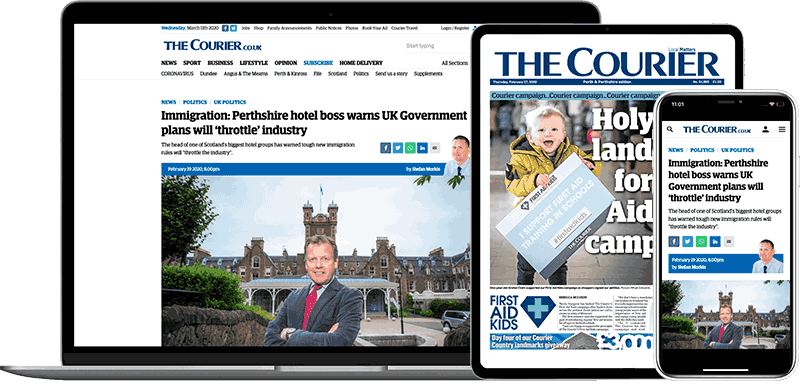 Help support quality local journalism … become a digital subscriber to The Courier
For as little as £5.99 a month you can access all of our content, including Premium articles.
Subscribe