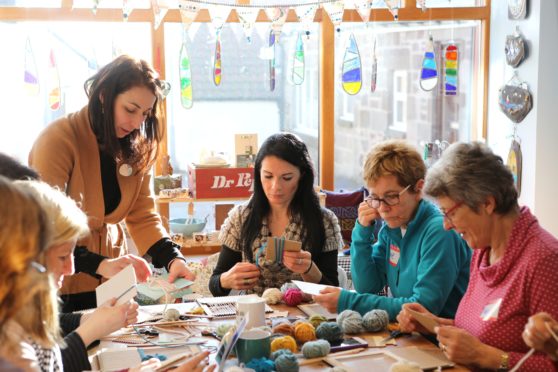 The wild, untamed North Sea is the inspiration for a tapestry class in Johnshaven. Gayle gets crafty…
Friday morning in the beautiful north-east fishing village of Johnshaven.
The sky is blue, there's barely a cloud in the sky and I pause to breathe in the salty sea air.
Apart from the odd seagull squawking, there's a glorious peace in this old-fashioned maze of winding streets and lanes.
Gazing out to sea, I drink in the view – of waves crashing on the rocky shoreline and a tiny boat bobbing about on the distant horizon.
It's the perfect inspiration for a workshop I'm about to join – a seaside-themed tapestry class with fibre artist Stephanie Fradette, aka Le Petit Moose.
It's taking place in Starfish Studio, a treasure trove of unique arts and crafts owned by Elizabeth Francks.
I was fairly useless at needlework at school, so I'm slightly apprehensive.
Stephanie, however, puts me at ease, plus the group of ladies doing the workshop are extremely warm, friendly and helpful.
"I worked in photography, travel and event management before discovering fibre arts five years ago," explains Stephanie.
"Keen to keep my creativity flowing while being home with a newborn, I saw a tapestry from artist Maryanne Moodie, fell in love with it and wanted to create something similar. I've been hooked ever since!"
While the coastline, for Canada-born Stephanie, is typified by Australia's "golden sands, blue seas and big waves", she's fallen for the wild, untamed nature of the North Sea, often with its wind-swept marram grass and undulating dunes.
"Everyone has different ideas about the seaside," she says. "But what does it mean to you?"
Some people have taken in photographs for inspiration, but I just use my mind to conjure up a wild landscape of frothing waves, possibly a rocky headland and a heathery foreground.
"It's about transferring your ideas to tapestry. You get into a weaving rhythm and build blocks and shapes of colour," says Stephanie.
"Ultimately, you'll create a personalised hand-woven wall hanging."
Our looms are pre-assembled (thank goodness) and once we're armed with a few tools – weaving sword, beating comb, piece of card and balls of wool – we're ready to start.
Without getting too technical, "warp" and "weft" are the two basic components used in weaving to turn yarn into fabric.
The lengthwise warp yarns are held stationary in tension on a loom while the transverse, or crosswise, weft is drawn through and inserted over-and-under the warp.
First, we create a "fringe" which hangs from the bottom of the tapestry and then we move on to the actual seaside scene.
"You need to be consistent in repetition so remember – over, under, over, under," says Stephanie. While this sounds simple, it's easy to get distracted. or go cross-eyed.
Each piece of wool needs to be pushed through the loom and then pulled into an arc, or "weaving rainbow", to ensure it's not too tight. You then use the beading comb to push it down.
My design is very surreal, with a block of pink at the bottom representing heather (or some kind of flowers, perhaps?), green for the sea, a browny-green headland and a selection of blues and whites for the sky and clouds.
The headland is the trickiest bit because it's "angled" and therefore breaks up the straight "lines" going across the loom.
I also use unspun wool "roving" to represent waves and clouds. This is fabulously fluffy and tufted and seems to burst out of my creation, adding depth and texture.
Once I'm finished, I choose a piece of driftwood to tie at the top of my design. And hey presto, it's ready to hang!
It may not be as complex as Stephanie's designs but I'm happy enough to display it in my lounge where it continues to attract comments (complimentary!) from visitors.
info
The next weaving workshop with Le Petit Moose at Starfish Studio is on April 18. Booking is essential at www.starfishstudio.co.uk or see Facebook page.
Stephanie has been teaching the ways of the loom and knotting workshops across the north-east of Scotland since 2015.
What started off as a one-off frame loom weaving class progressed swiftly into teaching and delivering multiple hands-on craft classes a month.
Highlights have included teaching at Dundee Contemporary Arts, The Barn Arts Centre in Banchory and introducing the art of weaving and rug hooking techniques to the next generation of young talent with third year textile students at Gray's School of Art.
For details on Stephanie's work, see Instagram/Facebook @lepetitmoose.
Other workshops coming up at Starfish studio include: March 22 – cyanotype workshop; April 5 – silver ring workshop; April 12 – handmade paper workshop; April 19 – beach glass silver pendants with tutor Sheila Roussel.
Elizabeth Francks, creator of Beach Bits, took over Starfish in October last year. As creator of Beach Bits, she crafts unique driftwood and stone creations from treasures found on Scottish beaches.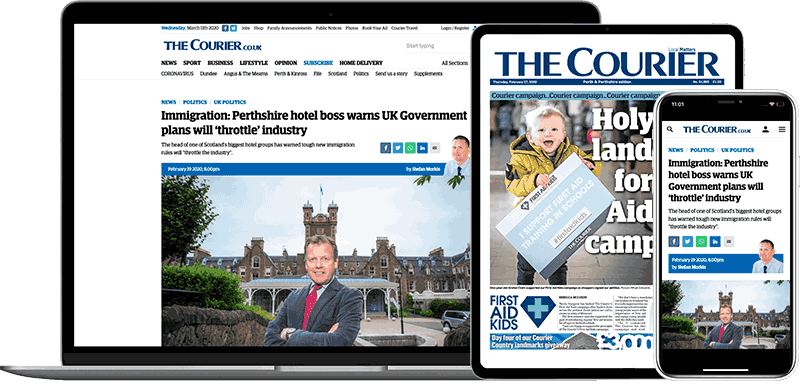 Help support quality local journalism … become a digital subscriber to The Courier
For as little as £5.99 a month you can access all of our content, including Premium articles.
Subscribe