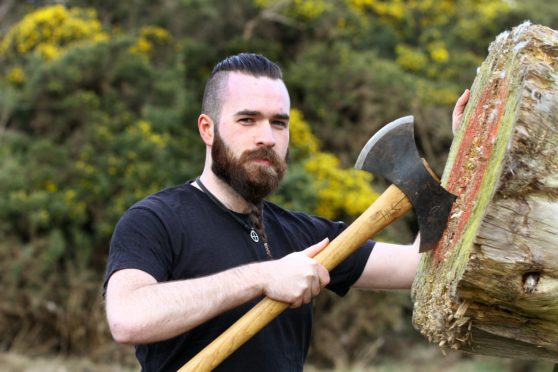 Ahead of the Scottish Axe Throwing Open at Scone Palace in May, Gayle has a bash at the unusual sport…
When Jamie Keddie invites me to spend an afternoon in a field in Fife throwing axes, I'm intrigued.
I'm also a little nervous because A: axes are potentially deadly weapons, and B: there might be sheep in the field and I don't want to kill anything.
As luck would have it, the farmer has removed his flock (did he hear I was coming?) so at least the animals are safe.
Before we get started, Jamie – who describes himself as a "practising heathen" and, with his shaven undercut hairdo, tattoos and plaited beard, certainly looks the part – tells me a bit about the sport.
"While some of the axes can be pretty heavy, axe-throwing is more about momentum and technique than strength," he says.
"The aim is to hit the bull's eye in the centre of the wooden target. There are ways of doing that with different axes, single-handedly and using both hands."
Double-bit axes are the most commonly used axes in competitive throwing. Featuring two edges, they look pretty menacing.
I watch as Jamie lobs his double-bit towards the target and gets it smack bang in the middle of the bull's eye. This guy is good!
He then hands me a small hatchet (less scary looking than the double-bit) and shows me how to grip it with one hand.
I need to hold it at eye level before bringing it back over my head. Then I must whip it towards the target in a fast, strong motion, while lunging forward.
I need to ensure the blade isn't rotated off to one side; it needs to be straight so when I  release the axe, the trajectory is perfectly straight.
"Try not to flick your wrist," advises Jamie, as my hatchet lands woefully shy of the target.
My next attempt is slightly better, but it's still too low and slow.
"It's important to respect the axe but don't be afraid of it," says Jamie. "Put a bit more force into the throw."
This spurs me on, resulting in a throw which thuds the axe into the wood, although it doesn't stick.
"With practise, you'll get better because it's about technique and muscle memory," quips Jamie, who reveals he spends many lunch hours training in this field a few miles from Wormit.
He's very skilled at it indeed – and can even throw two axes at once.
A senior game designer at Outplay Entertainment, Jamie, 29, only took up the sport last year after meeting Hooker Mooney and Jim Graham of Braveheart Axe Throwing at an event at Cambo Estate in May.
"They were doing demos and let me have a shot at throwing," he recalls.
"They then invited me to train and camp over a weekend since I showed interest and they wanted to get younger people into the sport. I ended up training in a thunderstorm for  six hours!
"What they didn't tell me was the next day there was a tournament, which I reached the semi-finals in! A few months later, we went to an event in Hull and took 1st, 2nd and 3rd place as a team before the elimination rounds began."
What is it about the sport that attracts Jamie, I ask?
"You don't get much more badass than throwing axes for fun!" he beams. "And it is a lot of fun.
"I'm terrible at throwing balls but apparently, I'm not bad at throwing axes.
"It's about dedication – about wanting to continually better yourself. Once you get the basics, it's about being consistent and hitting the target. It's a meditative and peaceful sport; it calms the mind and when I'm out here training, I feel connected to nature."
For anyone considering heading to the Scottish Axe Throwing Open at Scone Palace, Jamie highly recommends it.
"You'll see the best of the best from all over the world and there'll be a chance to have a go. It'll be great fun, with throwers pulling off trick shots and impressing everyone."
Those who fancy taking up the sport should "go off into the woods and start throwing", says Jamie, adding that this should happen on private ground and where permission has been given!
While axe-throwing is massive in some countries – there are bars dedicated to it in New York and the Lumberjack World Championships have taken place annually in Wisconsin since 1960 – Jamie hopes more people (men AND women) will get into it in Scotland in 2019.
info
The Scottish Axe Throwing Open takes place at Scone Palace on May 5. It's open to throwers of all ages, abilities and nationalities.
The day will also include entertainment from the Scottish Knights League who will be demonstrating their medieval combat skills, plus there will be music from famous Scottish tribal band Clann an Drumma.
The Strathleven Artizans will bring Scottish history to life with their Robert the Bruce reenactments and historical talks, plus a little light entertainment courtesy of "Blackadder" and the Regal Storytellers.
A food village and bar will provide a selection of light refreshments. There will also be a small selection of stalls selling "medieval" merchandise for adults and children alike.
To buy tickets for the event, see scone-palace.co.uk/whats-on/scottish-axe-throwing-open
Braveheart Axe Throwing was established in 2002 and team members have competed in and won tournaments across the UK and Europe.
They put on great shows for spectators and encourage people to have a go.
For more details, see their Facebook page.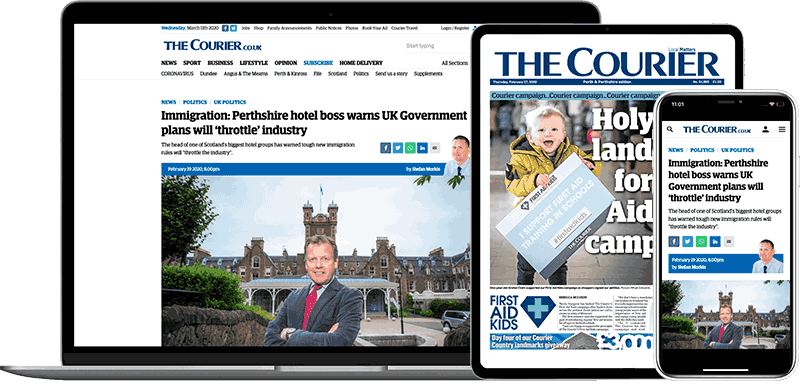 Help support quality local journalism … become a digital subscriber to The Courier
For as little as £5.99 a month you can access all of our content, including Premium articles.
Subscribe