Meet the woman who paints anatomical diagrams directly onto live horses – all for educational purposes
Gillian Higgins paints anatomical diagrams directly onto live horses to allow better understanding of the animals. Gayle Ritchie finds out more.
If anyone understands horses – inside and out – Gillian Higgins does.
As a talented rider, authority on equine anatomy, senior coach for the British Horse Society (BHS), and with a first class honours degree in equine science, Gillian lives, breathes and dreams horses.
Since 2006, veterinary students, race horse trainers, eventers, pony club members and dressage judges have been flocking to her lectures to witness her famous live painted horse demonstrations.
What on earth does that involve, you might well ask? Well, essentially, Gillian paints the inner workings of the horse on the outside of the animal itself in a mission to bring the subject of anatomy to life.
It's a quirky, memorable way of allowing a deeper understanding of how horses function – and much more fascinating than looking at dull diagrams and sketches on paper.
"Painting the bones, muscles, tendons and other anatomical systems on the side of a live horse really helps bring the subject to life," explains Gillian.
"It enables riders to appreciate how horses move and certainly, a picture can paint a thousand words.
"You can discover how to get the best out of horses by seeing exactly what's happening under the skin as they move."
With a rider dressed in a skeleton body suit, it's also possible to see the interaction between horse and rider.
The demonstrations attract equine enthusiasts from across the world, but non-horsey people can learn a lot, too.
"Lots of non-horsey people find the sessions fascinating as there are strong similarities between horses and humans. We're all animals at the end of the day.
"The principles I teach – how to maintain and improve a healthy body – apply to both horses and humans.
"I talk about posture, core strength, balance, flexibility and coordination and that's useful to know about, whether you're interested in horses or not."
Improving welfare, comfort, performance and soundness is at the heart of what Gillian does.
"When we understand anatomy and how horses work, we can improve the way we manage, train, ride and look after horses," she adds.
"Ultimately we can reduce the risk of injury and discomfort and improve longevity, welfare and performance."
While Gillian uses her own horses, Freddie Fox and Arty, in teaching videos, she recruits locally-based horses and riders for painted demos.
"For workshops focusing on dressage, we'd usually pick a warmblood, and for eventing-based ones, we use thoroughbreds," says Gillian.
"But we work with any breed of horse. We just did a session with the Icelandic Horse Association, for example.
"The mechanics of horse breeds are similar, of course, but confirmation is always an interesting subject."
Gillian's sessions begin by looking at the principles of anatomy, explaining "what's going on with the horse's body", and getting the painting started.
The latter section is more about movement, with jumping, flatwork, dressage, and gymnastic pole work.
There's even a section on pilates for horses, and Gillian – who won a gold medal at the student riders nations cup in 2006 – demonstrates exercises to help horses become supple, strong, and able to maximise their range of movement.
The paint used on their bodies is hypo-allergenic, non-toxic, water-based and washes off at the end of the session.
"I like the painting process to be a relaxing one for everyone so we always allow plenty of time," says Gillian.
"Horses enjoy a haynet and there are regular breaks for them to relax or go for a walk in hand. It's about having a nice, fun, enjoyable time while learning a lot of valuable information."
While Gillian has appeared on BBC's Countryfile, The One Show, Pet Nation, Animals at Work and worked with many high-profile people, she describes painting one of the Queen's horses at Hyde Park Barracks as "an unforgettable honour".
"The Queen was so lovely and amusing!" she recalls. "And she knew her stuff when it came to understanding horses' anatomies! I was most impressed!"
As well as running live painted horse demos, Gillian also hosts dissection workshops via her company, the aptly named Horses Inside Out which was founded in 2006.
She also runs courses for artists wishing to learn more about form and how horses are made.
"An understanding of anatomy can help to improve the accuracy of paintings and sculpture," says Gillian, who recently started working with famous sculptor Judy Boyt. Together, they are offering anatomy and sculpture courses.
Based in the Midlands, Gillian travels globally delivering lectures and workshops.
She's at the BHS National Convention in Kilmarnock tomorrow and it's hoped she will head to Courier Country over summer.
For more details and to contact Gillian, see www.horsesinsideout.com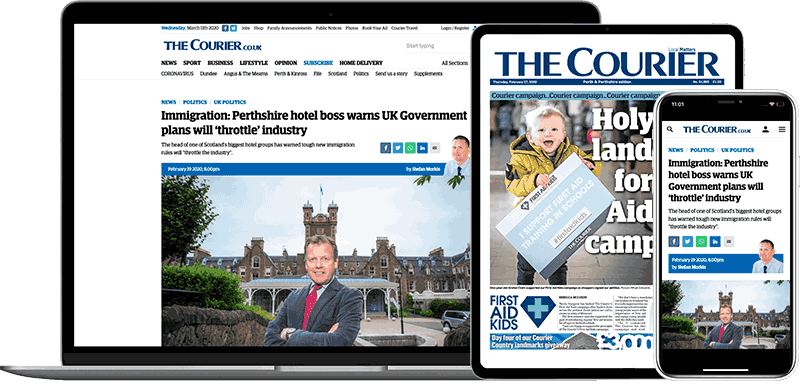 Help support quality local journalism … become a digital subscriber to The Courier
For as little as £5.99 a month you can access all of our content, including Premium articles.
Subscribe