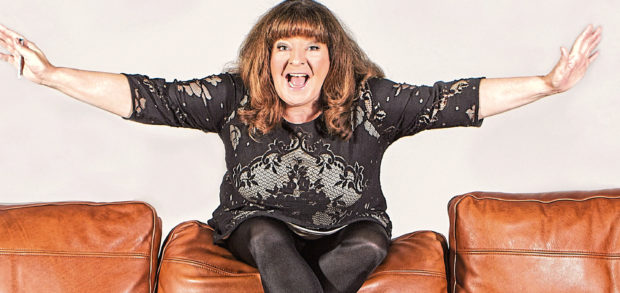 Dubbed the Godmother of Scottish comedy and called 'a f**king great comedian' by none other than Billy Connolly, Janey Godley has never lacked plaudits from critics, audiences and fellow stand-ups.
But there's one opinion that she holds particularly dear, that of her daughter and fellow comic Ashley Storrie.
"She's watched me go on stage in some rough rooms where I've nailed it," notes Janey. "And she's said 'I don't know how you do that ma; it makes me angry because I can't bottle what it is you just did.'"
Admitting that Ashley has helped Janey's profile to blossom online by being an effective editor of her now-beloved comic voiceovers of politicians and celebrities (more of which later), this mother and daughter in-arms recently went head to head for the outstanding contribution to Scottish comedy prize in The Herald's Scottish Culture Awards.
Janey won. "A thousand unionists and gammons exploding tonight," she tweeted. "Guess who won outstanding contribution to Scottish comedy."
Nominated in a big-hitting four-act shortlist completed by Frankie Boyle and Kevin Bridges, Janey recalls the moment that Ashley heard she had been nominated (a short while before hearing her mum was also in the running).
"Ashley said the loveliest thing," Janey recalls. "She said that she wouldn't want to be nominated for an award that I wasn't in for because I'm the best comic she knows: 'If had been me and Frankie and Kevin, I'd be like, where's my ma, cos she's brilliant?'"
This appreciation is very much a two-way thing. Already a well-known face around the Scottish comedy circuit in the late '90s, Janey kept the family tradition going by allowing her then 11-year-old child to take to the stage, albeit somewhat reluctantly. "I didn't want her to do it because I knew the sh**e she was going to get and I didn't want that to happen to her. People said she only got gigs because I was her ma but if she hadn't been any good they wouldn't have had her back: comedy is a meritocracy. She's always had a very left-footed, skewed view of the world. When she was a child and the priest was taking her round the Stations of the Cross, she said "are there any pictures of him at the beach?"
He said "why would you say that?" And she said "because he's wearing sandals." She was four at the time . . . '
While comedy is clearly in that family's blood, Janey insists stand-up is not her first love or even particularly a passion. Acting was her true calling and back in the early '90s she was determined to get an Equity card which would allow her more opportunities to get roles. Having been advised that earning any kind of stage time would help her get that golden ticket, she tried her hand at stand-up, found she had a natural ability for it and set aside those acting dreams.
Recently she has appeared in the movie, Wild Rose, (starring Jessie Buckley, Julie Walters and Sophie Okonedo) about a young woman trying to make her way in the world of Country music, and has written and directed a short film entitled The Last Mermaid, while she's also had a one-woman play run Off-Broadway.
"I do comedy because it's a job and I'm good at it. I don't watch comedy; if it comes on the telly I turn it off and I certainly wouldn't sit in a room and watch comedy for an hour,' Janey insists, while recognising that she has been a standard bearer in Scotland for young working-class females who might fancy a career in stand-up.
"I did Have I Got News For You and I was the first working-class Scottish female comic to do that: the first and last. There are girls from Glasgow who saw comedy and it would all be Kevin Bridges and Frankie Boyle and they all went 'that's not our job, that's for Scottish men'. But when they see me and they see Fern Brady, they think 'yeah, that's also a woman's job.'"
One of Janey Godley's jobs in recent times has been to try and make Donald Trump's life a misery.
A Twitter spat in 2012 led to the future president blocking Janey, while in 2016 she infamously protested with a brutally frank placard during his visit to the Trump-owned Turnberry golf course. While they may share a penchant for no-nonsense talking, this is where all similarities end.
"I think as a comic you have a responsibility to be able to back up what you say," says Janey. "It's your job to find the line and cross it but it's all fine as long as you're punching up and not punching down, and that your jokes aren't about fat people and disabled people but they're about Boris Johnson and rich people. I've learned to be kinder; there are lots of things I said in the clubs that I look back on now and think 'maybe I shouldn't have said that'. I try not to be like Donald Trump. He's my benchmark. If I'm not slagging off world-class female footballers for their sexuality then I'm doing alright."
Lately, Janey has been doing alright poking fun at politicians closer to home, with her performing online voiceovers to footage of Theresa May, Ruth Davidson and Nicola Sturgeon, replacing their talk of policy and elections with chat about big Isa and soup pots. Her recent Kim Kardashian piece (largely mocking her for walking backwards) has also gone spectacularly well.
"I first did the voiceovers live at Wild Cabaret in Glasgow when the big screens were up on the night of the Scottish Independence vote. When the news came through and it was all looking a bit bleak, we turned the volume down and I started talking over the top of people. The audience loved it and I realised this was something I could do really well."
Given where she is in her career as a staple act in the annals of modern Scottish comedy, Janey isn't not looking at comedy being a stepping stone for bigger things (though she'll happily consider anything that might come her way).
She's just as content if she's making herself laugh.
"I'm doing it for me, really. It's not a marketing tool because you can't market anything on the internet. You might think you've come up with the greatest social media viral instant hit and then some guy with an owl will beat you; there's no telling. I do it for me and I like the fact that I give Theresa May and Nicola Sturgeon and Ruth Davidson a whole new background persona with Isa McNamee and her soup pots. I love that idea that they have these ordinary conversations; I love that idea of that normalcy which cuts through all that bulls**t."
While Janey will be doing a voiceover tour across Scotland during the autumn, she's keen to let people know that her voiceovers won't be part of her date at Crieff Comedy Festival.
"It will be my straight stand-up with lots of improvised stories and things that have happened lately. It's just a woman talking. There are no bells and whistles and tricks to stand-up: you just connect with people and give them a story. I want people to feel as though I'm in their living room just talking to them."
Janey Godley will be performing at the Crieff Comedy Festival, Strathearn Artspace on Saturday, July 27.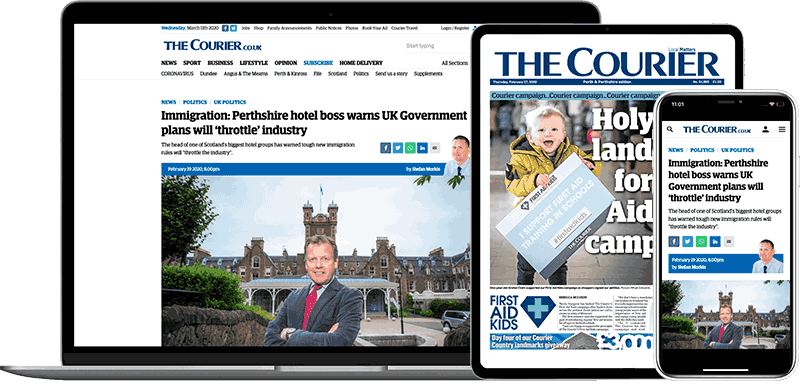 Help support quality local journalism … become a digital subscriber to The Courier
For as little as £5.99 a month you can access all of our content, including Premium articles.
Subscribe