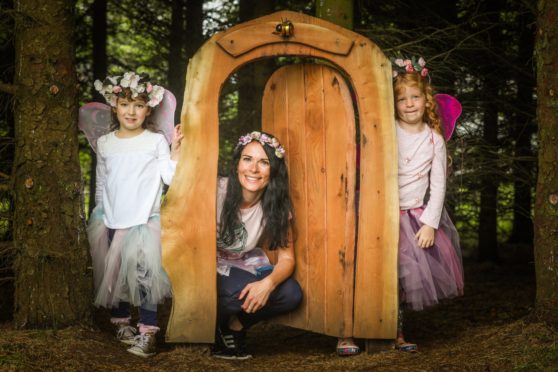 Once upon a time, Gayle and her three little friends took a trip to Brechin Castle Centre Fairy Trail
Eyes screwed tightly, tiny hands pressed against the tree trunk, the girls each make a wish which they hope and pray will be granted by the fairies.
"Shhh. Don't tell anyone. I wished for a unicorn," whispers three-year-old Abbie Butler to her friends.
The cute trio are navigating their way through the recently-created fairy trail at Brechin Castle Centre.
It boasts all the ingredients required for a fantastic family day out and appeals as much to adults as it does children.
Starting off at the garden centre, the trail weaves and winds its way around the gorgeous Angus woodlands, passing all sorts of fairy-themed features in the landscape.
There's a toadstool meadow, a wishing tree, a fairy library, troll headquarters, a fairy swimming pool, magic library, shopping village and even a tooth fairy's house where you can deposit lost gnashers.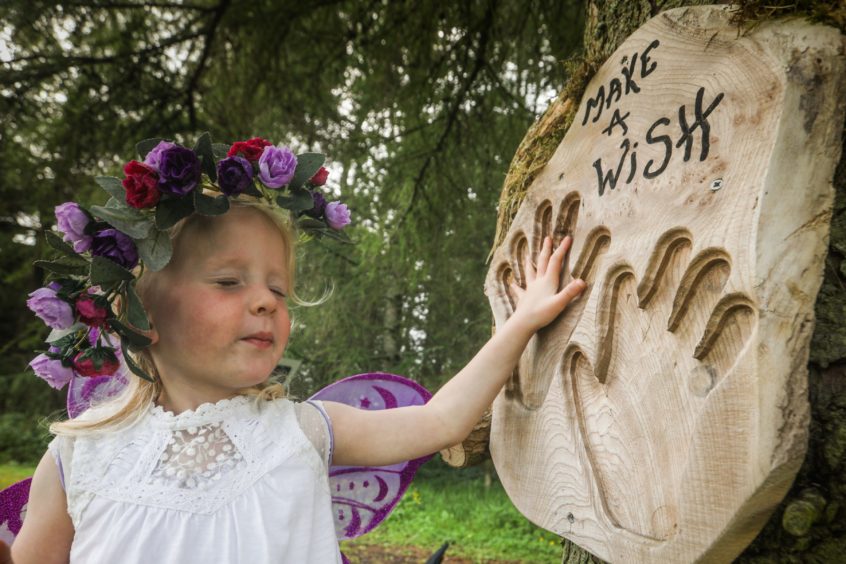 Despite the fact I'm decades older than the girls (Abbie is three years old, her sister Hollie is five and their wee pal Lucy McIntyre is four), I'm having a whale of a time, knocking on fairy doors and helping them on their mission to find a pair of missing fairy wings.
Having navigated a dark tunnel of fir trees and sidled past an extremely ugly, wart-ridden troll with rotten teeth hiding under a bridge, we reach the fairy "travel centre". Here, we spy some fantastic holiday deals displayed on signposts hanging from trees.
Offers include a day trip to the moon for the price of two melted snowballs and a "catch a star" weekend in exchange for a bag of lamb's tail wool.
A trip to Dizzyworld is also available if you're able to hand over a "bag of golden sun".
Sadly, none of us have any of these goods to barter with, so it looks like we'll have to make do with trips to Pitlochry and Peebles for the foreseeable future.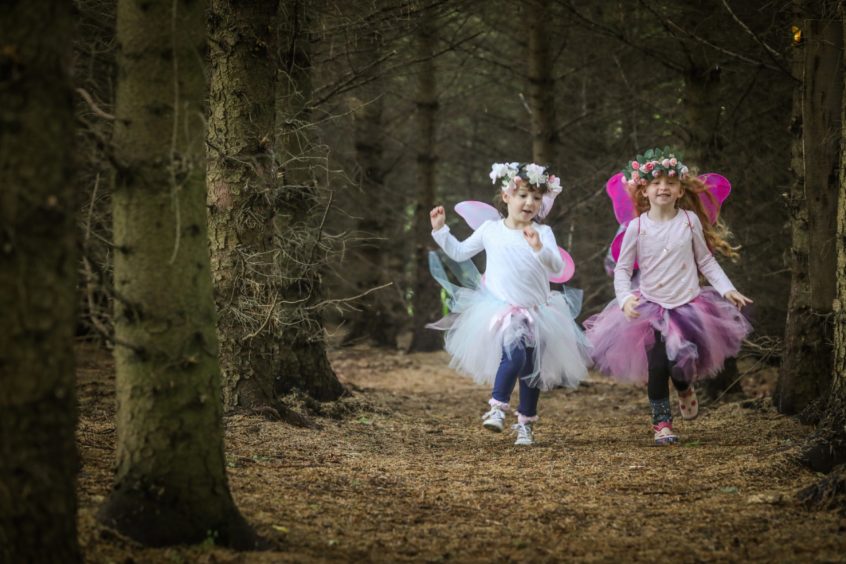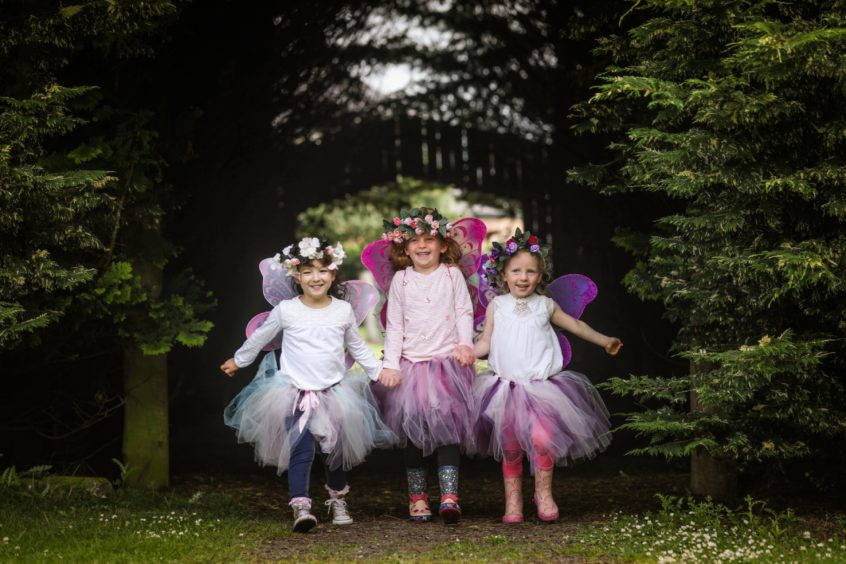 Another highlight along the trail is a giant fairy door in the forest, which at 5ft 5in, even I can squeeze through.
A sign next to us informs us that "fairies cross here at night", which incites high-pitched squeals of delight from all of us. Just imagine.
Stopping to knock on a tiny blue door at the bottom of a tree, I ask the girls how many fairies they think might live inside.
"About 50," whoops Lucy, who proceeds to tell me she's been lucky enough to see a fairy at night in Arbroath. "They might not come out here because it's not dark yet," she adds.
True to form, our knocks do not elicit any response and we leave the fairies in peace.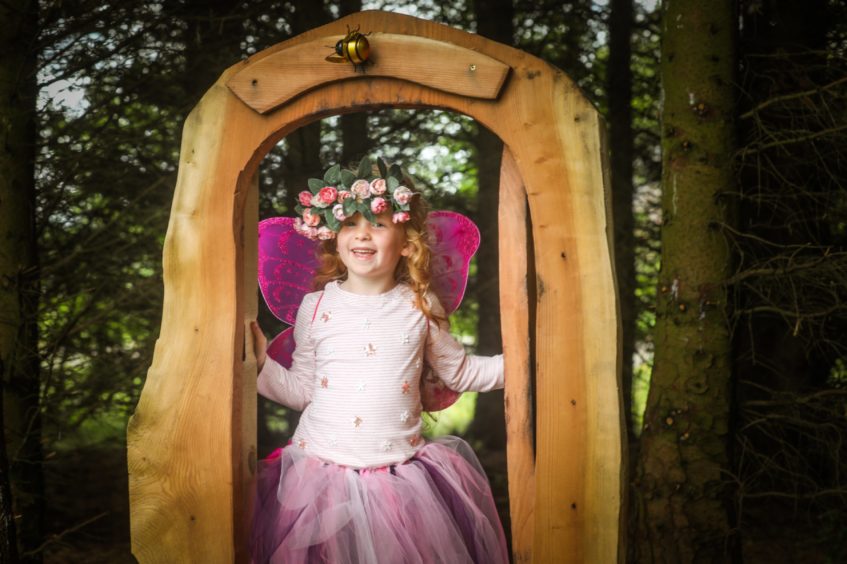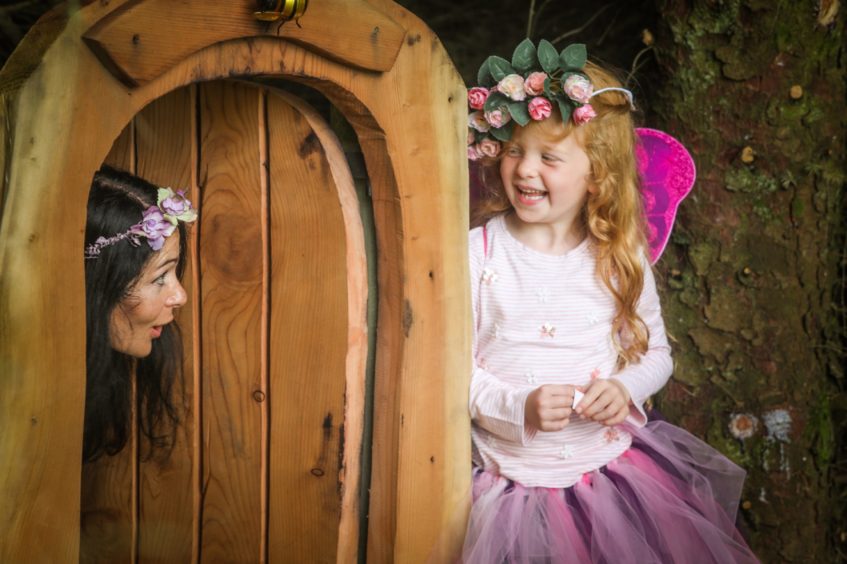 Continuing on our woodland wanderings, we spot a number of letters of the alphabet swinging from trees and, turning to the trail booklet for instructions, we work out that together, the letters spell out the words: "I believe."
Of course, we do as the booklet tells us, which is to stand close together, hold hands and shout out: "I believe in fairies"… which indeed we do.
The fairy library is also pretty cool, with books of spells, wishes and dreams offering words of wisdom.
Close by and on top of a hill above a lake, we spot the giant set of missing fairy wings and whoop with joy while taking selfies in front of it.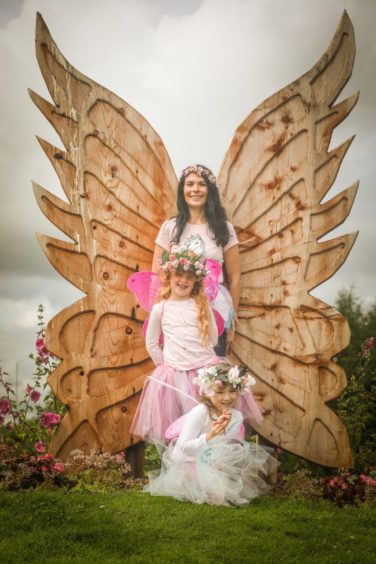 We also pass the shopping village which boasts a number of stores including "Florist Gump" and move swiftly on to the "tooth factory" where we discover a cute wooden house high in a tree inviting us to drop our teeth inside for the fairies.
The girls' eyes light up and they pledge to return soon when their teeth fall out. Personally, I hope I won't ever need to return to it.
As we reach the end of our adventure, we pass a "dummy tree" – basically, a large whisky barrel with a handful of baby dummies inside.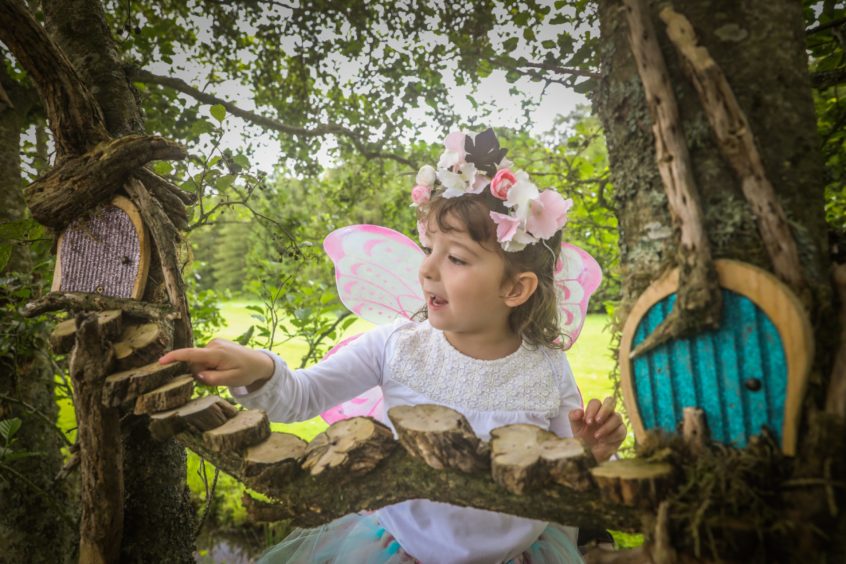 A sign asks us to take some time out to think about our journey and how simple life can be with a bit of fresh air and some activities.
The booklet congratulates us and tells us we're now "officially fairy helpers", welcome back here any time and reminds us that the fairies are "always building and adding new things in the woods".
Whether you believe in fairies or not, the trail takes you on an enchanting woodland adventure with surprises galore. And you just never know – you
might spot a fairy or a magical creature.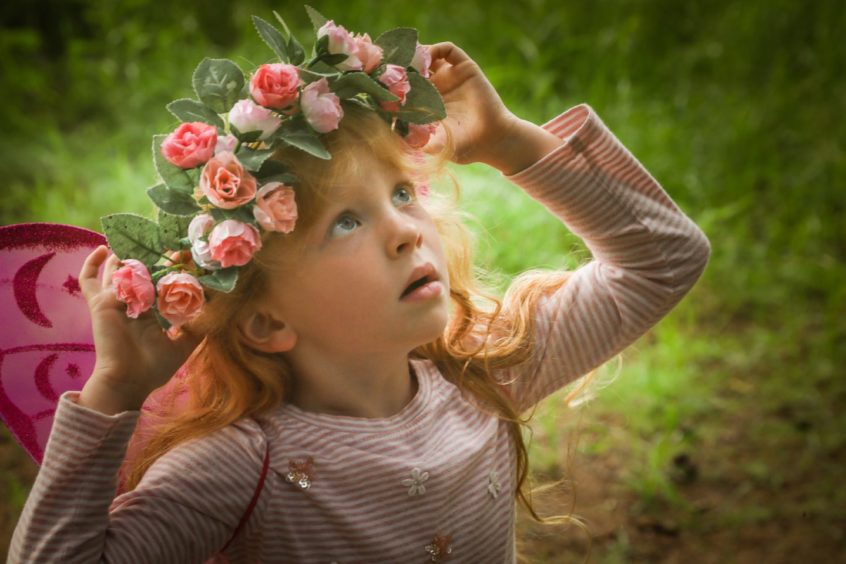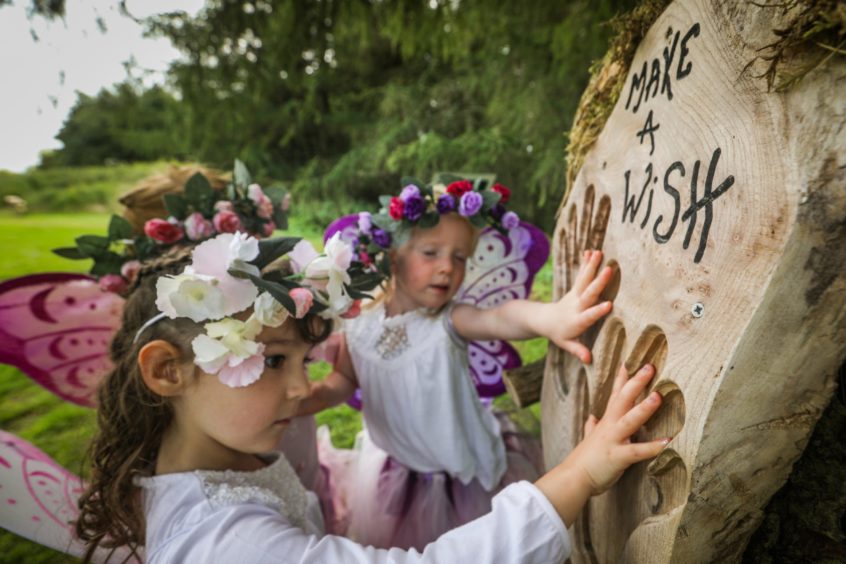 info
Brechin Castle Centre reopened in April following an extensive five-month refurbishment, including the creation of the new fairy trail. Entry is included in the admission price and includes a free booklet with tasks such as making your own fairy wand, quizzes, colouring-in activities, questions, a word search and a tooth fairy certificate report.
Keep your eyes peeled for well disguised woodland friends. Only those who believe in fairies might be lucky enough to spot them. brechincastlecentre.co.uk
VisitScotland has a plethora of fairy-themed sites across the country worth a visit. Check out the fairy trail at Archerfield Walled Garden in East Lothian and Doon Hill Fairy Walk in Aberfoyle.
Also check out the Munro of Schiehallion in Perthshire, known as the "Fairy Hill of the Caledonians". It's said the area is full of stories of people being taken away to the "Otherworld", or Fairy Kingdom. Of particular interest is the cave, Uamh Tom a'Mhor, which has been identified as the entrance to the Otherworld.
For more fairy-themed locations, including castles and glens, see visitscotland.com