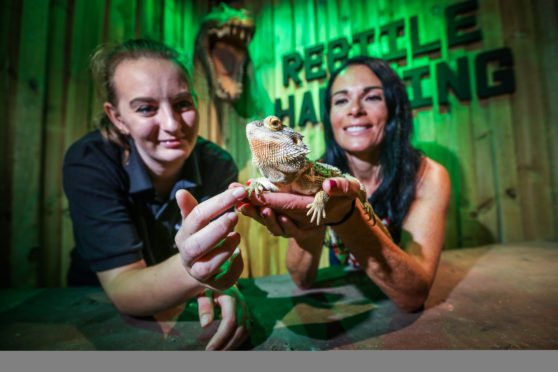 Gayle gets up close and personal with some reptiles at St Andrews Aquarium and comes out of her shell by meeting creepy-crawlies…
I'm not the biggest fan of snakes and lizards, but I don't have a phobia of the much-maligned creatures, thankfully.
That's why, when I'm offered the chance to take part in a reptile-handling session, I'm able to entertain the thought without fainting.
Had the same experience been offered up with, God forbid, spiders, you can guarantee I'd have run for the hills screaming.
My reptile-handling session takes place at St Andrews Aquarium, nestled on the town's dramatic cliffs.
Animal superfan Christie Dewar-Holmes, 26, is a member of the aquarium's talks team, and once she's given a reptile presentation to visitors, she turns to me and asks if I fancy getting up close and personal. Why, of course!
First up, I meet Soda the bearded dragon who's missing the tip of his tail.
He's a very chilled out guy, barely moving a muscle as Christie passes him over to me.
As I hold him gently in the palm of my hand, she tells me a bit about his background.
"We got him from the Scottish SPCA so he's a rescue case, as many of our animals are," she explains.
"He was with his sister, Orange, and we think they got into a fight and she bit off the end of his tail!
"They're popular as pets because they're diurnal which means they're active during the day.
"The trouble is that many people get them without doing any research and soon get bored of them. They end up neglected or dumped, which is really sad.
"The truth is, these guys need just as much love and care as dogs and cats, and can live for up to 15 years in captivity."
The name "bearded dragon" refers to the "beard" of the dragon – the underside of the throat which can turn black when the creature is stressed, trying to dominate, or impress a lady.
Because they're cold-blooded and would be basking in the sun in their natural environment, they need to be kept warm…which means your electricity bills can skyrocket – another reason some owners give them up.
If you're considering getting one as a pet, Christie suggests you ask yourself if you're OK with having creepy crawlies run riot around your house, because bearded dragons enjoy devouring all sorts of live insects.
"I can't tell you how many times I've chased crickets across my living room floor!" she chuckles.
Another fascinating fact about bearded dragons is that they have a third eye – on the back of their skull between their eyes.
They use it to detect shadow and light changes and it helps protect them from predators looming from above.
Handing Soda back to Christie, I'd like to say I bonded with him, but I can't be too sure. He didn't try to attack me, and I narrowly avoided being pooed on, and he seemed to enjoy being stroked, but did we bond? Hmm…
Next up, I meet one of three rescued corn snakes called Ground Control who Christie explains is a "sunset morph". This means she's been captive-bred to produce a gorgeous golden-coloured skin.
She's an impressive looking beast, and seems happy enough to wriggle, squirm and slither over my hands and arms. As she slides up my arm, her tongue flicks in and out, a sign she's smelling me. I'd imagined her to feel cold and slimy but she feels warm, dry and rather pleasant.
"Corn snakes are known as the Houdinis of the snake world," laughs Christie, as Ground Control heads for an opening in my top.
"They'll find a way out of the tiniest hole. If they see any way of going out on an adventure, they'll go."
I'm wondering who and what I'm going to meet next, and Christie informs me it's a group of Madagascan hissing cockroaches. I'm very glad when she reveals they're behind glass because I'm not sure I could bear to have the critters scuttling all over me.
While many folk believe the beasts are dirty, Christie is adamant this is not the case.
"They're essential because they actually clean up mess – that's why they're called detritivores, because they consume detritus," she explains.
"They eat decaying matter like animal carcasses, and I think they look awesome with their body armour. Please don't squish them!"
A highlight of my visit is getting to see Gerald the giant African land snail come out of his shell and wiggle his antennae around proudly.
He feels somewhat rubbery and a tad ticklish on my hand, but not sticky as I'd expected.
Snails are hermaphrodites and have both male and female reproductive organs, but Christie thought Gerald looked like a Gerald. I kind of get it.
"Snails make good starter pets as they're quite low-maintenance and don't need frequent handling," she says.
"They're also really cool! People tend to think snails are slugs with caravans but actually, they can't survive without their shells, which have important organs inside."
Ultimately, the reptile handling session is a fun, enlightening and educational experience designed to not only help people overcome their fears, but also to debunk a fair few misconceptions.
I'm sure the spider handling session would be just as fantastic for some (there's a chance to meet a salmon-pink bird-eating tarantula) but I can absolutely guarantee I won't be signing up for that – ever!
info
St Andrews Aquarium runs daily interactive demonstrations which include penguin and meerkat feeding and reptile and spider handling sessions. For more details, see standrewsaquarium.co.uk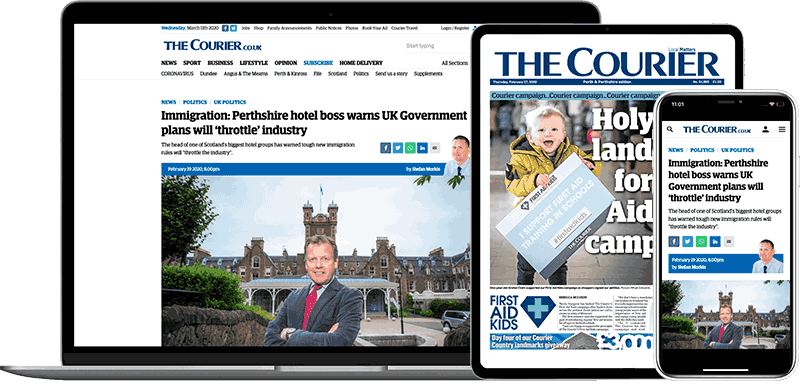 Help support quality local journalism … become a digital subscriber to The Courier
For as little as £5.99 a month you can access all of our content, including Premium articles.
Subscribe