As she launches her new crime novel Burnout, former Fife businesswoman Claire MacLeary tells Michael Alexander how she has St Andrews and Dundee universities to thank for honing her writing skills.
She is the former Fife businesswoman turned author who describes herself as a "feisty Glaswegian with a full life to draw on".
Now having launched her latest novel Burnout at events in Dundee and St Andrews this week, Claire MacLeary is exploring the issue of sexual abuse in the era of Weinstein, Westminster and #MeToo.
The new book sees the crime fighting odd couple Maggie and Wilma , who first appeared in last year's McIlvanney Prize-longlisted Cross Purpose, return to tackle some of Aberdeen's dirtier secrets.
"In the wake of the recent high-profile sexual harassment scandals, Burnout brings the issue of abuse back to its domestic setting – and certainly chimes with the times," explains Claire in an interview with The Courier.
"As Maggie and Wilma discover, abuse may be physical or sexual, but it's the long-term psychological toll that's often most damaging: it leads to burnout.
"But in this world of secrets and lies, nothing is clear-cut."
Born in Glasgow and brought up in Fort William, Claire, who is in her 60s, studied English at Strathclyde University and has lived in Edinburgh, London, Aberdeen and latterly Fife.
She worked in TV and newspaper advertising for many years – specifically the Daily Express and STV.
She moved into HR and latterly worked as a training consultant.
Becoming an antique dealer when her first child was born, she started out with a stall at the Castlegate Market in Aberdeen and opened a chain of shops in the Granite City.
Then when she moved to Fife – living in Ceres for 30 years – she opened several shops in St Andrews.
She downsized a couple of years ago to Glasgow and still lives between Glasgow and St Andrews where she has a flat.
But it's her divergence into crime writing that's really taken off.
"Obviously when I worked in advertising I wrote advertising copy," says Claire.
"When I was a training consultant I wrote training manuals.
"I've always written short stories and I'd had modest success at being published in magazines.
"I returned to writing when my children were at secondary school at Madras College.
"I went to part-time classes – first of all at St Andrews University and then at Dundee University's continuing education classes.
"That was where I first really saw myself in print because they produced an anthology of short stories every year under the title of the Nethergate Writers."
A stint signing books at Waterstones Dundee gave her a "minor thrill"– and she wanted more of it!
Those early writings were influenced by her love of travel.
"Another part of it was life – marriage, motherhood, kids driving you mad," she laughs.
"Things you've heard on buses or walking down the street. A bit like being a newspaper reporter!"
Then, her "window of opportunity" came when her children went to university and left home.
She went to Dundee University and did an MLitt in creative writing.
As part of her dissertation she wrote a domestic novel which the external examiners said she "should do more with" and that made her think that perhaps she could write a full length novel.
Appreciating how difficult it is to get published, she used her business acumen to do some market research and concluded that the bestselling novels were memoir and crime.
Having had two crime novels published since, she puts her success down to "95% graft and 5% luck".
But she admits she hadn't read a lot of crime before she decided to write her own.
"I did a lot of research but I was a bit nervous about reading anything too close to what I was writing in case I picked up other peoples' influences, style and phrases," she says.
"But I think that's been a bonus because I started with a blank sheet if you like and what I have produced has been across the board fresh and different.
"Really what I try to do is think outside the box.
"And what was obvious to me was two things – one that the protagonists in crime novels tend to be either a very seasoned detective – often male, often with a drink problem or a divorce or whatever. "Or a very pretty forensic scientists and well qualified.
"I decided to make my protagonist two women – to make them women of a certain age in their 40s and also to make them qualified in nothing whatever.
"So these are two non-professional women of a certain age who actually fall into this detective agency.
"But I should make the point that just because it's two women of a certain age don't think it's going to be cosy crime. In fact my books are very dark and gritty with an element of Doric humour."
*Burnout, now available on Kindle, is published on March 29.
Claire MacLeary will be sitting on the panel at Aye Write! Glasgow's Book Festival, on Wednesday March 21.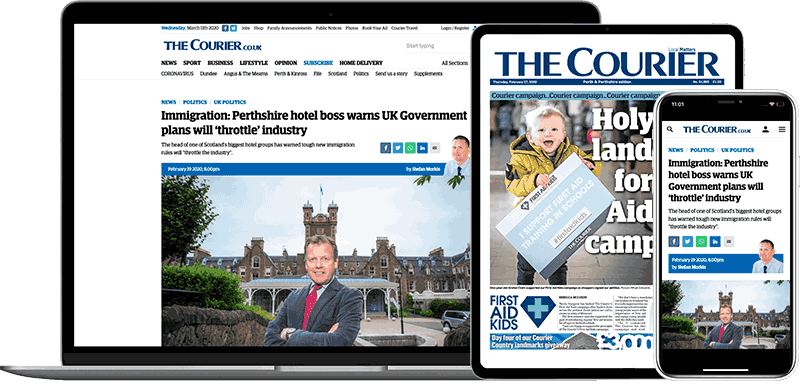 Help support quality local journalism … become a digital subscriber to The Courier
For as little as £5.99 a month you can access all of our content, including Premium articles.
Subscribe