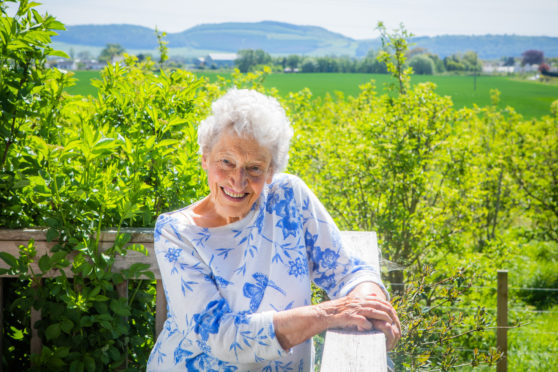 Perthshire poet Margaret Gillies Brown turns 90 next month. Gayle Ritchie learns of a life very well lived…
Margaret Gillies Brown was just four years old when she wrote her first piece of verse.
"It wasn't great but my mother loved it and told me I was going to be a poet," recalls the 89-year-old, a twinkle in her eye.
That is indeed what happened, and for decades, Margaret has been ranked one of Scotland's best-loved poets.
She also writes non-fiction prose, with three of her books – Far From The Rowan Tree, A Rowan Tree In My Garden, and Around The Rowan Tree – being serialised in The Courier.
"My favourite form of writing is poetry," grandmother-of-18 (and great-grandmother-of-one) Margaret tells me when I visit her at home in the Carse of Gowrie.
"I usually write about the countryside and places I've travelled to and lived in.
"I like to write poems people understand. I object to terribly academic ones where you're supposed to know what the poets are thinking. That puts people off poetry.
"I write about things that amaze and inspire me in the hope that some readers will see things as I do.
"I've got to get the essence of the thing I'm writing about."
The first poem in one of Margaret's latest books, Ilka Spring, is simply called Daffodils.
"I wrote it because I love daffodils – they're the first really bright flower to come up after winter and brighten up the world," she reflects.
Another is called Cuckoo, which is simply about a cuckoo and its "two-barred call" resonating throughout the Ochil hills.
Margaret also loves to write poems about children, family, nature, wildlife and "a few" about love.
The poem, In The Snow, is dedicated to Alistair, "a wee boy on a sledge who fell over and rose laughing and breathless for more," she says.
Meanwhile, the poem Buttercups, which Margaret wrote in her mid-80s, reminisces about how, as a young girl, she would pick the stems and hold them under the chin of her little sister "to see whether she liked butter".
Born near Edinburgh, Margaret was home-schooled from an early age by her mother.
"I was very influenced by her love of literature," she says.
"I intended going in for journalism, but fell head-over-heels in love with the medic next door and went into the nursing profession.
"At my last nurses' dance, I met a Carse farmer and in six months I was married to him and living on a sheep farm at the top of the Sidlaws."
Margaret and her husband emigrated to Canada in the 1950s with their three little boys and a baby on the way.
They returned to Scotland after three years when Margaret's father-in-law became ill.
It wasn't until Margaret was 45, and her youngest had gone to school (she had seven children by then), that she started writing poetry seriously.
"There weren't many Scottish women poets getting published at the time," she muses.
"I joined clubs, gave talks on poetry and did readings along with poets such as Edwin Morgan."
She recounts the experience of farming life in both Canada and Scotland in her poems and books.
Some poems – Fairm Bairns, and Loch Enoch, for example, are written in Scots.
Margaret, who is the mother of Ron Gillies, one of the founders of Cairn O'Mhor, Scotland's oldest winery, is an active member of four poetry groups and still writes her own poetry, although she's slightly less prolific these days, writing around six a year.
"In a way, I've said everything I want to say, but I'd like to write more Scots. There are some fantastic words," she says.
"I like to write about the simplicity of farm life. I keep away from miserable poems, although I have written some!"
Margaret is a founding member of Perthshire Writers, which marked its 40th anniversary in 2016.
Since the children have grown up, Margaret has travelled extensively, visiting many different countries.
"I've so enjoyed poetry – it's taken me all over the world and allowed me to meet so many people," she says.
"I'm so glad I did it. I'm not rich and famous, but I am content. I don't think I could've coped with fame because I'm not good at saying 'no'.
"Looking to the future, when I'm no longer here, it would be nice to think my work might be seen as in the tradition of Lady Nairne along with other poets writing early last century, namely Violet Jacob, Marion Angus and Helen Cruickshank, poets I admire, but perhaps I'm being a bit presumptuous. One can dream."
In 2017, The Scottish Language Society made a CD of Margaret's poetry, called "The Lass o' Gowrie". It can be purchased online from the Scots Language Society, at the Glendoick Garden Centre or at the Cairn o' Mohr Winery.
Her books can be bought there too, as well as in Waterstones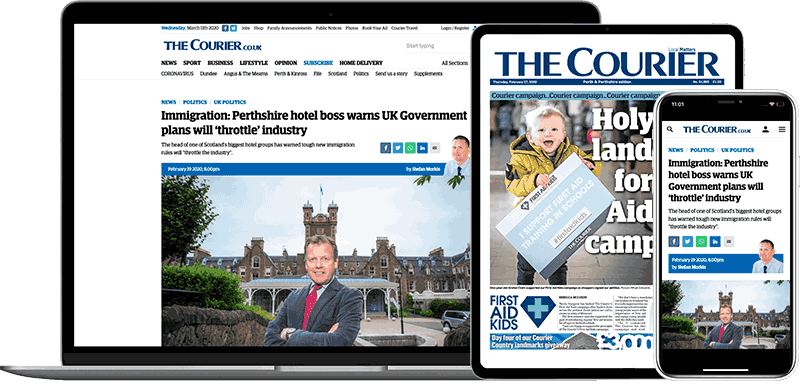 Help support quality local journalism … become a digital subscriber to The Courier
For as little as £5.99 a month you can access all of our content, including Premium articles.
Subscribe