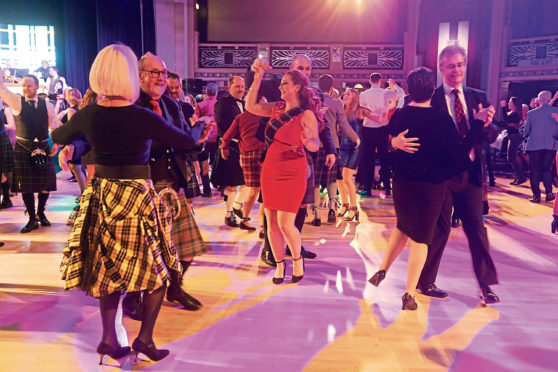 Scotland has always had its own way of celebrating the end of a year.
You'll rarely, if ever, hear a Scot say the words "New Year's Eve." For us, it's always and forever Hogmanay.
Nor is there a more Scottish way – not even watching re-runs of Scotch & Wry – to celebrate Hogmanay than by hitting up a ceilidh.
If you're in Dundee, the Bonar Hall is hosting its Hogmanay Ceilidh with the band Skyrie keeping the reels moving.
The evening starts at 8pm with the band on at 8.30. Tickets cost £35.
Fifers also have plenty of opportunity to dance their way into 2020.
Falkland's Hogmanay Ceilidh takes place in the historic town's community hall. The 5 Point Band will be performing, however tickets for the event are now sold out so keep an eye out for cancellations.
Elsewhere in the Kingdom, Glenrothes' Christ Kirk is holding a ceilidh in its Pitcoudie Avenue Venue.
Along the Fife coast, the Kingswood Hotel in Burntisland is putting on a Hogmanay show.
As well as the dancing, there's a four-course sit down meal at the Burntisland event. A ceilidh band will strike up after the meal and a wee dram will be served to see in the bells. Tickets cost £72 per person, or it's £285 for a couple to enjoy an overnight stay with a Bucks Fizz breakfast.
Further north in Angus, famous Glamis Castle will provide a historic backdrop to see in the new year.
The evening there starts with fizz, continues with a three course steak pie dinner in the Strathmore Dining Room and then picks up the pace with the Alba Ceilidh Band. Tickets are £50, however you'll have to look out for resales as the event is sold out.
Those who want some New Year's Day skiing might wish to see in the bells in Braemar, which is hosting a Hogmanay Ceilidh in its village hall.
Perthshire's biggest Hogmanay party takes place at Perth Racecourse.
The Hogmanay Hoof costs £36 a head and offers a glass of prosecco, a buffet and, of course, dancing and piping.
Perth Racecourse's event is strictly for over 18s. Strathearn Artspace in Crieff is offering a way for all the family to see in 2020. There's live music from the Chitterybite Ceilidh Band and party games – and the event winds up at a family-friendly 10.30pm.
Happy Hogmanay one and all!