In an exclusive interview during rehearsals in Dundee, The View singer Kyle Falconer tells MICHAEL ALEXANDER why he's ready to "man up" in his fight against drink and drugs – and admits the band may have found fame too soon.
Kyle Falconer has been making headlines for all the wrong reasons recently.
Perhaps it shouldn't be a surprise then that The View singer is reluctant to talk about drink, drugs, or rehab when I catch up with him for an exclusive interview at Dundee Music Studios, housed in an old industrial building a stone's throw from the Verdant Works near the city centre.
Then there are the legal reasons the 29-year-old rocker cannot speak about the well-publicised allegation that in June, he hurled homophobic abuse at male cabin crew on a flight home from Spain.
His alleged behaviour saw the pilot divert the flight to France and he was arrested when he returned to Scotland.
But just weeks after the Wasted Little DJs singer checked out of the Lanna Rehab in Thailand where, not for the first time, he dealt with long standing alcohol and drug issues, Kyle told The Courier that he is determined to "man up" and has accepted for the first time during 10 years of fame, that he has an addiction problem.
And he's not just doing it for himself. He wants to do it for the woman he's determined to marry.
"I've never really tried to act differently," he says, reflecting on a decade of rock n'roll partying in an industry that effectively rewards or at least turns a blind eye to young men's excessive behaviour.
"I've never really noticed that I needed to man up until I wanted to. But I want to now. I've seen the light! Thailand helped. I took time out. It was good."
Kyle's experience in Thailand, which he describes as his "last chance", has certainly helped him take stock.
He's never said it publicly, but he admits that being the front man of a band brings its extra pressures.
Whilst The View deserve credit for their longevity in what can be a ruthless industry, the talented musician suggests the band peaked too quickly with the success of their debut Hats off to the Buskers album in 2007.
"There's definitely something in that," he says thoughtfully. "There's been too many incidents over the years.
"I'd even go as far as to say we were signed too early. We got given gold when we should only have had bronze!" he laughs.
But whilst time will tell whether the Dryburgh-raised former St John's High School pupil truly has truly "seen the light", it was all about the music for Kyle and his band mates Kieren Webster, Pete Reilly and Steven Morrison during my visit as they completed final rehearsals for Friday night's high profile 10th anniversary gig at Glasgow Barrowland and next Saturday's concert at Hamilton Park Racecourse.
It's just weeks since The View played at Montrose Town Hall – the band's first performance since Kyle returned from rehab.
Kyle has fond memories of the town as he used to go there with his family when he was growing up.
"It's weird because I've been going to Montrose all my life and I never knew that place (the town hall) existed," he smiles.
But there's nothing like the "buzz" of the Glasgow Barrowland.
"We must have played there about 20 times," he adds. "It's always the place bands aspire to get to. There's a buzz about the place. Any band will tell you that. It's got a bouncy floor. It's like old skool butterflies when you play it, ken?"
He also hopes the band can arrange another home town gig at the Caird Hall soon.
"We'll see how it goes," he adds. "They need to get another venue (in Dundee) so we can start playing there!"
Kyle says it doesn't feel like 10 years since they recorded Hats off to the Buskers. The debut album entered the UK Album Chart at number one in January 2007 and was nominated for the Mercury Music Prize.
But as he gets older, he admits he becomes "more open" to song writing.
He says: "I mean back in the day we had a sort of punk mentality. We didn't want too much hand-raising. But you start listening to different music as you grow up. Our song writing is on fire the now!"
Kyle is back living in Dundee – but reveals he might consider moving to Spain.
"I might move…I dinnae ken! I'll just see what happens!" he adds.
That might yet be determined by his domestic set-up. He hasn't set a date for his wedding yet – plans were postponed when he admitted himself to the Thai rehab. But he's adamant it will happen soon.
"We'll see how it goes!" he adds.  "I'm just riding the wave! I want to get married soon. I'm just trying to sort my life out ken?"
And with that, Kyle and his fiancé Laura Fraser, who has been quietly listening to this interview, have to rush off.
Appropriately, they are heading for a romantic night at the cinema to see the film Eight Days a Week about Kyle's heroes – The Beatles.
"That's why we are in such a rush!" he laughs. .
"The Beatles are the only thing I listen to. Classical music and The Beatles! I can't wait to see it!"
The View take to the stage again at next Saturday's Totepool Music Festival Racenight  at Hamilton Park Racecourse, which is headlined by Glasvegas.
Apart from The View, other big names on the bill include The LaFontaines, The Voice winner Stevie McCrorie with a full live band, Kelvin, 100 Fables, Indigo Velvet and The Bar Dogs.
Gates to the action packed, day-long event open at 12 noon – with a thrilling racecard to match the festival line-up including the £20,000 Totepool EBF Stallions Flower of Scotland Handicap Stakes (Class 3) feature race.
*Advance discount tickets for the Totepool Music Festival Racenight on Saturday September 24 are available now and can be purchased for £25 at www.hamilton-park.co.uk by calling 01698 283806. Tickets are also available at www.ticketmaster.co.uk. Children under-18 go free. Under 16's must be accompanied by an adult.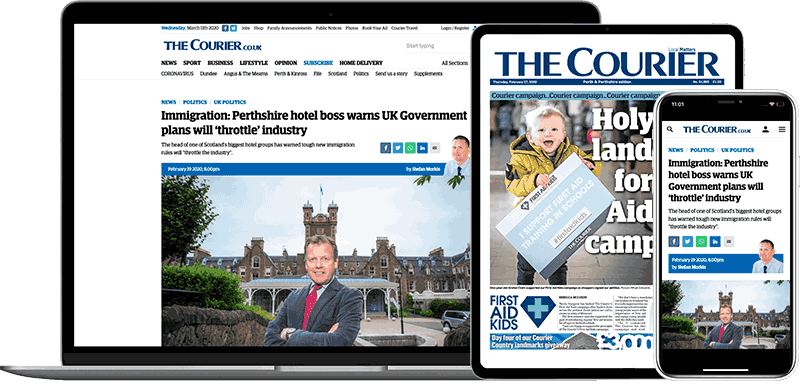 Help support quality local journalism … become a digital subscriber to The Courier
For as little as £5.99 a month you can access all of our content, including Premium articles.
Subscribe