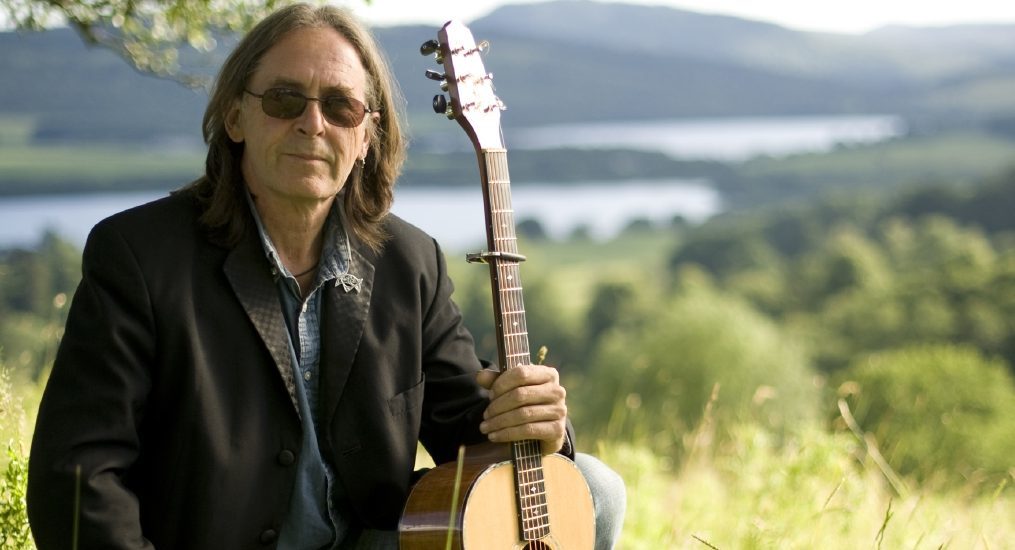 Folk music legend Dougie MacLean is a man of contrasts, both rooted in tradition and a master of technology. Gayle Ritchie meets the singer-songwriter at his studio in the tiny village of Butterstone – from which he beams his music across the globe
He might sing folk songs, strum an acoustic guitar and live in the country, but Dougie MacLean is no dinosaur.
In fact, the 61-year-old grandfather, who sports long hair, tweed jackets and funky glasses, is anything but backward-looking.
He has fully embraced technology, beaming out music live from his recording studio in Butterstone – via the internet – to the far corners of the globe.
It's here, one chilly autumn afternoon, that I find Dougie hanging out as he prepares for this weekend's Perthshire Amber festival – his annual celebration of music and culture which draws in fans from around the world.
As he twiddles with knobs on a mixing desk, clicks keys on a keyboard and adjusts a video camera, his blue-green eyes twinkle and a smile forms on his lips.
"I just love this," he says. "This is where I make my music and transmit it live to fans, reaching an ever growing global family.
"I suppose I'm trying to invent a new 'model', where an older musician like me can keep in touch with the public he has played to over the years in a large number of countries."
Every month, Dougie does a one-hour live informal show, filmed with four cameras and broadcast via satellite from the studios in the old village school.
The culture clash isn't lost on him.
"It's strange all this technological wizardry is happening from the school where my dad learned to write with a piece of chalk on a slate in the 1930s!" laughs Dougie.
It's the same school he attended as a boy, never imagining he would one day buy it and transform it into his recording studio, joining it to the schoolmaster's house where he now lives.
The whole family is involved in the broadcasts, with Dougie's son Jamie said to be "the brains" behind the cameras and technology, his daughter Julia doing the live vision mixing and the rest of the family acting as production team.
"Somehow our family has always had a knack with technology," muses Dougie.
"They were all rural folk working on the land and my uncle Archie taught himself to fix black and white televisions when they first came out.
"All the folk would bring him their tellies – his house had old tellies everywhere! I inherited the fascination, as has my own son."
Dougie started out playing in groups such as Hen's Teeth with the late Michael Marra, and the Tannahill Weavers.
In 1977, he wrote Caledonia – a "genuine homesick song" – on a beach in France when he was touring with his friend Alan Roberts.
Little was he to know that it would become part of common culture; a huge anthem played in pubs, sung at weddings, funerals and rugby matches.
Dougie also wrote the The Gael, the theme for the movie The Last of the Mohicans, although it had originally been created for the Loch Ness Monster Exhibition in Drumnadrochit.
As fame and fortune beckoned, the pressure was on to move to a big city.
"People said if I didn't go to London or Glasgow, I wouldn't make it. But I was determined to prove I could live in rural Perthshire, be a musician, bring up my kids, and have a nice life.
"Butterstone is where I've always wanted to be. It's where I grew up and it's the sense of being grounded that inspires me. I played in these woods as a kid. I went to the old school, as did my father, and my grandfather worked as a shepherd in the hills around here. The landscape is so much a part of me."
It was thanks to advancing technology that Dougie was able to reach out to the world – from the tiny Perthshire village.
"Technology has been hugely empowering for many musicians," he says. "It allowed me to have my own independent label and studio and to keep my musical integrity and write the songs and make the music I want.
"Not so long ago, making a career in music depended on a lot of luck and the decisions of a few music industry executives.
"Now anyone can make their music available for people to hear and if it's good enough – and people like it enough – it's possible to have a career without the big record companies."
The concept of transmitting music live via internet TV began, for Dougie, back in 1999, when he and his wife Jenny owned the Taybank, a music pub in Dunkeld.
Very early on, they began broadcasting the audio from an acoustic music club they held there.
"Thinking back, we were very ahead of our time," he says. "We used an ISDN telephone line and broadcast each week. I remember being amazed that people in the USA could listen to songs and tunes being played in our pub! Butterstone TV is just an extension of that idea. As technology improved, we started to use a satellite to broadcast in high definition, so the quality is fantastic."
However, it wasn't always this slick an operation; their first studio in Butterstone was an eight track reel-to-reel tape machine.
"It was a very tactile process with editing being done with a razor blade and sticky tape," explains Dougie.
"Rewinding the tape to the beginning took forever. But now with digital technology, it's instant."
As one of the first musicians in Scotland to start his own independent label (Dunkeld Records) and make his own recordings, Dougie recalls having to take the master tapes for his first album down to London by bus, where they were made into vinyl records in cutting rooms.
"The Soho cutting rooms didn't give much attention to independent labels and our records were cut using the worn-out diamond needles dumped in a back room," he says.
"We always wondered why our records never sounded as good as the big guys! That said, it was great. But I've watched technology develop over the years to where it's now possible to record a CD on to your phone. It's mind-boggling."
Many of Dougie's songs have been remixed – some into dance and techno versions, some by the likes of Paolo Nutini, Amy MacDonald and Ronan Keating – and that delights him.
"It's a wonderful thing for a song writer when other musicians like something you've written enough to do it themselves. There have been many strange, weird and wonderful versions of my songs and tunes, and every one makes me smile."
While embracing technology, Dougie regards it as a "double-edged sword". "Today, the possibilities are seemingly infinite," he says. "It's very important not to get too carried away with it – you must make it work for you. It used to be that we had one keyboard in the studio; now we have perhaps 100 hidden away inside one computer!
"The bottom line is that the technology is no use without a good song and lyrics and that will always stay the same, though certainly, some things are easier."
One of Dougie's biggest moments came in 2014, when he performed alongside Lulu and Kylie at the closing ceremony of the Commonwealth Games, which was broadcast to more than a billion people worldwide.
Despite his reputation, Dougie, who received an OBE in recognition of his services to music and charity in 2011, is modest, referring to his compositions as "wee songs".
"When I come home, folk say 'Hi Dougie, where've you been on your exotic travels?', and I say Alaska or wherever, and they say, 'Oh that's nice. Have you heard old Mrs McDonald's dog's not doing very well?' I've never chased fame, and as a result, I'm just a jobbing musician."
When he's touring, Dougie prefers to stay in his motorhome, aptly titled "Caledonia", as opposed to lavish hotels.
But his focus isn't solely on music. He's also a fan of archery, keeper of bees, collector of old tractors, doer-upper of old motorbikes (he has five) and is keen on gardening, woodwork, metalwork and welding.
"There's much more to my life than music," he says. "If you have a genuine life, you have other things to talk about…whether that's relationships, nature or technology."
info
Perthshire Amber Festival: The Dougie MacLean Festival, runs until November 6. The concerts welcome musical guests from Scotland and abroad and are staged in a variety of venues, from village halls, town halls and a grand concert hall to historic castles and the atmospheric Dunkeld Cathedral. www.perthshireamber.com