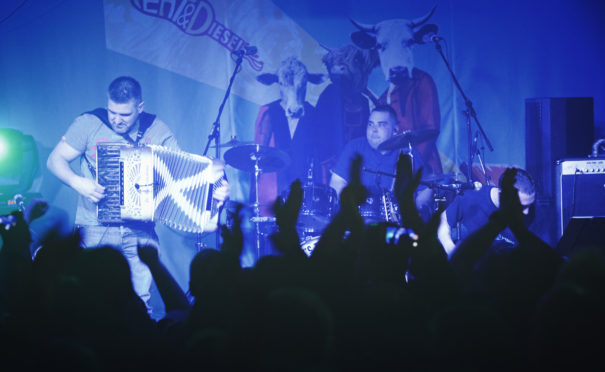 There's a well-established routine concerning how these things are meant to work.
Your music reviewer is meant to maintain a certain detachment from proceedings – to stand on the edges, sober, observing, not allowing his or herself to get too swept up in the moment.
Well, I'm not ashamed to admit I broke the rules on Saturday night – because those rules just don't work for gigs like Peat & Diesel at Fat Sams.
How, without really being there in the thick of it, would anyone begin to understand the force that has seen this Stornoway trio become the hottest act in Scotland and sell out big venues in parts of the country where Gaelic-inspired music normally struggles to fill a few tables on a pub folk night?
A night with 'Boydie' Macleod, Innes Scott and Uilly Macleod is not something to passively appreciate, notebook in hand, fingers stroking chin while in thought. Theirs is music born of the pub lock-in, the late-night party, the village ceilidh. To not have had a few drinks and danced and sang the night away would have felt like an insult.
Guitars, accordions and spoons, that's the way we like our tunes. Five o'clock 'til three am, that's the way it's always been."

Lyrics from "Western Isles", by Peat & Diesel
Fat Sams can be a special place with a full house. Big enough to generate an ear-splitting roar, it's also intimate enough to create a real connection between performer and audience.
"I can tell you already that Boydie is delighted with this crowd," said accordionist Innes as he looked out at the crowd pressed right up to the stage and manfully tried to shepherd the band's brilliantly shambolic lead singer into deciding what song to start with.
There was no setlist. There was no polish. But no one in Fatties on Saturday wanted it any other way.
From the opening words of Brandy in the Airidh – surely destined for a permanent place on the list of Scotland's greatest drinking anthems – to the final bars of closing song Western Isles, band and crowd were in perfect, raucous unison.
Can @peat_diesel, @LankumDublin and @poguesofficial form a super-group please? Amazing stuff in #Dundee tonight. pic.twitter.com/Cn6H0KupB2

— Blair C Dingwall (@C_BDingwall) February 15, 2020
"Incredible!" Innes said at various points – a look of delighted astonishment on his face as he listened to an east coast and southern (to them) audience singing back their songs, often with at least a spirited attempt to pronounce the Gaelic lyrics.
"You don't know what this means to us. We came down here to Dundee and we honestly didn't know what to expect. We just want to thank you all for supporting us."
No one can quite explain the phenomenon that has propelled Peat & Diesel from a pub band – and it may well be they only ever wanted to be a pub band – to one now selling out nationwide tours in little over 18 months.
A best live act award at the Scots Trad Music Awards ceremony in Aberdeen in December and a starring role in BBC Alba's Hogmanay show will have helped to spread the word. Standout festival shows and the odd viral video didn't do any harm either.
But perhaps the only explanation is this: raw authenticity cuts through in a world where everything seems to be meticulously planned, revised, focus grouped and made safe to avoid the slightest chance of causing offence.
Boydie & Co don't do strategy. They are just being themselves, playing music the same way as when their audience was their pals in Stornoway pubs. People like it and they share it. Momentum builds.
How long it will last, no one knows. The three of them are fitting in these weekend shows around full-time jobs on Lewis and have already admitted the travel demands and sheer pace of their rise to prominence is taking its toll on them.
They appear perfectly comfortable with the notion that this mad adventure might end as quickly as it started. A series of summer festival bookings will only add to the mania, and a retreat to Stornoway might even start to look like blessed relief.
No matter though. If Saturday night showed that's the way they do it in the Western Isles, we can all just head there.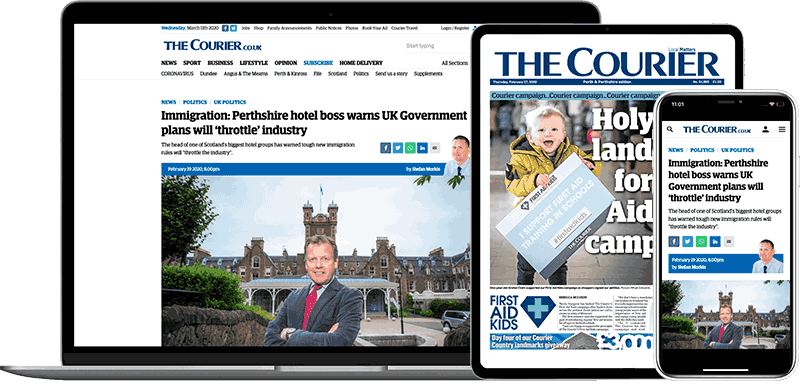 Help support quality local journalism … become a digital subscriber to The Courier
For as little as £5.99 a month you can access all of our content, including Premium articles.
Subscribe