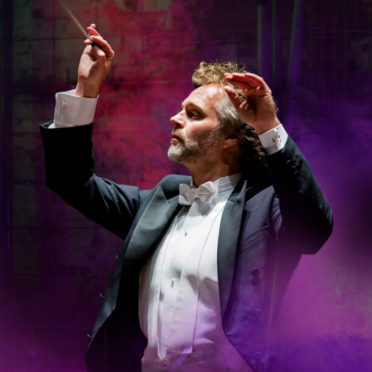 Two for the price of one pretty well summarises the programme for  the Royal Scottish National Orchestra's performance  in Perth's Concert Hall. The orchestra placated those with a more instrumental frame of mind in the first half, while the second catered for those with a more choral preference.
The first part of the  November 8 show was a symphony/concerto double-act, with a distinct Russian flavour, composers Prokofiev and Tchaikovsky and the dynamic force that is pianist Alexander Gavrylyuk.
Prokofiev's first symphony is a perfect example of neo-classism with some movements over before you have a chance to digest them. However, it's deceptively tricky and the RSNO and conductor Thomas Sondergard couldn't treat as any throw-away. They, of course, didn't and gave a top-class performance.
Tchaikovsky's first piano concerto needs a soloist of flair, brilliance, power and passion. Gavrylyuk has all those qualities as well as an extremely heavy approach which was, at times, just too much. One needs to mix the fire and brimstone with a modicum of passive sensitivity. There were moments where tenderness did shine through – the second movement especially – but I found his interpretation, while exciting, needed more variation of touch.
In the second half, there was plenty cause for reflection, both through the two works chosen and through their performance. Ken Johnston and Jim Maxwell's cantata All Those Men Who Marched Away, is relatively straight-forward in terms of music but the lyrics perfectly capture the mood of approaching Armistice Day where others fall short.
Three of the suite were sung, with the first one, Home Before Christmas, cleverly mixing English with German. It was sung by Glasgow Cambiata, an ensemble of young men with enormous potential.
Poulenc's Gloria followed, with the boys replaced by the experienced RSNO Chorus and with soprano Elin Rombo also taking to the stage. Rombo excelled, I thought, but I expected more from the chorus. Maybe it was the acoustic, but their delivery wasn't as rigidly water-tight as I had imagined. Still the emotions generated in the final, beautiful Amen, banished any misgivings albeit temporarily.