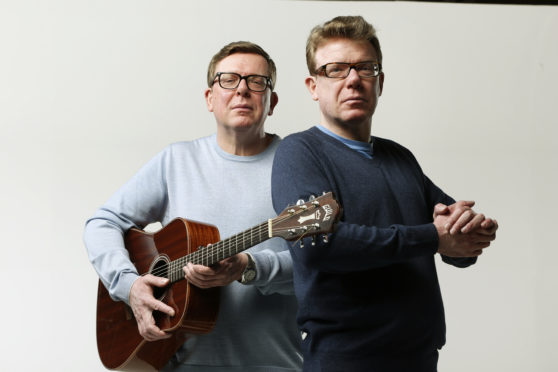 An incredible year of live music in Dundee was rounded off in rousing style by Scots icons Craig and Charlie Reid.
The Fife-raised twins brought their superb band to the Caird Hall on Saturday night for a sell-out concert deserving of a place among 2018's highlights.
Fittingly, the final gig of an epic UK tour following August's release of the Proclaimers' 11th album Angry Cyclist was a career celebration. And that was exactly what the bumper Dundee faithful craved.
Eschewing the Christmas parties taking place elsewhere, the multi-generational gathering kick-started the festive season on a dismal winter's night with a shindig worthy of the grand old venue.
Thank you Dundee, what a brilliant night to end 2018 shows. Roll on the second half of Angry Cyclist tour next year. pic.twitter.com/gfAhM6uDrR

— The_Proclaimers (@The_Proclaimers) December 16, 2018
Clear-voiced Craig looked the part in a retro shirt not unlike those sported in the late-'70s by Dens Park stars Billy Pirie and Bobby Glennie, while brother Charlie's animated acoustic strumming offset laid-back lead guitarist Zac Ware's inspired work. Regular cohorts Clive Jenner (drums), Garry John Kane (bass) and Stevie Christie (keys) also contributed hugely to the team dynamics, even if the hall's echoey acoustics failed to impress.
@The_Proclaimers @CairdHallDundee fantastic night #dundee #scotland #proclaimers pic.twitter.com/gz2IT20GPd

— Martin Traynor (@MartinTraynor50) December 16, 2018
Fresh output was represented by an understated Streets Of Edinburgh, soul rocker Information and feelgood anthem You Make Me Happy, with a diverse clutch of songs from 2015's Let's Hear It For The Dogs underlining the veterans' continued relevance.
Almost inevitably, however, it was vintage material that really stoked the coals. Protest classic Letter From America set the bar high, with Let's Get Married, Spinning Around, the Dexys-like Restless Soul and Sky Takes The Soul also greeted with delight in the stalls.
A massed vocal accompaniment to romantic ode Sunshine On Leith — of course — stole the show, with the deafening ovation appearing to move even the normally stoic Reids.
The quality didn't let up as Life With You, I'm On My Way, Then I Met You and I'm Gonna Be (500 Miles) upped the party ante, with a thoroughly deserved and energetically delivered encore satisfying the hungriest of Yuletide appetites.