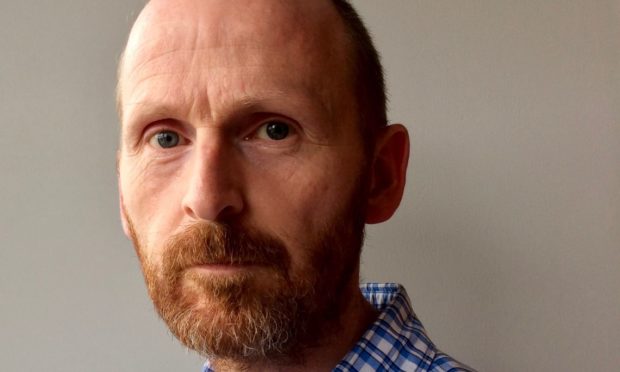 A former mechanical engineer who quit his job to become a music therapist is releasing a new album of original music that includes a tribute to a man who lived in a car at the side of the A9 in Perthshire for several years.
Dundee man Ed Muirhead, 42, who also works as a self-employed piano tutor, will release the album 'Stars from a Sidecar' during a solo gig at Clarks on Lindsay Street, Dundee, on Thursday October 24.
As well as tracks about love, loss and prejudice, the fourth track Where the Heart Is, tells the story of pensioner Charles Ingram who lived at the side of the road near Blair Atholl from March 2012 before being evicted in 2015 and then drifting across Scotland.
"The album features modern day folk songs with an east of Scotland approach," said Ed.
"They are written about things that happen and people that are around.
"One of them is written about Charles Ingram – the guy that stayed in his car next to the A9.
"I drove past him when I was on my way to a gig in Inverness once. It took me three hours to drive up. With time to kill, I was thinking up this song.
"I also write about homelessness and people who don't have the best luck in their lives. I pay homage to them.
"I'm past the stage of teenager love songs! These are songs to get you thinking."
Born in Dundee and raised in Lanarkshire before returning to Fife as a teenager where he attended Bell Baxter High School in Cupar, Ed started writing songs in his late teens when he was recovering from a breakdown he experienced as a student.
Eventually graduating with a first class honours degree in mechanical engineering from Abertay University, he travelled the world for 17 years as an engineer including spells in Shanghai, Russia, India, USA and across Europe.
A few years ago, his wife, who is a music teacher in Dundee, persuaded him to look into retraining as a music therapist.
He gave up his job and graduated two years ago with an MSc in music therapy from Queen Margaret University.
He now uses music therapy to bring health benefits to individuals with profound learning difficulties and other vulnerable groups.
Ed made headlines in 2013 when he released the track Ode to the Kingsway off his Simple Life album.
Other subjects covered on his latest release include songs about Orion's Belt, his travels as an engineer, fatherhood and about how his left-handed grandfather was forced to write with his hand tied behind his back.
*Ed Muirhead performs at Clarks on Lindsay Street, Dundee, from 7pm on October 24.
To hear the track Where the Heart Is go to:
https://edmuirhead.bandcamp.com/track/where-the-heart-is
Where the Heart Is lyrics
My name is Charles, I live alone, 
This broke Mercedes is my home. 
I'm on the verge of calling time, 
Here on the verge of the A9. 
They say that we shall have no martyrs, 
They say that home is where the heart is.
Her name's Marie, she's fair and kind, 
Though I've heard tell she lost her mind. 
But I don't care, cos she's got heart, 
And love and soul and joy and art. 
His name is Jack, he'll make you freeze, 
He'll have you down upon your knees. 
He comes with winter, snow and frost, 
He counts the days, you count the cost. 
So count the blessing, not the curse, 
Live for better, not for worse. 
Share and care, near and far, 
Love and be loved as you are. 
Here's to you Charles, to you, 
Stay strong, stay true. 
Here's to you, my sweet Marie, 
Stay true, stay free.