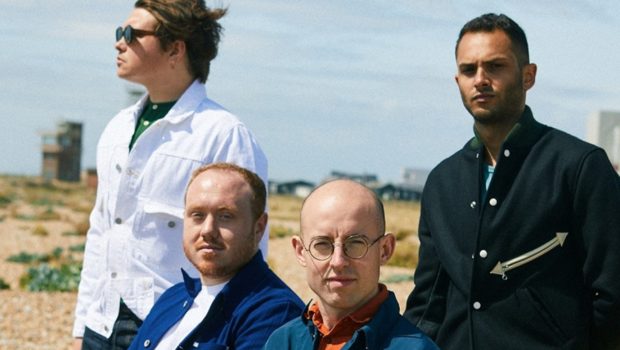 Indie folk-rockers Bombay Bicycle Club's comeback tour hits Dundee on Tuesday.
The London four-piece's Caird Hall gig will feature work from their four albums to date, along with tracks set to feature on their upcoming opus Everything Else Has Gone Wrong — slated for release in January — the follow-up to the Mercury-nominated 2014 chart-topper So Long, See You Tomorrow.
Largely recorded in the USA with Grammy-winning producer John Congleton, BBC's new LP's set to feature euphoric single Eat, Sleep, Wake.
"This is an album for anyone who's ever turned to music in a time of crisis, whether personal or political," says frontman Jack Steadman. "It's about the solace one can get from listening to music or playing music when everything else has gone wrong — finding kernels of hope and renewal in dire situations."
The Club were still teenagers when they released their 2009 debut I Had The Blues But I Shook Them Loose, and this month's 10th anniversary gigs follow a lengthy spell away during which the bandmates pursued solo projects.
"Playing together again is such an unexpected surprise for the four of us, and yet from the first moment we started rehearsing it felt as natural as if we'd played a show the night before," says Jack, who released an album as Mr Jukes in 2017.
"We feel a freshness playing live and in the studio that I think can only come from having taken a step back. Now we just want to play these new songs to as many people in as many countries as we can."
Tuesday's support is London four-piece Gengahr. Tickets £30-£36 via Ticketmaster.
*** Influential punk veterans Discharge are set to blitz Church tomorrow.
The politically-outspoken hardcore pioneers are known for taking a minimalistic approach using distorted guitars and shouted vocals. Hailing from Stoke, the band's 1982 debut album Hear Nothing See Nothing Say Nothing reached No 2 on the UK Indie Chart and 40 on the UK Album Chart.
Discharge also enjoyed success with numerous singles, including Indie Chart-topper Why? and State Violence State Control. An influence on black metal, crust punk and grindcore, the confrontational outfit's extreme playing style helped spawn the thrash genre.
Metallica, Anthrax and Sepultura have all covered their songs, while the D-beat scene was named after Tez Roberts and Garry Maloney's distinctive drum sound. The current Discharge line-up features original members Roberts — on guitar — his brother Bones and Rainy Wainwright, along with frontman JJ Janiak and drummer David Caution.
They're being supported by snarling Kincardine punks Subvision UK and Cuttin' Edge. Tickets £14 from Grouchos in Dundee and Tickets Scotland.
*** Country / rockabilly exponent John Miller and his six-piece Country Casuals are back on the road following a lengthy hiatus and play Kinross's Green Hotel on Sunday.
Since starting out alongside acclaimed fiddler John McCusker and Teenage Fanclub drummer Francis Macdonald in mid-'90s Glasgow band Radio Sweethearts, Miller's also worked with the likes of Kate Rusby and Sheila Noonan. Tickets £19.40 via Ticketweb.
*** Daddy's Gone hit-makers Glasvegas hit Dunfermline's PJ Molloys tomorrow.
The former Mercury Prize nominees' frontman James Allan and his guitarist cousin Rab will be performing as a semi-acoustic duo at Canmore Street as the band continue the build-up to their impending fourth album — their first new work since 2013.
Call the venue on 01383 729790 for tickets.
*** Folk songsmith Chris Wood has twin Angus shows next week.
The acclaimed multi-instrumentalist — whose most recent album was 2016's quirky So Much To Defend — plays Arbroath's Hospitalfield Arts next Friday and Lintrathen's Lodge At Lochside 24 hours later. Tickets £16.50 from gigantic.com and Arbroath's Abbey Music.
*** Art-rock tribute Atom Heart Floyd are tomorrow's big Green Hotel draw.
The South Coast five-piece reproduce Pink Floyd's trademark sound backed by immersive visuals, focusing on all phases of their heroes' epic career, right up to their 2014 swansong The Endless River.
Tickets £23.60 via Ticketweb.
*** Conroy's Basement has sets from deranged Cheshire funksters The Mighty Bossmags, London dub exponents Vegetable Collective, cowpunks Dog Eared and anarcho troubadours Aff It on Sunday.
Tickets £5 via Make-That-A-Take online.
*** Swaggering rockers Hardwicke Circus play Green Hotel next Friday.
The Jonny Foster-fronted Carlisle seven-piece are influenced by The Doors, Rolling Stones and Primal Scream. Tickets £19.40 via Ticketweb.
*** Edinburgh popsters Vistas play Clarks on Thursday. The trio's guest turns are Perth alt-rockers Avaera and Full Colour. Tickets £10 via gigsinscotland.com
*** Beat Generator has a rising talents showcase next Friday featuring The Capollos, Carousel, Connor Clark's Matador Kings and Medinas. Tickets £7 via Skiddle.
*** Conroy's is sold out tomorrow for Dundee troubadour Billy Mitchell, psych rockers Midnight Alleys and Glasgow songsmith Carly Connor.
*** Retro rockers The Links play PJ Molloys tonight, plus Cherry Diesel. Tickets £6.95 via Ticketweb.
*** Cherry Bombz rock Whites Bar tonight, Powrie Bar tomorrow and Perth's New County on Sunday.
*** Church has Linkin Park tribute Hybrid Theory tonight. Tickets £11.25 via Eventbrite.
*** Number 57 hosts Itchycoo Park tomorrow and The Mivvies on Sunday.