They are the Mercury Music Prize nominated band who have sold around one million records worldwide since starting out in 1999 and who are perhaps best remembered for songs like Underdog (Save Me) in 2001 and the UK top five hit Painkiller (Summer Rain) in 2003.
But as English-four-piece Turin Brakes bring their acoustic tour to Dundee's Fat Sams on Saturday November 23, and, having admittedly kept a relatively low profile away from mainstream music in recent years, co-founder and singer Olly Knights says the band are "weirdly having a better time now" than back in the days when they faced more mainstream commercial pressures.
"We've never been great at being a kind of fashion band and a media darling sort of a band," Olly told The Courier, adding that there was "virtually no ability to make a living from selling records these days unless you are Coldplay".
"We had about five minutes of that right at the beginning of our careers and couldn't maintain that because it feels too shallow and weird.
"But what really suits us is getting rid of the fashion side of it and just being in front of people and hopefully delighting people with the music – being in the moment of it. It really suits us.
"I think that's another reason why we've found ourselves almost having a better time in the current scenario than we were in the early days when there was much more of an industry; when it was much more about money and power when to some extent you could buy your way to at least be on the playing field to becoming popular.
"That's all kind of more or less gone for most people now. It's a real leveller and I think it really weirdly suits Turin Brakes."
Anyone who's seen Turin Brakes perform will know that they usually go for the classic "very noisy" rock n roll set-up. Over the last five years they've gained a reputation through word of mouth for great live performances.
Olly says fans old and new can expect something "much more low key" on this tour with he and his bandmates Gale Paridjanian, Rob Allum and Eddie Myer sitting in a row with acoustic instruments and with "more chatting and banter" between stripped-back versions of the songs.
"It's a real kind of palate cleanser," he said, adding that "98.9%" of Turin Brakes songs were written on an acoustic guitar.
"If you've seen us in one way it's quite different. It just feels very fresh. We come alive in a different way on stage because there's so much less of a wall between the band and the audience. You are not relying on a rehearsed show as such. It's real. You are just there for 1.5 hours. It's a real experience.
"It's all four of us and we all sit in a row in a straight line but everyone is playing different instruments and it's all kind of stripped back.
"It's kind of led by the acoustic guitars, the vocals and the harmonies much more than it would be normally."
Back in the day, Turin Brakes were often compared to many of the new acoustic movement bands spawned in the late 1990s such as Elbow, Starsailor and the Norwegian band Kings of Convenience.
While many bands have come and gone over the decades, Olly says it's the chemistry of the band and the energy of their creative engine that's been the secret of their longevity.
"I know with myself – I've always felt like an artist, like the point of me being here is to create," he added.
"I don't know what else I would do. My main drive is that I like creating stuff for other humans to experience.
"Turin Brakes is a great funnel for that. It means I can always be creative and put it out.
"One of the keys to the success of the band is that we've never stopped that creative process. There's always been making music. The kind of engine of creativity has never been switched off.
Unfashionable
"That allows you to survive all sorts of ups and downs. You can be fashionable one minute and unfashionable the next blah blah blah.
"All of these things happen over a 20 year career. As long as you don't switch off that creative engine then you can always be putting out music. Luckily the chemistry of the band is fantastic and it always was."
Olly said one of the great things about the tour was visiting towns and cities they hadn't been to before, and even if they had, and, having got older, making the time to explore them a bit more.
It's a plan they have for their trip to Dundee which they've played in a few times but never explored properly.
"These days we are much better at walking around," laughed Olly.
"In the old days you were kind of a prisoner – no one wanted you out of their sights in a way because you might disappear and it was very expensive if a band disappeared!
"I'm sure this time we'll tend to take ourselves out and see things and really enjoy the places we visit, because you realise after a while it's so easy to travel the world and not actually see it when you are in a band. It's ridiculous.
"These days we are much more aware. And it helps with the shows – it feels like you are far more part of it and can talk to the audience.
"So prepare to see four shaggy looking men wandering aimlessly around the area when we visit Dundee!"
·  Turin Brakes, Fat Sams, Dundee, November 23.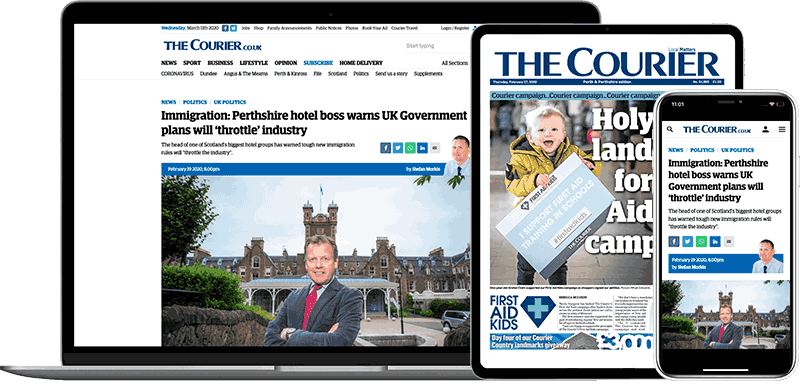 Help support quality local journalism … become a digital subscriber to The Courier
For as little as £5.99 a month you can access all of our content, including Premium articles.
Subscribe