"We are still disgusting punk scum – but we don't want to talk about the past too much – we are very much about the present!" declared Fife legend and front man Richard Jobson as he took to the stage in Montrose Town Hall for the latest installment of The Skids' 40th anniversary tour- a road journey across the UK and Ireland which Jobson described as "magical, overwhelming and moving".
If anyone was feeling a Little Mix-ed about the choice of live music on offer in Tayside on Thursday night, then those who chose The Skids over the kids of Britain's currently most popular girl band were not to be disappointed.
Okay, so there were at least a couple of generations between the ages of the average music fan who attended Montrose Town Hall to see Fife's finest post-punk band and the average 'teeny-bopper' who attended Slessor Gardens in Dundee to see Little Mix.
But Dunfermline-raised Jobson lived up to his promise of a passionate, raw, ferocious and meaningful set with a show that more than lived up to his pre-gig interviews about his love for the Angus town.
Supported byThe Filthy Tongues, who described The Skids as "boy hood heroes", Jobson and the reformed line up of Bill Simpson, Mike Baillie, Bruce Watson and Jamie Watson played all TheSkids  classics that made them a post-punk force between 1977 and 1981.
Into the Valley, Masquerade and Working for the Yankee Dollar proved to be particularly immense crowd pleasers as you might expect.
There was also a memorable performance of The Saints Are Coming – a song made all the more poignant by the recent announcement that The Skids are to support US rock giants Green Day at Bellahouston Park, Glasgow on July 4 – American Independence Day.
Green Day, of course, joined forces with U2 in 2006 to release a charity version of the song – written by Jobson in Dunfermline library when he was 16 – to raise money for the New Orleans communities devastated by Hurricane Katrina in 2005.
The evening did not pass, however, without forgetting the late Stuart Adamson with a performance of Scared to Dance dedicated to the memory of the man who "knew every note".
Jobson might be 56 years old, and spent much of the evening drenched in sweat while moving across the stage with the slugging moves of a heavyweight boxer. .
But driven by the raw energy, physicality  and renewed relevance of his songs in our modern politically troubled world, he still has something to say and damn well knows how to say it.
With the onstage energy and presence of someone 30 years younger, he also thrives off the smaller venues where that connection with the fans is so much more evident.
"We've always said if we weren't playing up here then we'd be down there with you watching," he told the appreciative pogo-ing crowds.
There's no doubt that fans attending the band's latest homecoming gig at the Glen Pavilion in Dunfermline on Friday night are in for an absolute treat.
But then they already knew that!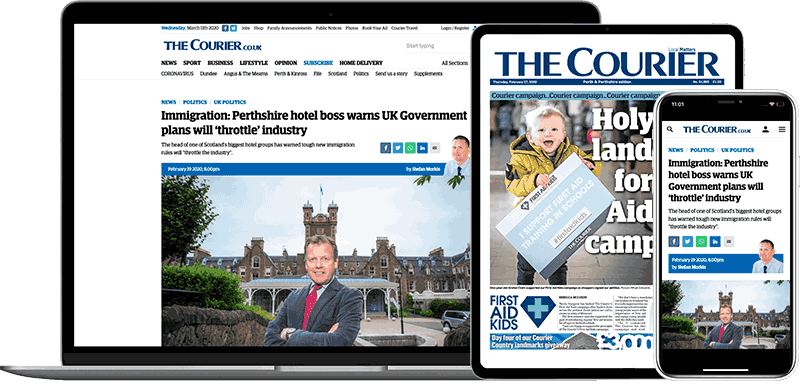 Help support quality local journalism … become a digital subscriber to The Courier
For as little as £5.99 a month you can access all of our content, including Premium articles.
Subscribe